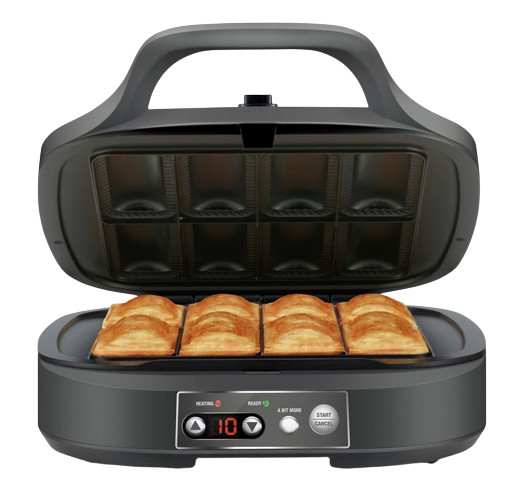 Breville
Breville Quick & Easy Pie Maker
Where to buy

MyDeal Australia
Breville
Breville Quick & Easy Pie Maker
Pros & Cons
add_circle
Efficient and even cooking for consistent results.
add_circle
Compact design that won't clutter your kitchen.
add_circle
Precise temperature control for customized pie perfection.
Summary
Overview The Breville Quick & Easy Pie Maker is your key to delicious, homemade pies ready in a flash. Imagine enjoying delicious tiny pies that are flawlessly golden and flaky, each one bursting with your favorite contents. Highlighted Features Numerous features on the Breville Quick & Easy Pie Maker improve the pie-making process. Its nonstick cooking plates make removing pies simple and guarantee simple cleanup. Because of its small size won't take up much room on your countertop, and your kitchen will look more upscale thanks to the stainless steel finish. Performance Take pleasure in baking without the hassle. You may easily make delectable pies that are as beautiful as they are delicious. Every time, a nicely golden crust and cooking are sure by its effective heating mechanism. With the help of this pie maker, baking will become more predictable, allowing you to enjoy delicious results every time. Why Buy This Anyone who enjoys the craft of pie-making should consider purchasing the Breville Quick & Easy Pie Maker. Let go of the supermarket selections and welcome your inventive cooking ventures. This pie maker is ideal when making quick snacks, delightful sweets, or even experimenting with novel taste combinations.
Articles