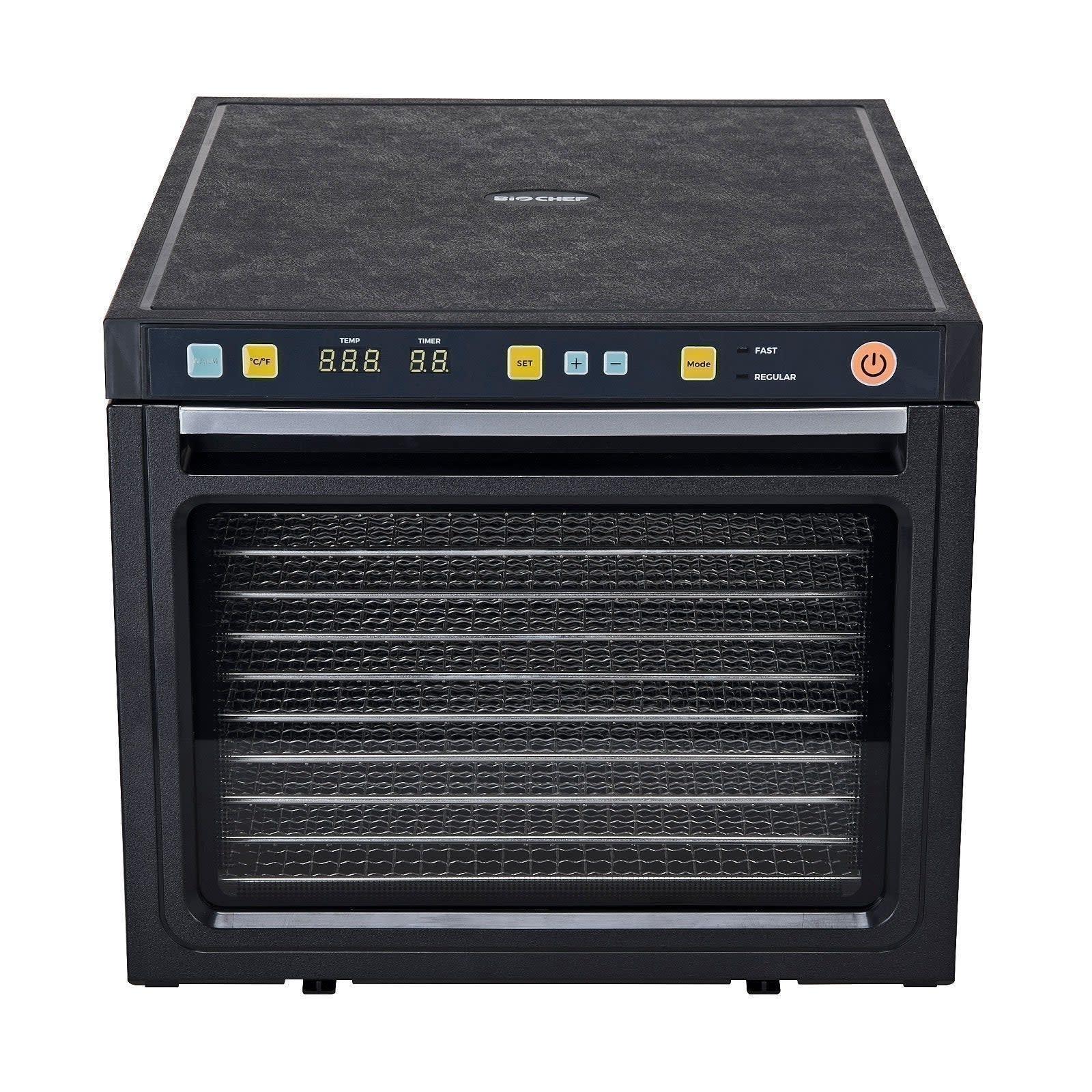 BioChef
BioChef Savana Dehydrator - 6 Trays
BioChef
BioChef Savana Dehydrator - 6 Trays
Pros & Cons
add_circle
A horizontal airflow system ensures even dehydration.
add_circle
Transparent door for easy monitoring.
add_circle
Energy-efficient and quiet operation.
remove_circle
Relatively higher price compared to other models.
Summary
Specifications Dehydrating Capacity: Not specified Temperature Range: 35℃ to 70℃ Heating Source: 500-watt fan heating coil and heating sensor Timer and Auto-Shutoff: Automatically switches off Airflow System: Dual fan technology Overview The BioChef Savana Dehydrator - 6 Trays is widely regarded as Australia's best food dehydrator. You may create healthy and delightful snacks by dehydrating various products while maintaining their original flavors and minerals. Thanks to its revolutionary features and exceptional performance, the BioChef Savana Dehydrator is a must-have for anyone looking to add raw food to their diet. Features It comes with six large stainless steel trays and plenty of space for dehydrating various fruits, vegetables, herbs, and meats. The digital display and temperature settings allow perfect drying process control, resulting in optimal results. Its horizontal airflow mechanism ensures equal dehydration throughout all trays, and the clear door allows for simple progress monitoring. Because of its energy-efficient design and quiet performance, it is a dependable and convenient addition to any kitchen. Performance The BioChef Savana Dehydrator outperforms expectations in terms of performance. Its solid yet energy-efficient motor spreads heat uniformly, successfully dehydrating food while preserving its nutritional content. The horizontal airflow technology enables equal drying across all trays and eliminates the need for rotation. Users love the user-friendly digital display and temperature controls, which allow them to tailor the drying process to specific ingredients. Furthermore, the quiet operation maintains a tranquil environment while protecting the dried food's quality.
Articles