Life is continuously throwing a lot of fists at humans. To avoid its causes like stress and breakdowns, try to dodge it by jumping. So, relieve your stress, build your strength, and try a trampoline that is also good for your heart!
Are you pondering over which trampoline would perfectly align with your preferences? With the plethora of options available online, this article aims to assist you in selecting the ideal trampoline that suits your needs. Take a moment to unwind, and delve into the following paragraphs to find your perfect match!
---
10 Best Trampolines in Australia 2023 - Brand Reviews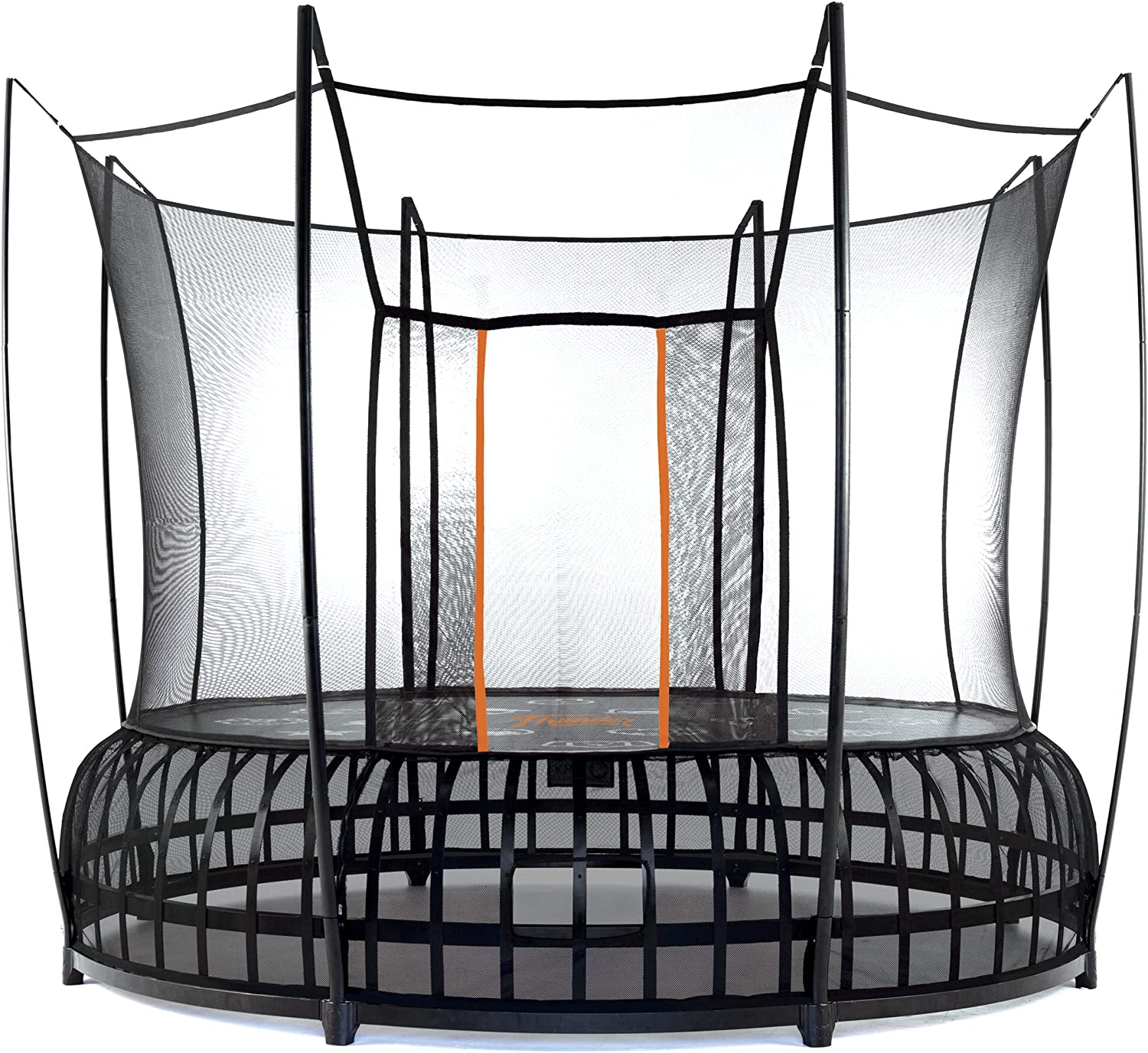 Check Vuly Thunder Trampoline price below:
add_circle
Long-lasting and soft net
add_circle
No contact injuries
add_circle
Sturdy frame and premium finish
remove_circle
It is expensive
Why It's Our Top Pick
The trampoline of the future is Thunder Pro. The world's strongest and safest trampoline, the Vuly Large (10.5ft) Thunder offers the finest bounce of any leisure trampoline in use. Bouncing is now safer than ever thanks to patented Leaf Spring technology, which produces a bounce without compressing coils or rods.
Specifications
Size: 367cm

Shape: Round

Frame material: Steel

Weight limit: 330 Pounds
Why Buy This 
Play on a sturdy steel foundation with two rings. It is thoroughly powder-coated, even at invisible joints, and galvanized internally and externally to prevent rust.
Performance
Discover the unparalleled bounce of these cutting-edge pre-curved leaf springs meticulously designed for an extraordinary experience. Experience a stronger and more exhilarating bounce like never before. Their rivet-free construction sets our leaf springs apart, ensuring a seamless and flawless performance. Embrace the convenience of effortless installation, made possible by the innovative pre-curved design that eliminates the need for rivets or welds. Step into a world of superior trampoline technology and prepare to elevate your bouncing experience to new heights.
Product Overview
You can safeguard your family with a kinder terylene cage that, unlike other trampolines, has been thoroughly "wet-tested" to confirm more fantastic UV performance in actual weather circumstances.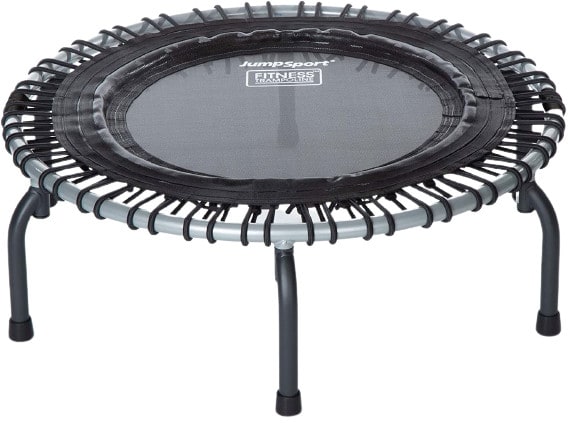 Check JumpSport Indoor Fitness Trampoline price below:
add_circle
For significant movements and compact storage
add_circle
Virtually silent and wonderfully smooth, cushioned
add_circle
Light and super stable
remove_circle
It is expensive
Specifications
Size: 39-inch

Shape: Round (shape)

Frame material: Polyester, Polypropylene, Stainless Steel, Rubber

Weight limit: 275 pounds
Why Buy This 
What sets the JumpSport 350 apart is its remarkable features that guarantee an exceptional workout experience. Equipped with the revolutionary EnduroLast Elastic Cords, this trampoline allows you to move freely and stretch the cords two times their resting length. Say goodbye to regular bungees and hello to an incredible level of flexibility and resilience.
You can tailor your workouts to your desired intensity level with three easily adjustable stiffness settings. Whether you're a beginner looking for a low-impact workout or a fitness enthusiast seeking a more challenging routine, the JumpSport 350 has you covered.
Performance
Safety and stability are paramount, and the JumpSport 350 delivers on both fronts. The arched legs provide a sturdy and secure base, ensuring you can confidently jump. The 32.5-inch jumping surface allows you to perform various exercises and routines, making it suitable for users of all ages and skill levels.
Not only is the JumpSport 350 a fantastic piece of fitness equipment, and comes with a Handlebar Accessory and Workout DVD. It means you can maximize your workouts and take advantage of expert guidance right from the comfort of your own home.
Product Overview
Experience the ultimate fitness and fun with the JumpSport 350 Indoor Trampoline. This portable, lightweight trampoline elevates your workouts to new heights. Say goodbye to dull and repetitive exercise routines and hello to a whole new level of energy and fitness.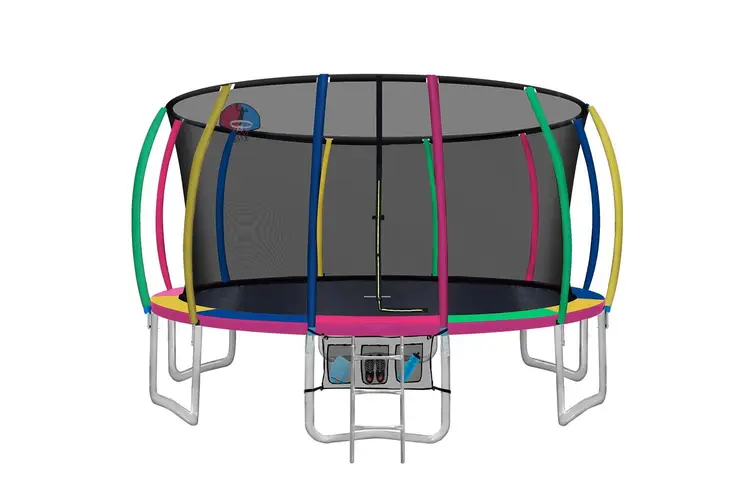 Check Everfit Kids Basketball Set Trampoline price below:
add_circle
Solid Construction
add_circle
Superior bounce and water resistance
remove_circle
Expensive and made for kids only
Specifications
Size: 14-16 ft

Shape: Round

Frame material: Steel marine-grade hot-dip galvanized

Weight limit: 150 kg
Why Buy This 
One of the key features of the Everfit Trampoline is its 108-piece triple-rate springs. These high-quality springs ensure a long-lasting and reliable bounce experience. You can jump confidently, knowing the trampoline can withstand vigorous play and deliver a consistent and enjoyable bouncing sensation.
The heavy-gauge steel framework of the Everfit Trampoline has been rigorously UV-tested for both quality and dependability. No matter how intense your playtime gets, this trampoline can handle everything. Its sturdy construction guarantees durability and ensures you can enjoy endless bounces for years.
Performance
In addition to its exceptional bounce features, the Everfit Trampoline offers a range of outstanding features that further enhance your jumping experience. The curve design increases rigidity, adding stability and security to your bounces. The 20mm thick cushioning ensures a comfortable landing with each jump, reducing the impact on your joints.
Safety is a top priority, and the Everfit Trampoline delivers with its anti-graze mat, safety netting, and double-lock zip-and-clip access. You can bounce with peace of mind, knowing that these safety features are in place to protect you and your loved ones.
Product Overview
Why settle for an ordinary trampoline when you can have the Everfit Trampoline, with its exceptional features and unbeatable durability? Whether you're a seasoned jumper or just starting, this trampoline will provide endless fun and excitement for the whole family.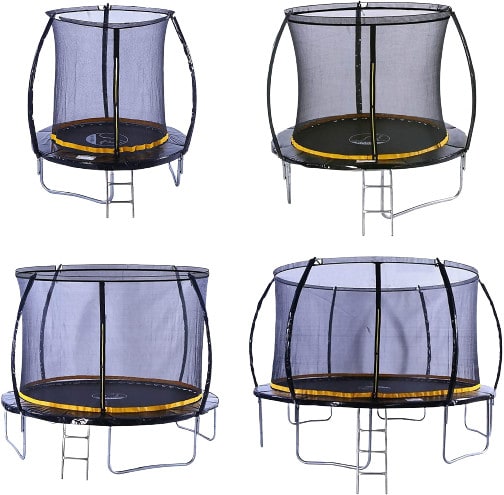 Check KANGA 8ft Premium Trampoline price below:
add_circle
Quick and Safe trampolining
add_circle
Easily Assembled
add_circle
UV Resistant Jumping Mat
remove_circle
Only for small gardens
Specifications
Size: 18ft

Shape: Round

Frame material: Aluminum

Weight limit:50 kg
Why Buy This 
Regarding trampolines, the Kanga 8-foot trampoline with enclosure is a top choice for many reasons. This trampoline is a perfect fit whether you have a medium-sized or extensive garden. It offers ample space for both children and adults to enjoy bouncing fun.
Performance
The Kanga 8-foot trampoline can handle a maximum weight of 100 KG (15 stone 7 lbs). It can accommodate many users, providing a safe and enjoyable bouncing experience for children and adults alike. Specifically, children aged 6 to 12 will find this trampoline suited to their needs.
When you invest in the Kanga 8-foot trampoline, you can rest assured that you're getting a high-quality product that delivers safety and enjoyment. The safety net enclosure keeps jumpers protected while they're having a blast, and the ladder provides convenient access for users of all ages. The anchor kit ensures the trampoline stays firmly in place, even during vigorous play.
Product Overview
Take advantage of the opportunity to bring endless bouncing excitement to your backyard with the Kanga 8-foot trampoline. This trampoline is perfect whether you have energetic children or want to indulge your inner child.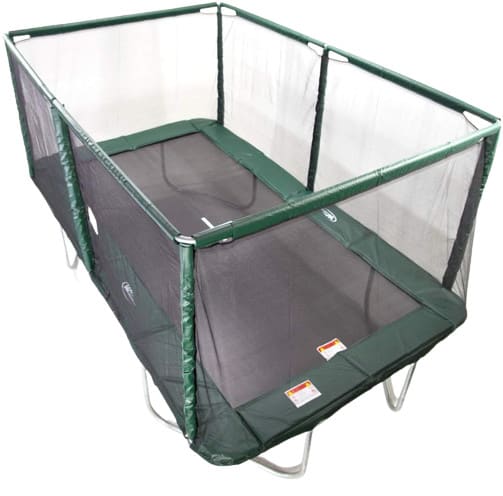 Check MX Pro Rectangle Trampoline price below:
add_circle
Has safety pads
add_circle
Has a strong and long-lasting mat
add_circle
It is fully protective and safe enclosure system
Specifications
Size: 10' × 17' × 40" tall

Shape: Rectangle

Frame material: Alloy Steel

Weight limit: 350 lb 
Why Buy This 
The AlleyOOP 10' x 17' trampoline is the ultimate choice for anyone seeking the perfect trampoline for their backyard. Whether you're a fan of G-Tramp, an athlete looking to enhance your performance, or a parent prioritizing safety and durability, this trampoline has it all.
Performance 
Experience a new level of training on the AlleyOOP 10' x 17' trampoline. Its extended play area provides ample space for athletes to unleash their skills and push their limits. With the thickest trampoline frame in its class and weather-resistant materials, this trampoline can withstand intense workouts and the elements. The Triple-Fail-Safe Safety Enclosure ensures athletes of all ages and ability levels can train with peace of mind, knowing that safety is their priority.
Product Overview 
Transform your backyard into a professional-caliber gym with the AlleyOOP 10' x 17' trampoline. Its streamlined design and unmatched performance make it the ideal severe and recreational training choice. This trampoline's rectangular shape perfectly balances performance, safety, and longevity.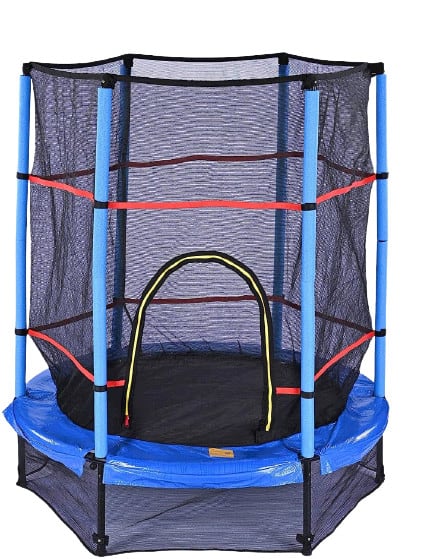 Check WinSpin Mini Trampoline price below:
add_circle
Safe and ergonomic
add_circle
Seamless design
add_circle
Durable and Stable
remove_circle
Made only for kids
Specifications
Size: 54.33"L x 54.33" W x 62.99" H

Shape: Round

Frame material: Alloy Steel

Weight limit: 110.2 Pounds
Why Buy This
Safety is a top priority with this trampoline. It features a high-quality fence net design that provides extra protection, preventing children from falling to the ground or getting stuck in any openings. The breathable mesh net lets you keep a clear view of your kids while they play, ensuring their safety at all times.
Performance
The features of this trampoline can provide the best possible experience for your children. The PP jumping mat is wear-resistant and prevents deformation, ensuring it can withstand rigorous activities and maintain its shape over time. The PVC spring cover is resistant to UV rays and water, ensuring its durability outdoors. 
The heavy-duty steel frame with reinforced legs and an anti-skid rubber bottom provides exceptional stability, allowing your children to jump and play confidently. With a load capacity of 110 lbs and the ability to accommodate up to 2 children at once, this trampoline is perfect for energetic playtime.
Product Overview 
This is the ideal choice if you're looking for a trampoline that prioritizes safety, durability, and stability. With its exceptional features and thoughtful design, this trampoline offers a long lifespan, outstanding performance, and peace of mind for both children and parents.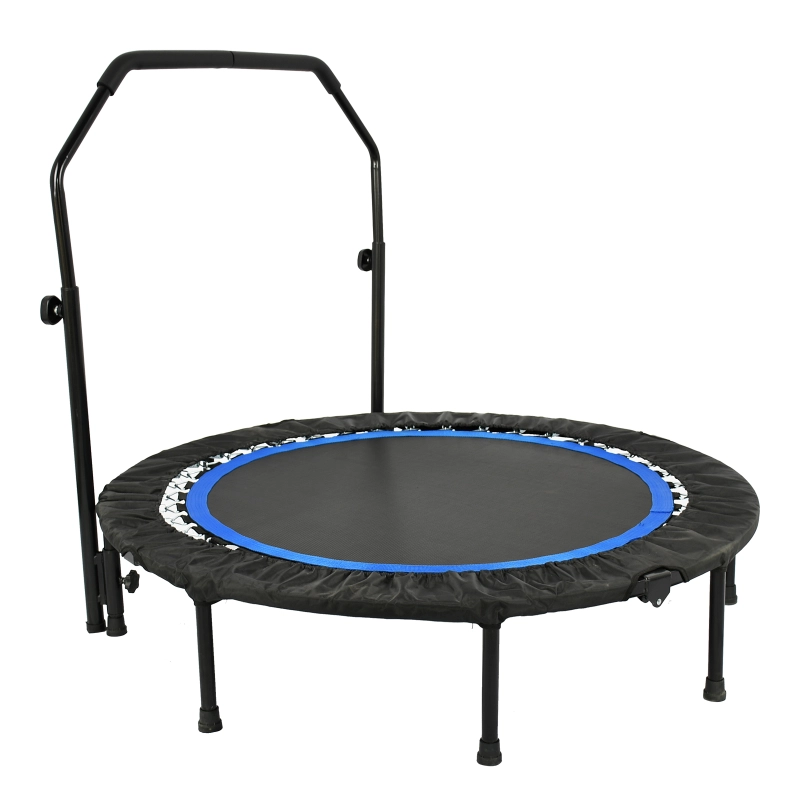 Check YOPOWER Mini Trampoline price below:
add_circle
Compact and easy to store
add_circle
Premium materials
add_circle
Good for small spaces
remove_circle
Produced some noise
Specifications
Size: 48-inch

Shape: Round

Frame material: Steel Pipe

Weight limit: 150 kg
Why Buy This 
The Yopower Mini Trampoline offers a versatile and convenient fitness solution. Use it at home or work to increase cardiovascular fitness, build muscle strength, aid in weight loss, and enhance circulation. 
One of the standout features of this trampoline is its folding design. After your workout or when you need to free up space, fold it and store it under the bed or in a closet. It's compact and easy to store, making it ideal for those with limited space.
Performance 
You don't need an expensive gym subscription or a large home gym to get fit. The Yopower Mini Trampoline provides an effective workout solution in a compact size. The six removable rubber-tipped legs ensure stability and prevent slippage during exercise sessions. The sturdy 48-inch-diameter frame provides a reliable foundation for your workouts.
With its 30 bands providing resistance to tension, each two inches wide for enhanced toughness and stability, you can enjoy a challenging and rewarding workout experience. These bands deliver a safe and controlled rebound, allowing you to target different muscle groups and improve your cardiovascular fitness.
Product Overview 
This mini trampoline from Yopower is the perfect investment for your fitness goals. With its impressive features and convenient design, this trampoline offers a productive, secure, and progressive way to work out in the comfort of your home or office. Get ready to improve your overall fitness, strengthen your muscles, shed pounds, and boost your circulation.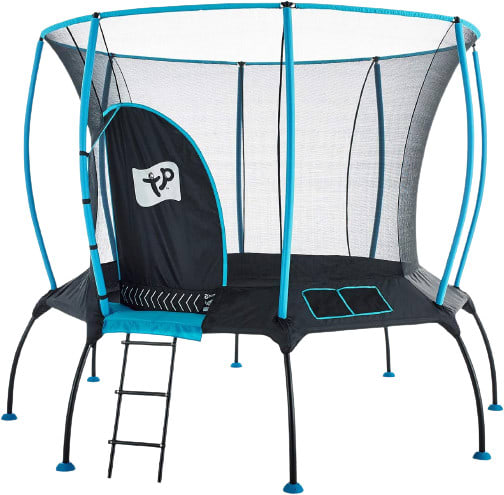 Check Lifespan Kids TP Genius Octagonal Trampoline price below:
add_circle
Galvanized Steel Frame
add_circle
Intelligent Feet Design
add_circle
UV-protected components
remove_circle
Expensive and made for kids only
Specifications
Size: 10 ft

Shape: Octagonal

Frame material: Steel

Weight limit: 105 kg
Why Buy This 
Take your bouncing experience to the next level with the creative and stylish Genius Octagonal Trampoline from TP Toys. You can enjoy endless hours of bouncing fun with confidence in the trampoline's quality and performance.
In addition to its exceptional bounce properties, the Genius Octagonal Trampoline has a range of accessories to enhance your jumping experience. A cover, ladder, and ground pegs with innovative foot designs are included, providing convenience and safety.
Performance 
The Genius Octagonal Trampoline has springs that deliver an incredibly consistent vertical bounce. No matter how high you jump, you can expect a reliable and exhilarating bounce every time. The trampoline's outstanding safety features ensure you can bounce with peace of mind, knowing your well-being is protected.
The structure of the Genius Octagonal Trampoline is made of galvanized steel, providing durability and strength. Its octagonal shape offers a predictable and controlled vertical bounce. It means you can enjoy a consistent and enjoyable bouncing experience every time you step onto the trampoline. 
Product Overview 
Experience the joy of bouncing with the Genius Octagonal Trampoline from TP Toys. This trampoline offers exceptional safety features, impressive performance, and a design to make your bouncing experience enjoyable.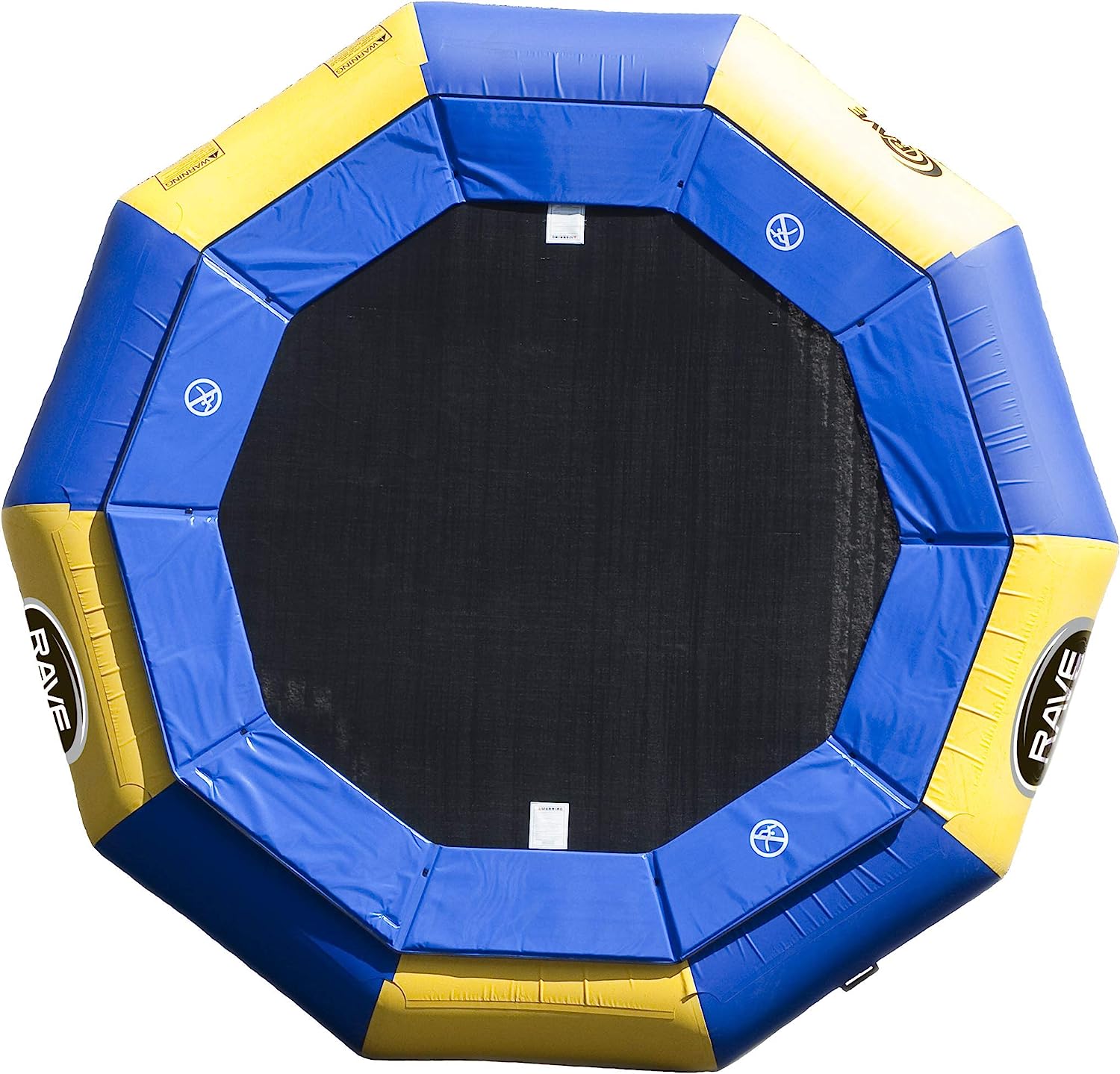 Check Rave Eclipse AJ-120 Trampoline price below:
add_circle
Dual purpose: trampoline and inflatable
add_circle
Has an included ladder for kids
add_circle
Large jump zone
remove_circle
Can only be used on water
Specifications
Size: 12 ft

Shape: Octagonal

Frame material: Black Nylon

Weight limit: 500 lbs
Why Buy This 
A classic inflatable trampoline that can be brought even on an outing! Your kids will surely enjoy this while enjoying the cold breeze and water. 
Performance 
A trampoline that is easy to assemble can be brought even on a family outing and is a tool to make your activity even more exciting. Enjoy jumping with this heavy-duty, durable, reinforced PVC. 
Product Overview 
Take your summer to the next level, and try adding spice by bringing an inflatable trampoline! Spice up an adventure and challenging activity with the help of this trampoline!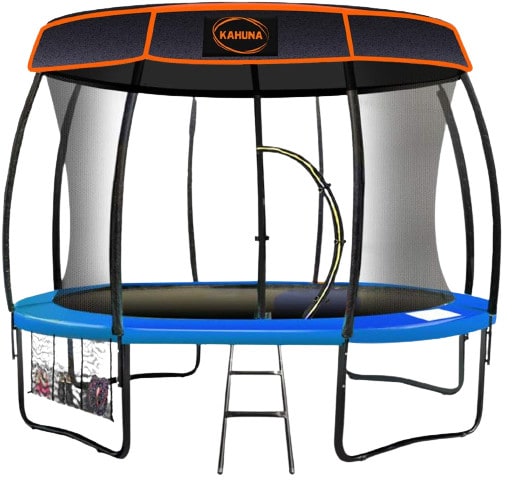 Check Kahuna Trampoline price below:
add_circle
Safe and Durable
add_circle
Built-in Safety Features
remove_circle
Built for Australian-style backyards only
Specifications
Size: 6 ft

Shape: Round

Frame material: Nylon, Alloy Steel

Weight limit: 80kg
Why Buy This
If you're searching for the perfect trampoline for your children and toddlers to enjoy in the comfort of your backyard, look no further than the Kahuna trampoline. With its durable construction, enhanced safety features, and additional basketball set, this trampoline offers endless bouncing fun for the whole family.
Performance 
The Kahuna trampoline is designed with stability and durability in mind. The configuration of the legs minimizes the risk of them digging into the ground, providing excellent stability during use. Additionally, reinforced joint bars are included on the legs to increase overall strength and stability, ensuring a safe and secure bouncing experience.
The trampoline's padding cover is not only designed for protection but also features UV-stabilized nylon mesh incorporated within it. This helps to enhance durability and provides added resistance against the sun's rays, ensuring that the trampoline can withstand outdoor conditions and maintain its quality over time.
Product Overview 
Bring the excitement of a trampoline and basketball together with the Kahuna trampoline. Watch your children bounce, play, and shoot hoops, creating lasting memories in your backyard. Invest in this high-quality trampoline and provide your kids with the ultimate outdoor fun and entertainment source.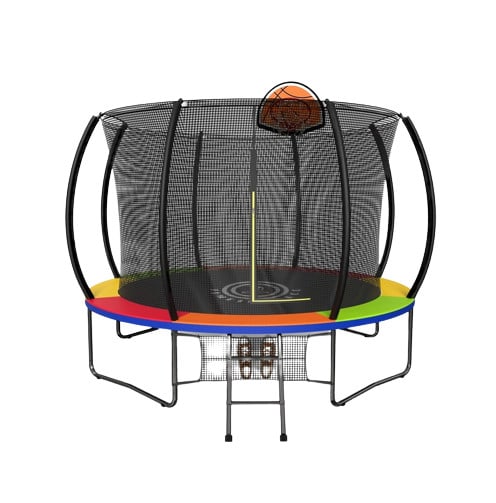 Check Jumping Roo 14FT Trampoline price below:
add_circle
Durable materials
add_circle
Reliable support
add_circle
Large jump zone
remove_circle
It is pricey
Specifications
Size: 14 ft

Shape: Round

Frame material: 

Weight limit: 180kg
Why Buy This
Have some quality time with your family with the help of this trampoline from Jumping Roo. You can let your family experience relaxation without worrying about being burnt by the sun. This is also best if you still want to jump and reach euphoria! Rain or shine, this trampoline will always be ready for you!
Performance
It has UV protection, high-quality, durable material that will last and allows water to drain. Also, it has a ladder made out of heavy galvanized steel that serves as a safe entry and exit for your children to climb up and down. This trampoline is also made with the finest materials, so you can ensure it is built to last!
Product Overview 
If you want to enjoy yourself under the sun but do not want to be burnt, try purchasing this Jumping Roo 14FT Trampoline! It has a sunshade net and a basketball hoop, a perfect leisure activity with your family. 
---
What is a Trampoline?
A trampoline is a recreational device with a strong fabric mat stretched tightly over a steel frame with coiled springs. It provides a springy surface that allows individuals to bounce and perform various acrobatic movements. 
Trampolines are for recreational purposes, exercise, and even in competitive sports such as gymnastics. They come in different sizes, from small ones designed for children's use to larger ones suitable for outdoor activities and training. Trampolines provide a fun and energetic way to engage in physical activity while enjoying the sensation of bouncing and defying gravity. 
Safety measures such as enclosures and padding are often incorporated to minimize the risk of injury during use.
---
What Is It Used For?
A trampoline is a recreational device with a strong fabric stretched tightly over a steel frame with coiled springs. It is used for jumping and performing acrobatic movements. Here are some common uses of a trampoline:
Recreation and Fun

: Trampolines are for recreational purposes, especially in residential backyards or recreational centers. They provide a fun way for children and adults to bounce, jump, and perform various tricks and flips.

Exercise and Fitness

: Jumping on a trampoline is a low-impact exercise that can help improve cardiovascular health, strength, balance, and coordination. It engages multiple muscle groups and can be a great alternative to traditional workouts.

Sports Training

: Trampolines, particularly in gymnastics and acrobatics, are used in sports training. Athletes utilize trampolines to practice and perfect their aerial maneuvers, flips, and twists, which they can then apply to their routines on the floor or other apparatuses.

Rehabilitation and Therapy

: Trampolines are also used in physical therapy and rehabilitation programs. The soft, elastic surface of the trampoline can help reduce impact and stress on joints while improving muscle strength and coordination. It is often utilized in rehabilitating injuries or enhancing motor skills.

Competitive Trampolining

: Trampolining is an Olympic sport involving acrobatic routines on a trampoline. Competitors showcase their skills by executing various flips, twists, and somersaults with precise technique and control. This sport requires exceptional athleticism and body control.

Coordination and Balance Training

: Trampolines can aid in developing coordination and balance, especially in children. Regular use can enhance spatial awareness, timing, and proprioception—the body's ability to perceive its position and movement in space.

Stress Relief

: Jumping on a trampoline can be a great way to relieve stress and release endorphins. The rhythmic bouncing motion can provide a sense of freedom, joy, and a temporary escape from daily worries.
When using a trampoline, following safety guidelines, such as proper supervision, safety nets, or padding, avoiding overcrowding, and ensuring the trampoline is in good condition is essential. Safety precautions are crucial to prevent accidents and injuries while enjoying the benefits and fun of trampolining.
---
Different Kinds of Trampolines
A few examples of trampoline for sale are available in Australia, and each type caters to different needs and preferences. When choosing the best trampoline, consider the intended use, open space, and safety features to ensure you find the right fit for your requirements.
There are various types of trampoline Australia. Here are a few common ones:
Round Trampolines

: Round trampolines are a popular choice for backyard use. They come in different sizes, ranging from small ones for children to larger ones suitable for adults. The circular shape provides consistent bounce throughout the surface.

Rectangular Trampolines

: Rectangular trampolines are known for their superior bounce quality. Gymnasts and athletes often use them due to their ability to provide higher and more controlled jumps. Rectangular trampolines are best for competitive purposes.

Oval Trampolines

: Oval trampolines combine the characteristics of both round and rectangular trampolines. They offer a larger jumping area than round trampolines and provide a decent bounce, although less pronounced than rectangular trampolines.

Square Trampolines

: Square trampolines are another popular choice. They provide a good balance between bounce and jumping space. Square trampolines are often preferred for compact size, making them suitable for smaller yards.

Mini Trampolines

: People commonly use mini trampolines, also known as rebounders, for indoor fitness and rehabilitation. These smaller trampolines provide a low-impact workout and are often portable for easy storage.

Water Trampolines

: Water trampolines are perfect for water bodies such as lakes or pools. They feature a buoyant platform with a bounce mat and are typically larger to accommodate multiple users for water-based fun.
---
Buying Guide: How to Choose a Trampoline
Here are some tips when choosing the best trampoline that suits your liking and the purpose of getting one.
Consider the Shape-

Look at the shape that will work best in your outside area and which forms don't appeal to you because of the square footage, safety concerns, or cost.

Consider the Size-

Look at the sizes that will fit your space, minimum and maximum.

Consider the Weight Limit-

Examine the lowest trampoline weight limit necessary to support the combined weight of all users.

Consider the Frame-

When considering a trampoline, actively assess the weight, material, and design. If you frequently use the trampoline, prioritize a strong frame to ensure its longevity.

Consider the Safety Features-

You can invest in additional safety precautions, such as trampoline ladders or an entrance closure. Consider adding reinforced stitching around the safety net track to prevent rips.
---
Best Trampoline Brands in Australia
It's stressful, and exercising outside takes too much time. So, here are some recommended best trampoline brands in Australia that will ease your stress and benefit your health. 
Vuly Trampoline
Vuly Play creates the most sought-after trampolines for backyards. These trampolines utilize high-quality materials, ensuring exceptional durability. Rigorous safety testing guarantees maximum protection, backed by the industry's leading warranties. Each trampoline delivers an unparalleled jumping experience, surpassing all expectations.
Springfree Trampoline
A Springfree Trampoline is unquestionably the safest in America thanks to its springless construction, flexible net, and hidden frame, which allows kids to be kids and explore their limits while playing outdoors in safety. 
Lifespan Kids Trampoline
Heavy-duty elastic straps in place of springs are used in our HyperJump 3 Springless Trampolines to increase safety without reducing bounce. The jumping pad has no complex parts, which is the best part! 
Action Sports Trampoline
Galvanized steel creates a safe and incredibly long-lasting Action Sports Trampoline. The cushioned safety cage pads keep the kids safe, and the sturdy four legs offer a firm base for jumping. 
Jumpflex Trampoline
The trampoline firmly fastens nets to the jumping mat, securing them in place. When zipping shut the trampoline door, the unique SafeSealTM technology guarantees an impenetrable barrier, preventing any possibility of kids falling out. Experience exceptional safety with the 360-degree seal offered by this trampoline.
---
Trampolines Price Range Here in Australia
The trampoline price in Australia varies depending on size, brand, quality, and additional features. Here is a general breakdown of the price ranges you can expect for trampolines:
Budget Range: In the budget range, you can find smaller trampolines suitable for young children, priced around $100 to $300. These trampolines may have a lower weight capacity and simpler designs.
Mid-Range: Trampolines are available in a wider variety of sizes and designs, typically ranging from $300 to $800. Trampolines in this range often have higher weight capacities and more durable materials and may include safety features such as enclosures.
Premium Range: Premium trampolines, usually priced above $800, offer larger sizes, advanced safety features, and superior durability. These trampolines are built to withstand frequent and intense use and often come with extended warranties.
---
Where to Buy Trampolines in Australia?
You can buy various trampoline sizes in Australia. Here are some popular options:
Retail Stores: Major retail stores like Target, Kmart, and Big W often have trampolines available for purchase. They usually offer a ran bbg6hyge of sizes and brands, allowing you to choose one that fits your requirements. Visit the sports and outdoor sections of these stores to find trampolines.
Specialty Sports Stores: Stores specializing in sports and outdoor equipment, such as Rebel Sport or BCF (Boating, Camping, Fishing), may have a dedicated section for trampolines. These stores often carry various brands and sizes, and their staff can assist in selecting the right trampoline for you.
Online Retailers: Websites like Amazon, eBay, and Catch.com.au offer a trampoline online with various brands, sizes, and price options. You can browse through their selections, read customer reviews, and conveniently order the trampoline of your choice online.
Trampoline Manufacturers: Some trampoline manufacturers, such as Vuly Play and Springfree Trampoline, have official websites where you can purchase their products directly. These websites provide detailed information about their trampolines, including specifications, safety features, and warranty information.
Remember to compare prices, read trampoline reviews, and check for warranties or return policies before purchasing. Additionally, consider safety features, durability, and size when choosing a trampoline that best suits your needs.
---
Conclusion
Spending time on a mini-trampoline is a great way to improve motor abilities like balance, coordination, and agility. It may also be able to reduce some of the symptoms of anxiety. Additionally, trampoline workouts improve balance and agility while toning the legs, thighs, belly, arms, and hips. When you are rebounding, a moderate cleansing promotes fat reduction. So, get your phones and purchase one! Shop now and pick one of the best trampolines on our list of the Best Trampolines in Australia.
---
Related Articles