A stick blender is a handy kitchen appliance that can simplify the process of blending and pureeing food. It is ideal for small blending tasks such as pureeing soups or sauces and making smoothies and baby foods. Its ergonomic design, compact size, and detachable parts make it simple to clean and store. This kitchen gadget is a must-have if you are looking for an efficient and convenient tool for blending.
We can recommend the best stick blender in Australia from different brands for you. Read the stick mixer reviews and carefully pick which suits your budget and needs. 
---
10 Best Stick Blenders in Australia 2023 - Reviews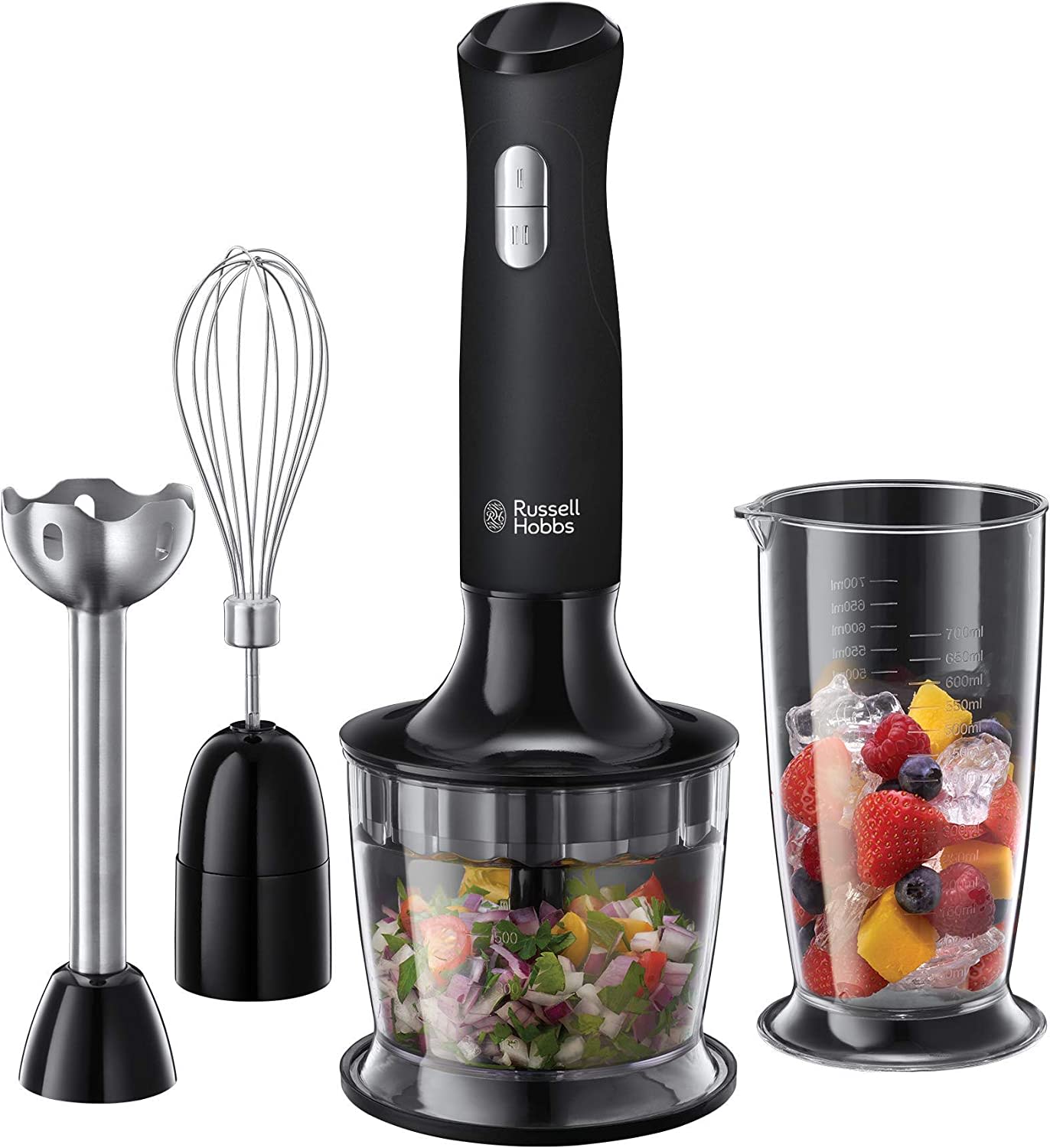 Check Russel Hobbs 3-in-1 Stick Blender price below:
add_circle
Energy-efficient
add_circle
It can blend and crush ingredients excellently
remove_circle
The blades might come loose after a few uses
Why It's Our Top Pick 
Russel Hobbs can suggest the best stick blender in Australia for you. It is a 3-in-1 kitchen tool that chops, whisks, and mixes ingredients, whether you are making smoothies, soups, or sauces. Therefore, the hand blender saves time and space while prepping food, letting you switch from chopping to whisking ingredients in a breeze. We recommend it for shoppers on a low budget, with everything they need, such as a whisk, measuring cup, container, and mixing foot.  
Specification 
Power: 500 watts

Speed settings: 2

Blade material: Stainless steel 
The Russell Hobbs 3-in-1 Hand Blender/Mixer meets your cuisine needs on a budget. It is portable, runs on a 500-watt motor, and fits on any kitchen top. It has detachable parts, making cleaning easier after each use.
Key Features 
The handheld blender is BPA-free, with parts made of sturdy plastic. Highlighting two stainless steel blending bases and blades permits you to chop and mix ingredients without making a mess in the kitchen. In comparison, the two-speed settings make food preparation more versatile, with a pulse function for faster blending. Other key features are a non-slip base and an ergonomic handle that help prevent injuries.
Why Buy This
It has a large capacity of 700 ml and 500 ml, which is suitable for making smoothies and sauces for your family. Its matte black design is ideal for any kitchen countertop that draws the attention of many homeowners to get one. Additionally, it is compact but can prepare multiple blended meals for you.

Check SALTA 800W Portable Stick Blender price below:
add_circle
Very affordable
add_circle
Compact design
add_circle
It is excellent for blending soup and whipping cream
remove_circle
No attachments included
Specification 
Power: 800 watts 

Speed settings: 8

Blade material: Stainless steel
SALTA offers a powerful hand stick mixer for chopping, blending, and pureeing for under $40. It operates with an 800-watt DC motor, making it three times faster and more durable than AC motor-powered models. 
Key Features
It is suitable for making smoothies, soups, and even baby food because of its portability and its ability to fit on most mixing bowls. The delicate and precise mixing of ingredients is also possible with the s-shaped stainless steel blade. There are eight different speeds and a turbo mode for crushing hard ingredients. Before subsequent use, the brand suggests detaching the shaft to wash off any residues easily. 
Why Buy This
If you are looking for a hand held blender with the same features as expensive models, look no further than SALTA's. It is a must-have in the kitchen that works like a food processor in a single unit, making it worth the price point.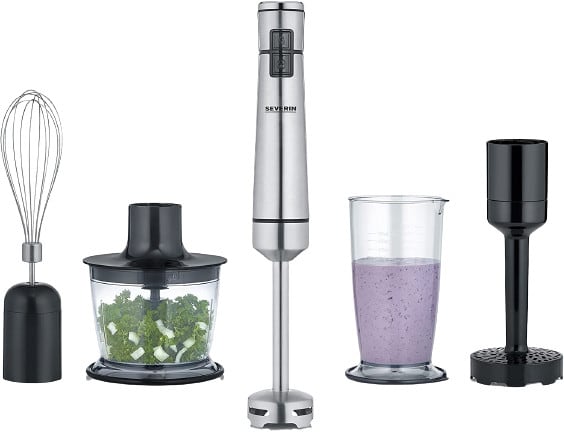 Check SEVERIN SM 3775 Stick Blender price below:
add_circle
Travel-friendly
add_circle
Features, such as fast-charging and ergonomic handle, make it worth the price
add_circle
Lightweight and cordless
Specification 
Power: 100 watts

Speed settings: 1

Blade material: Stainless steel
Using a cordless hand-stick mixer saves space in the kitchen and is also energy-efficient. The SEVERIN SM 3775 can make 30 soups on a single charge and five cups of soup with a quick task. 
Key Features
SEVERIN created a high-quality, wireless stick mixer. It has a sturdy and detachable stirrer that is ideal for mixing, pureeing, and whisking ingredients. Charge the device for 2 hours and enjoy a 40-minute run time, which is enough to finish more than 20 cups of soups. The brand ensures it is BPA-free and easy to clean for a more hygienic mixing process. 
Why Buy This
If your kitchen is small, you should buy a cordless hand blender. It is best to use for camping and other outdoor trips due to its long-lasting battery. The power is convertible to 240 volts, making it suitable for various charging options. 

Check Westinghouse Retro Puree Stick Blender price below:
add_circle
The stirring blade is well-functioning
add_circle
It offers a broader speed range
Specification 
Power: 600 watts

Speed settings: 5

Blade material: Stainless steel 
The Westinghouse Retro Puree Stick Blender is compact and can chop ingredients at a particular speed. It has 5-speed levels with a turbo function that benefits those who always run out of time. Plus, you can get a whisk attachment in each purchase. 
Key Features 
Its handle is comfortable to hold and makes it easy to chop ingredients. Westinghouse used an efficient, quiet AC motor or DC power to run the stick blender. The hand stick mixer performs at different speeds for specific blending needs. Switch on the turbo mode to make delicious snacks with the touch of a button. You can also replace the blending attachment with the whisk to prepare a drink. 
Why Buy This
Westinghouse Retro Puree Stick Blender is not that expensive. It can prepare a wide variety of foods and drinks with less effort. Take advantage of the stick blender's adaptability in terms of its power supply if you intend to use it indoors and outdoors.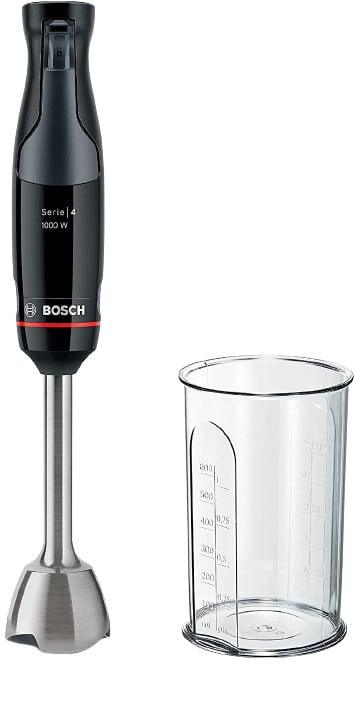 Check Bosch ErgoMaster Series 4 Stick Blender price below:
add_circle
It has a superb locking system
add_circle
The single button is beginner-friendly
remove_circle
The blades are difficult to clean
Specification 
Power: 1000 watts

Speed settings: 2

Blade material: Stainless steel  
The 1000-watt motor of the Bosch ErgoMaster Series 4 is ideal for mixing more complex ingredients and making fine puree. The quattro blade system is strong enough to cut fruits and vegetables and can powder nuts. 
Key Features 
Equipped with ceramic coupling, the Bosch ErgoMaster Series 4 can provide high-quality performance in the kitchen. Its speed control is easy to manage to meet your hand blender needs. Bosch added a switch-on lock on the control lever, making the device safer. It has four stainless steel blades with an anti-splash function for clutter-free countertops. You will save money with each purchase by getting a mixing rod and measuring cup.
Why Buy This
Finding a powerful stick blender is vital to use the device for hard-core kitchen errands. Choose the ErgoMaster Series 4 with its wear-free design and strong motor to complete your countertop. It will allow you to make multiple blended meals at home, anytime.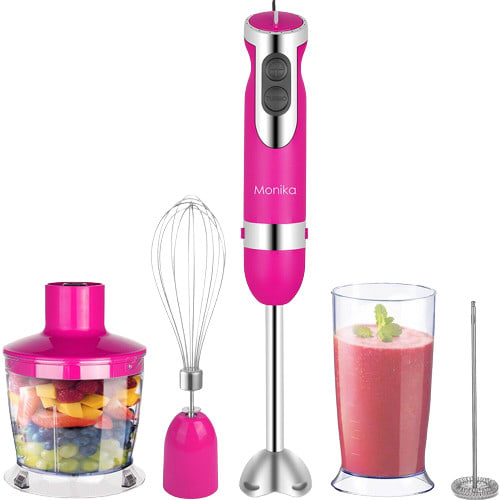 Check Monika 5-in-1 Electric Stick Blender price below:
add_circle
Easy to adjust speed levels
add_circle
It ensures even and smooth blending of ingredients
Specification 
Power: 700 watts

Speed settings: 12

Blade material: Stainless steel 
Make a tasty soup with Monika's 5-in-1 Electric Stick Blender quickly and easily. It is non-toxic and has washable parts to ensure a healthy tummy. It does not end just with soup, as the strong motor can make baby food, smoothies, and other mixed snacks.
Key Features 
This immersion blender includes a 500ml chopper, 600ml beaker, and a whisk, which expands your cooking abilities. It has 12-speed settings and a turbo button for intense food preparation. Monika employs an S-molded, stainless steel blade to guarantee a smoother blending process and make washing off residues easier. Lastly, the easy-click system helps you replace attachments for cleaning. 
Why Buy This
Monika's Electric Stick Blender is excellent for making soup dishes. It can also crush the ice with the stainless steel cross blades to make you a cool drink. With that versatility, paying extra is not an option with this stick blender, making it a perfect alternative to expensive models.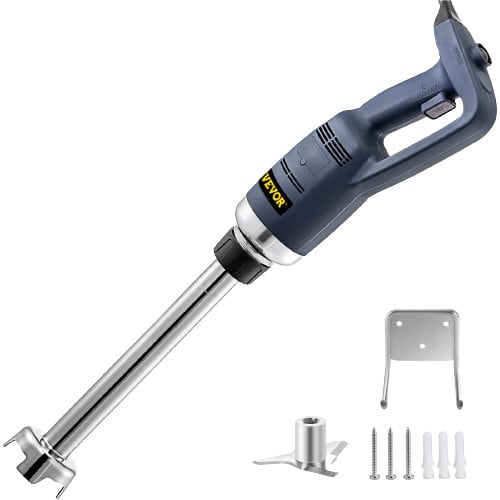 Check VEVOR 500W Immersion Stick Blender price below:
add_circle
It prevents hand fatigue with an ergonomic handle
add_circle
It improves safety by adding a locking and security button
add_circle
Easy to disassemble
remove_circle
Bulkier than its competitors
Specification 
Power: 500 watts

Speed settings: 1

Blade material: Stainless steel
The VEVOR 500W Immersion Handheld Blender has a powerful motor that seamlessly mashes potatoes, ideal for professional and home use. It can perform many kitchen tasks, such as blending, chopping, whisking, and mixing. If you long for a quality stick blender without breaking the bank, the VEVOR brand is a good choice. 
Key Features 
The stick blender has variable speed control to give users greater precision when blending ingredients. The detachable blades make it easy to clean and maintain the blender. Its long shaft can stir deep bowls and pans and has a soft-grip handle for convenience. Although massive, you can hang the stick blender against the wall for storage. There are cooling vents to keep the device from overheating. Other features are an anti-splash design, a locking button, and a spare blade for extensive application. 
Why Buy This
Overall, the VEVOR 500W Immersion Handheld Blender is a reliable and efficient kitchen appliance with many features and benefits. It lets you mash potatoes and make other grinding and mixing recipes.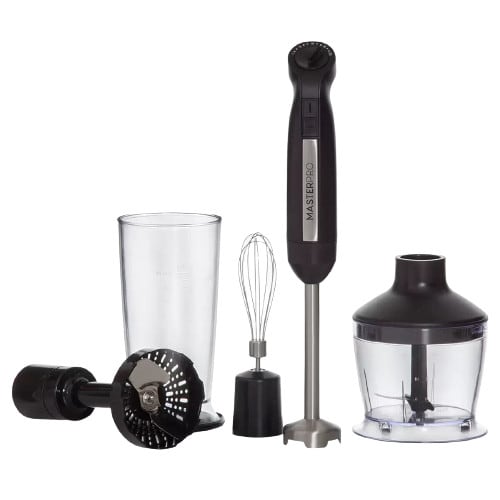 Check MasterPro 4-in-1 Ultimate Stick Blender price below:
add_circle
Versatile at a lower price
add_circle
Easy to manage
add_circle
It can guarantee a quiet blending operation
Specification 
Power: 800 watts

Speed settings: not mentioned 

Blade material: Stainless steel
Create healthy smoothies at home with the MasterPro 4-in-1 Ultimate Hand Blender's excellent features. Investing in the best stick blender in Australia for anyone who loves making smoothies is wise. It is powerful and easy to use, therefore a must-have tool in any household. 
Key Features
The 4-in-1 Ultimate Hand Blender has multiple attachments, including a whisk, a chopper, a potato masher, and a beaker. These things make blending, chopping, and whisking ingredients easy for smoothies. The blender's blades are durable and long-lasting and can prevent food from sticking to them. The slim design and non-slip handle also ensure the blender stays in your hand while you blend. The powerful motor can operate at low noises and crush even the toughest ingredients, like frozen fruits and vegetables. 
Why Buy This
All the blender's attachments are detachable and dishwasher-safe, making them easy to clean. This Ultimate Hand Blender lets you make smoothies and other protein-enriched snacks in large quantities anytime.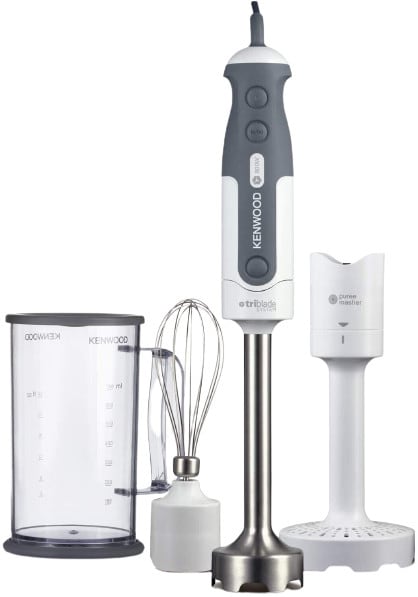 Check Kenwood Triblade Hand Blender Stick Blender price below:
add_circle
It saves time when shopping
add_circle
The innovative blade design can cut even the most complex food
add_circle
Dishwasher-safe
Specification 
Power: 800 watts

Speed settings: 1 

Blade material: Stainless steel
With Kenwood Triblade Hand Blender, you can be more flexible in using a stick mixer. It includes multiple attachments, like a masher, whisk, metal wand, and a vast capacity beaker at a low cost. It makes Triblade Hand Blender an effective tool for blending or chopping ingredients.
Key Features 
Kenwood highlights the tri-blade system that consists of an angled blade, which can mix ingredients faster. Its non-slip handle design prevents injuries to greasy hands. You can blend ingredients to the desired consistency right at your fingertips with power and speed controls; To speed up the blending process, select turbo mode. The Triblade Hand Blender also lets you mash and whisk heavier loads thanks to its powerful motor. 
Why Buy This
Buying the best stick blender in Australia with the right accessories will reduce expenses. It is true with Kenwood Triblade Hand Blender, which includes three attachments to satisfy your kitchen need. They are all durable. It also eliminates the need to find each item in the market.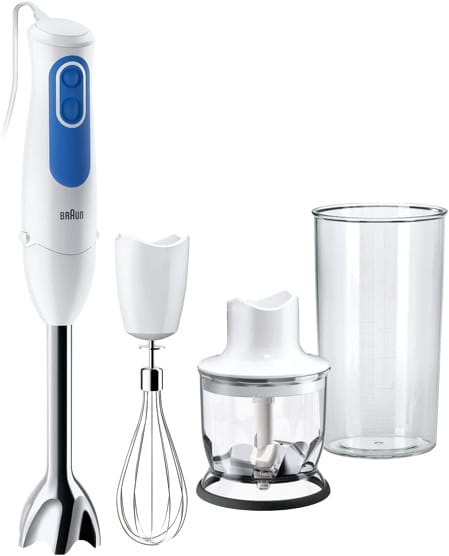 Check Braun Household Multiquick Stick Blender price below:
add_circle
A multi-functional stick blender
add_circle
It ensures a clutter-free kitchen
add_circle
Cost and energy-efficient
remove_circle
The chopper is too small
Specification 
Power: 700 watts

Speed settings: 2

Blade material: Stainless steel
With the Braun Household Multiquick 3, you can mix, chop, and whisk food in one appliance. Thanks to the easy-click system, you can easily replace attachments anytime, promoting convenience. The hand blender also controls splashing with the whisk function to prevent messes.
Key Features 
The Braun Family Multiquick 3 has dual speed control reasonable for daily cooking needs. Its soft-grip handle makes it easier to use with just one hand, making it less likely to slip. Thanks to Braun's Splash Control Technology, the stick blender ensures that there will be no splashing while you wait for the blending results. Moreover, the Multiquick 3 has high-quality blades that can cut large pieces with less time and effort.
Why Buy This
The Multiquick 3 offers many unique features besides being BPA-free and portable. This Braun's Hand Blender is worth considering if you need a whisk attachment for cooking. It likewise gives you more food preparation choices, like a blender and a chopper. 
---
What is Stick Blender?
A stick blender or mixer is a versatile kitchen tool designed to puree, blend, and mix ingredients directly in the container or pan. It consists of a motor in a handheld body and a detachable blending head with stainless steel blades at the end. The stick blender is a popular choice for blending small quantities of food quickly and easily.
---
Stick Blender Vs. Blender
A stick blender, or an immersion blender, is a handheld device with a motor and detachable blending head that can be placed directly into a container or pan of food to blend or puree ingredients. It is compact and more accessible to store than a traditional countertop blender, suitable for small or quick blending tasks like making smoothies, soups, and sauces. 
On the other hand, a traditional blender is a countertop appliance with a large pitcher and a fixed blade assembly at the bottom. It is more powerful than a stick blender and is often used for heavier-duty tasks like crushing ice, blending larger batches of smoothies, and making purees or nut butter. 
Both blender types have unique advantages for various culinary tasks, depending on individual needs and preferences.
---
Buying Guide: How to Choose a Stick Blender
You could have an item in mind after reading the stick mixer reviews. Before choosing the best stick blender in Australia, consider the following:
Power:

A stick blender's power is essential when blending thick substances. Choose a model with at least 200 watts of power. However, if you're a frequent user or plan to mix more complex ingredients like nuts, it's better to go for a higher wattage. 

Ergonomics:

When buying, choosing a model with an ergonomic design is best. The handle should be easy to grip, even when your hands are wet or greasy. An ergonomic design will ensure you can use the blender for extended periods without feeling wrist strain. 
Corded or Cordless:

Opt for a corded stick blender if you need a powerful motor and do not mind the cable's presence hindering your movement. Cordless stick blenders are handheld and run on battery power. They are lightweight, portable, and convenient. Still, they have less power. 
Accessories:

Some models come with interchangeable blades and attachments, such as whisks or choppers, that make the blender versatile for various food types. Using the stick blender for several purposes, a set with multiple accessories will prove helpful. 
Easy to clean:

Cleaning stick blenders can be tedious, especially when food residues get stuck in the blades. To avoid this, go for a model with detachable blades that you can easily remove, wash, and reattach.
Price:

The price of electric stick blenders ranges from budget-friendly to high-end models. Choose wisely within your budget to buy a blender that fits your needs. 

Brand & Warranty:

The brand's durability and warranty are essential when purchasing a stick blender. When picking the brand, check the warranty period and what it covers. It will bring peace of mind that you are making a suitable investment.
---
Best Stick Blender Brands in Australia
Choose the best brands of stick mixers for their powerful performance, versatile functionality, ergonomic designs, and reliable results. These brands offer superior blending and mixing capabilities, making them essential tools for effortless cooking, precise control, and professional-grade results in the kitchen.
Russell Hobbs Stick Blender
Upgrade your blending and mixing game with the Russell Hobbs stick blender. This versatile and powerful appliance offers exceptional performance in a compact design. With its robust motor and stainless steel blades, it effortlessly blends, purees, and mixes various ingredients. 
Breville Stick 
Elevate your culinary creations with the Breville hand stick mixer. This high-performance appliance combines versatility and power to make blending and mixing a breeze. The robust motor and sharp blades effortlessly handle various ingredients, from fruits and vegetables to nuts and ice. 
Ambiano Stick Blender
Experience convenience and efficiency with the Ambiano handheld blender. This compact and affordable appliance is a versatile addition to any kitchen. Its powerful motor and sharp blades effortlessly blend, mix, and puree various ingredients. From smoothies to baby food, the Ambiano Stick Blender/Mixer offers reliable performance and precise control, making it an essential tool for everyday cooking.
Smeg Stick Blender
Indulge in the sleek design and exceptional performance of the Smeg stick mixer. This Italian masterpiece combines style and functionality to elevate your blending and mixing experience. The powerful motor and stainless steel blades ensure effortlessly blending of even the toughest ingredients. With its variable speed control and ergonomic handle, you can quickly achieve the desired consistency. 
Electrolux Stick Blender
Unleash your culinary creativity with the Electrolux Stick Blender/Mixer. This appliance is designed for efficiency and versatility and offers exceptional blending and mixing performance. The powerful motor and stainless steel blades deliver precise and consistent results. With its variable speed control and ergonomic grip, you can easily customize your blending experience. 
---
Stick Blender Price Range Here in Australia
The stand mixer price in Australia can vary depending on the brand, features, and specifications. Generally, stand mixers in Australia range from around $100 to $1000. 
Entry-level or basic models can be found in the lower price range, while high-end or professional-grade stand mixers with advanced features and attachments are more expensive. 
When choosing a stand mixer that suits your requirements and culinary aspirations, it is best to consider your specific needs and budget.
---
Where to Buy Stick Blenders in Australia?
The best stand mixer in Australia is available from various online and in-store retailers. Here are some popular options where you can buy a hand blender:
Department Stores: Retail giants like Myer, David Jones, and Target often carry a wide selection of stand mixers. You can visit their physical stores or check their websites to browse and make a purchase.
Kitchen Appliance Retailers: Specialized kitchen appliance stores such as Harvey Norman, The Good Guys, and JB Hi-Fi offer a range of stand mixers. 
Online Marketplaces: E-commerce platforms like Amazon Australia, eBay, and Catch.com.au provide a convenient way to browse and purchase stand mixers online. These platforms often offer competitive prices and customer reviews to help you choose the best handheld blender.
Specialty Kitchenware Stores: Stores dedicated to kitchenware and cooking equipment, such as Kitchen Warehouse and House, carry a variety of stand mixers. These stores may offer a broader range of high-end or professional-grade models.
Manufacturer Websites: Official websites of stand mixer brands, such as KitchenAid, Kenwood, and Breville, often have online stores where you can buy their products directly. It allows you to explore a specific brand's full range of options.
It is best to compare prices, read a stand mixer review, and check for any available discounts or promotions before purchasing one.
---
Conclusion 
A stick blender/mixer is a valuable kitchen gizmo designed to simplify our kitchen tasks. It is a versatile and multi-functional kitchen helpful appliance for various tasks, from blending smoothies to pureeing soups, whipping cream, and more. Stick blenders/mixers are easy to use and require minimal storage space. They are also easy to clean since most models are dishwasher safe. Overall, the best stick blender in Australia is an excellent buy for anyone hoping to simplify their kitchen tasks and make cooking more enjoyable.
---
Related Articles