With its high pressure, you'll enjoy blasting away the accumulated dirt from surfaces, including patios, driveways, and decks! Now, you can clean almost everything without extra effort – plug and clean! 
Are you looking to buy the best pressure washer online? We recommend Australia's most durable, robust, and heavy-duty pressure washers. 
---
10 Best Pressure Washers in Australia 2023: Top Brands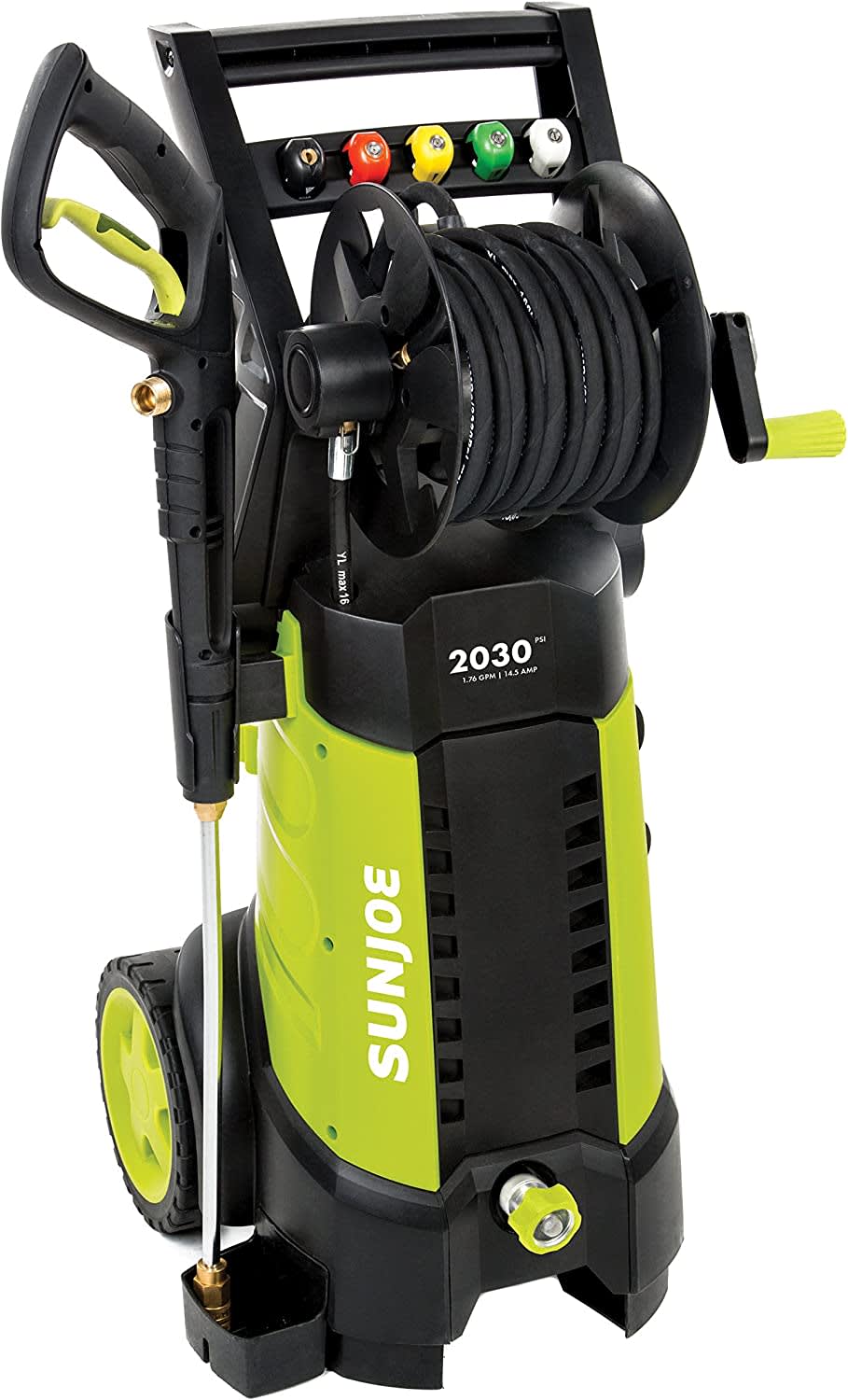 Check Sun Joe SPX3001 Electric Pressure Washer price below:
add_circle
Slightly inexpensive
add_circle
With detergent tank
add_circle
Equipped with Total Stop System (TSS)
remove_circle
A little bit noisy
remove_circle
Not compatible with hot water
Why It's Our Top Pick
Take on your most challenging cleaning tasks for your home, yard, and car under pressure while enjoying the power and performance! 
Specifications
Pressure: 2030 PSI

Flow Rate: 76 GPM 

Power Source: Corded Electric

Motor: 1800-Watt/14 motors
Key Features
Road tar, tree sap, bug droppings off cars, grease deposits from the pavement, severe mildew, oil and rust stains, caked-on dirt, and other tenacious yard and garden filth and grime be removed with 76 GPM of water flow. Also, it includes a 20-foot high-pressure hose, a 35-foot power cable, a garden hose adaptor, and the TSS (Total Stop System) trigger, which turns the pump off automatically when the trigger is not engaged. 
Why Buy This
This power washer is fantastic thus far! Before switching back to your garden hose, you should appreciate how convenient this one is. What you'll especially love about this is its quick attach mechanism, and the accompanying nozzles are of decent quality!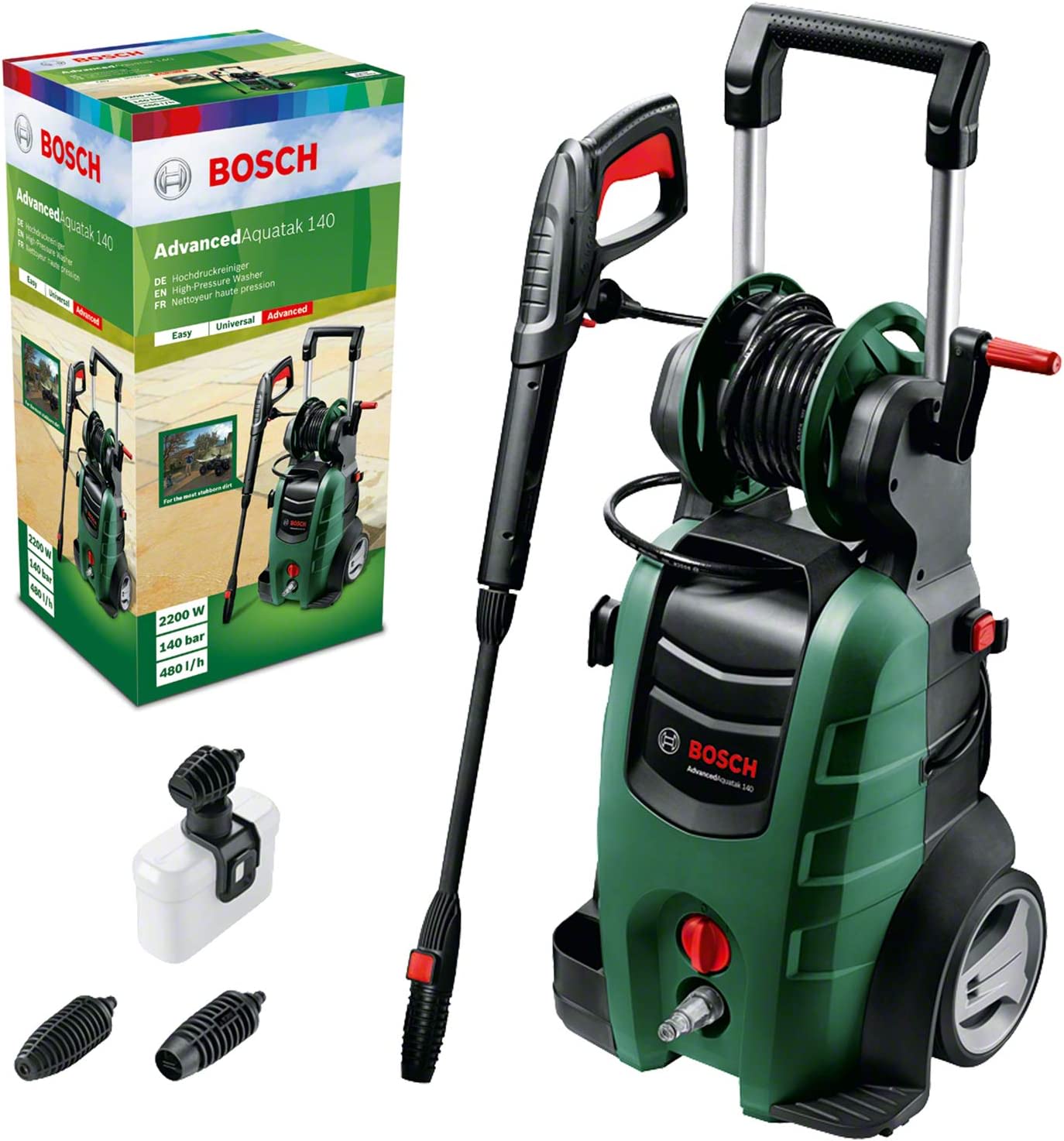 Check Bosch 2100 Watt Electric High Pressure Washer price below:
add_circle
It includes a variety of nozzles
add_circle
Easy to move and store
add_circle
Built-in hose reel
remove_circle
The pressure hose is sometimes stiff
Specifications
Pressure: 2030 PSI

Flow Rate: Corded Electric

Power Source: 480 l/h

Motor: 2100-watt
The pressure washer has a telescopic handle, wheels, and an integrated hose reel, making it quick and straightforward to set it up. You can move it to different locations and pack it away for storage. 
Key Features
With its newest AdvancedAquatak 140, this best water pressure cleaner provides up to 480 liters per hour at 2030 PSI pressure, thanks to its 2100-watt solid motor. Plus, it has a self-priming pump that automatically draws up water. 
Why Buy This
Indeed, it is ideal for removing the most difficult-to-remove dirt from around the house. Simple, quick attach fittings and an efficient onboard storage option are included with the pressure washer, along with all accessories, cables, and hose. Its innovative, four-cylinder small pump provides the extra power you need to complete any task.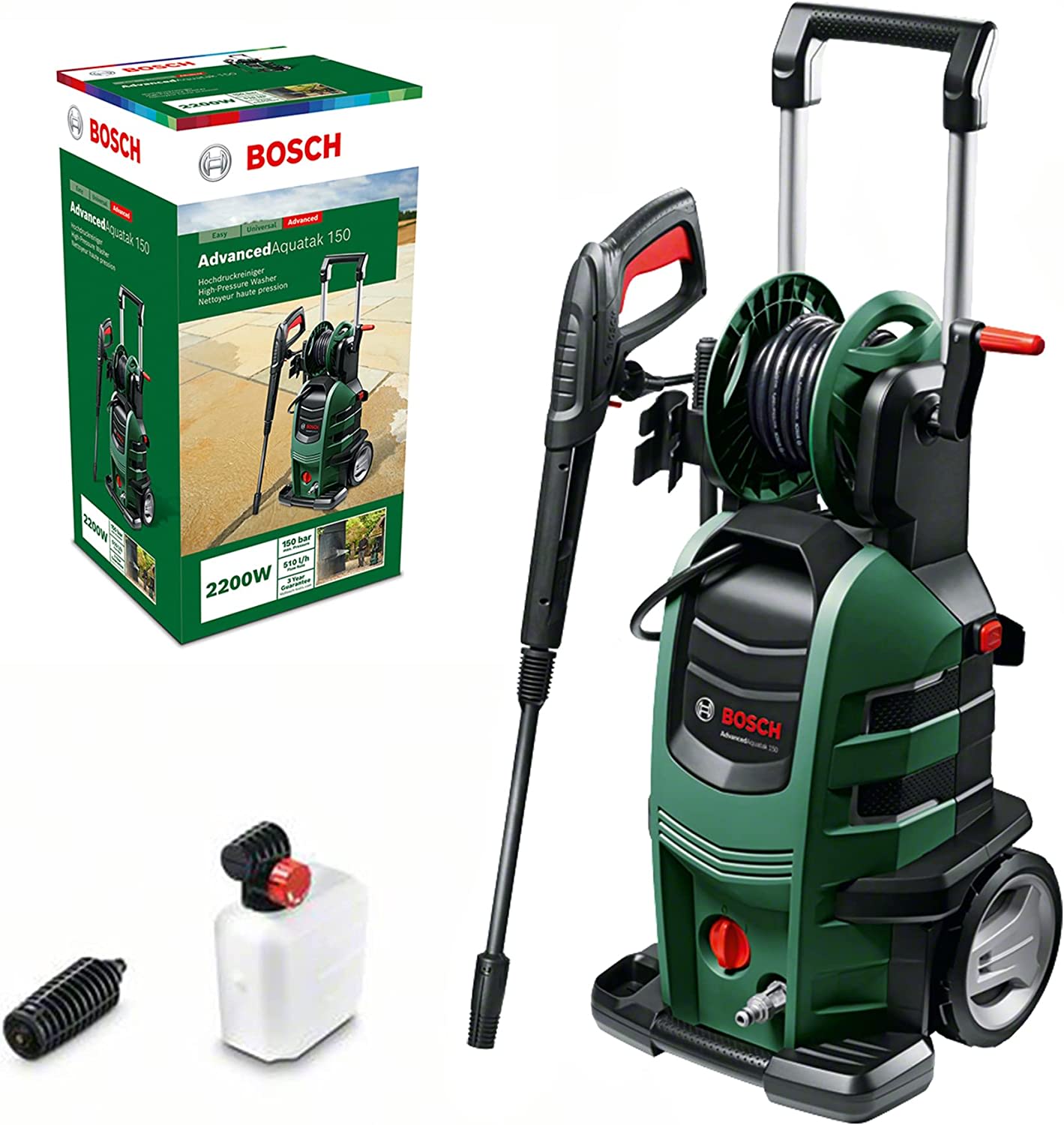 Check Bosch Electric High Pressure Washer price below:
add_circle
Safe and convenient
add_circle
With detergent nozzle
remove_circle
It is pretty heavy to move
Specifications
Pressure: 150 bar

Flow Rate: 510 l/h

Power Source: Corded Electric

Motor: 2200-watt
For commercial use, it's best to get a pressure washer that provides a variety of solid and long-lasting nozzles for remarkably diverse cleaning performance. This high-pressure washer can clean huge, challenging surfaces like walls, big cars, patios, driveways, swimming pools, and boats. 
Key Features
Using a Quad pump technology, this high-pressure washer provides high-performance cleaning. Its second cylinder offers exceptional power to speed up even the most difficult tasks. Additionally, the AdvancedAquatak 150 can be set up without hassle, thanks to the high-pressure hose reel. 
Why Buy This
Fret no more, as cleaning is made simple by the push-fit connections and gun storage of this best pressure washer. Additionally, it offers more versatility because it may self-prime from an external water source, such as a rainwater tank. The strong Quad Pump Technology is the best part since it produces better results in less time, making it ideal for quickly cleaning vast areas.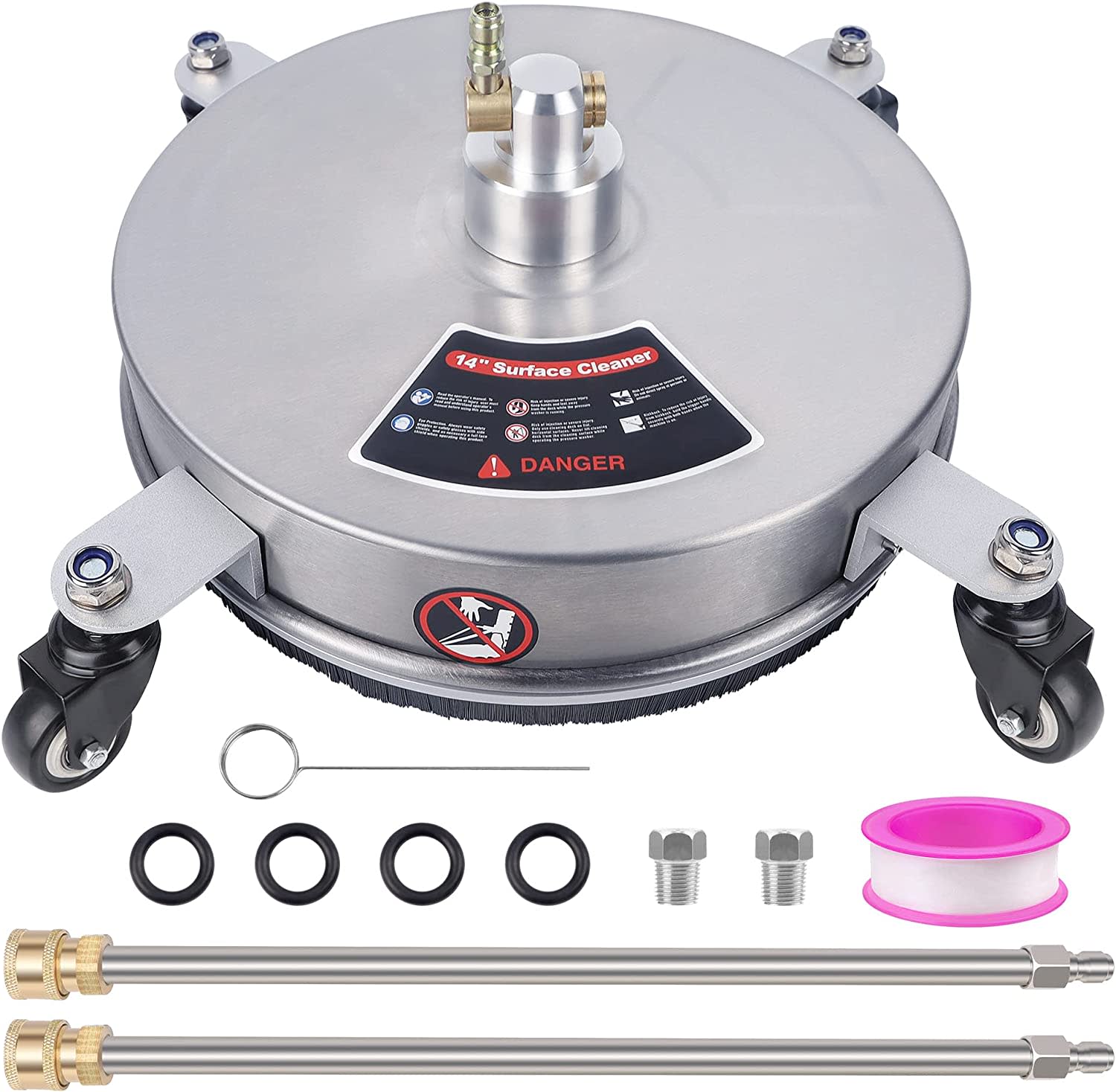 Check Biswing Surface Cleaner with 4 Wheels Pressure Washer price below:
add_circle
Revolutionary design
add_circle
Flexible castors for moving the cleaner easily
add_circle
Splash-free skirts keep you dry while using
remove_circle
Suitable for light use
Pressure: 4000 PSI

Flow Rate: 1.8 GPM - 3.7 GPM

Power Source: Gas Powered, Corded Electric
This professional surface cleaner provides a commercial-grade cleaning area that is 14 inches wide. Hover action makes the surface clean faster and more efficiently than nozzles alone. It removes tough stains from expansive flat surfaces like patios, driveways, decks, and sidewalks.
Key Features
Most gasoline pressure washers with a maximum pressure of 4000 PSI, a minimum pressure of 2000 PSI, and a maximum flow rate of 3.7 GPM can be utilized with this surface cleaner. Its long-lasting stainless steel structure and heavy-duty bearings are genuinely incredible. Connecting with the included pressure washer lance or another 1/4" quick connect fitting is easy. 
Why Buy This
When compared to standard nozzles, surface cleaners for gas and electric pressure cleaners can cut cleaning time by up to 60%. Dual-pressure water jets in a 14-inch surface cleaner spin quickly to break up dirt and grime without staining or striping surfaces. And compared to a standard nozzle, this best water-pressure washer can clean large surfaces up to 5 times faster.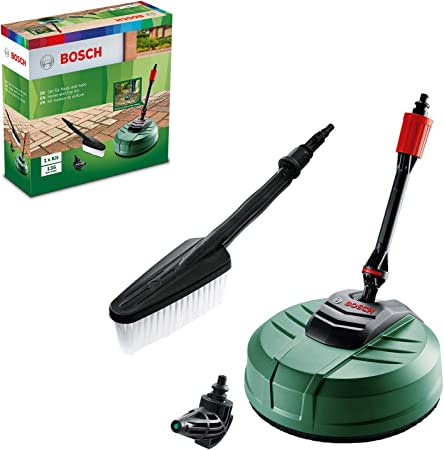 Check Bosch Aquasurf Patio High Pressure Washer price below:
add_circle
Self-priming pump
add_circle
Compact for easy storage
add_circle
Quieter operation
remove_circle
The attached 5m hose is pretty short
Specifications
Pressure: 1740 PSI

Flow Rate: 350 l/h

Power Source: Corded Electric

Motor (hp): 1500-watt
With its small and portable design, this pressure washer has a broad base for added stability and storage for all attachments. It also allows simple push-fit connections for quick and easy setup.
Key Features
Meet this outstanding cleaning performance at 120 bar (1740 PSI) in a portable, user-friendly pressure washer. Its easy connections enable you to push it together for a speedy setup. Best of all, the EasyAquatak 120 has been engineered to operate with substantially less noise, resulting in a more relaxing and laid-back experience.
Why Buy This
The EasyAquatak 120 is a versatile cleaning tool that can clean patios, bins, garden furniture, and more. With its enhanced cleaning efficiency, you can swiftly and efficiently handle various cleaning tasks with the 3-in-1 nozzle's fan, rotary, and pencil jet modes.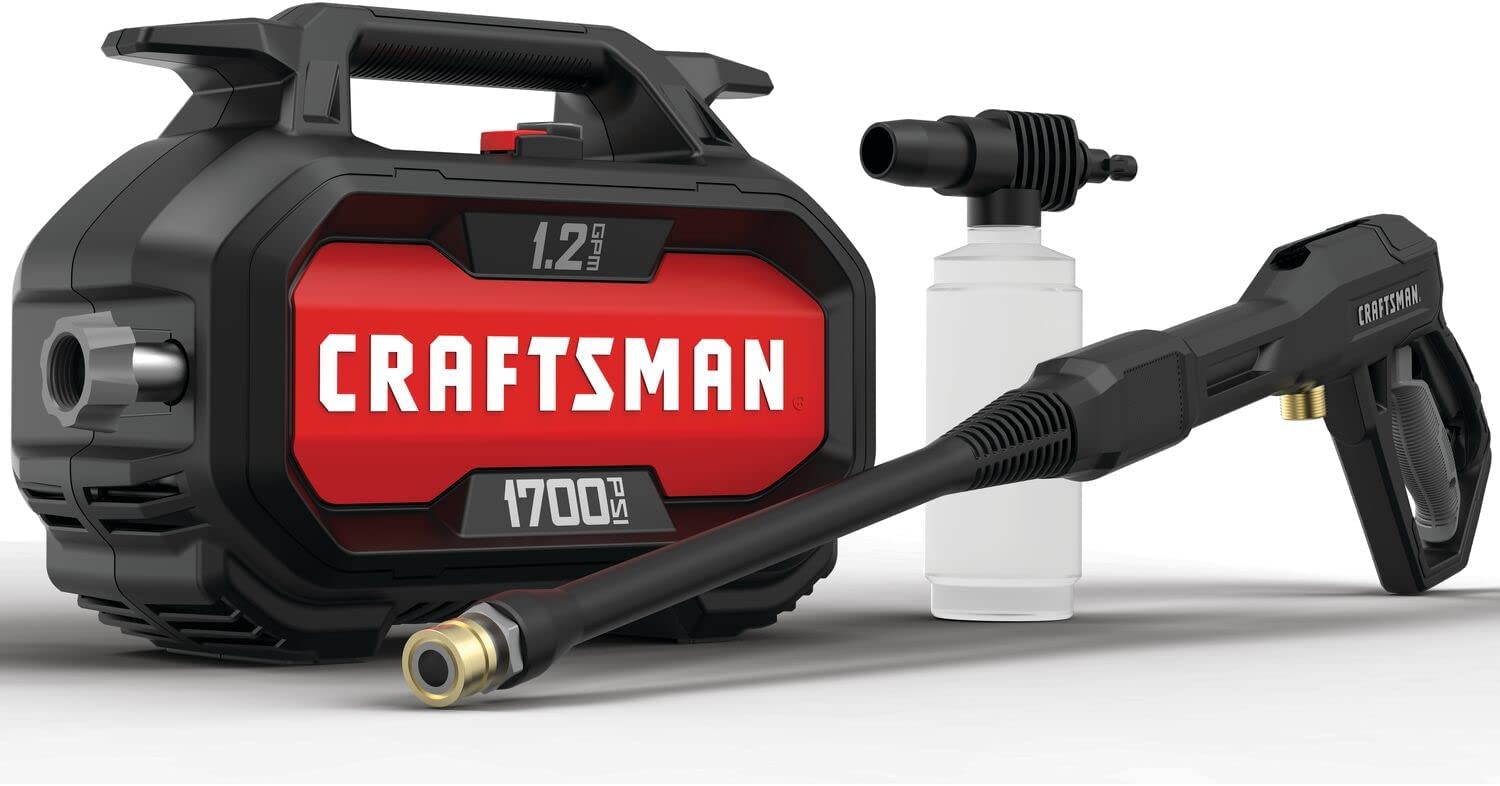 Check CRAFTSMAN Electric Pressure Washer price below:
add_circle
Compact and lightweight
add_circle
The right amount of pressure for cleaning
add_circle
Convenient to use; user-friendly
remove_circle
The hose is a little stiff
Specifications
Pressure: 1700 PSI

Flow Rate: 1.2 GPM

Power Source: Corded Electric

Motor: 13 Amp
Look no further than this pressure washer specifically designed for cleaning your cars! It has a practical, essential power that is neither too strong to harm your vehicle nor too weak to use for washing or thorough cleaning.
Key Features
The electric pressure washer can clean with 1700 max psi and has a 1.2 GPM for flow rate. 
It also comes with a soap applicator bottle to thoroughly cleanse your vehicles.
Indeed, its long-lasting performance is due to the 20-foot kink-resistant hose, which reduces bother.
Why Buy This
Its onboard nozzle, pressure washer hose, cord, and wand storage keep accessories arranged during storage. The provided nozzle on this best-pressure washer produces more significant pressure than the other one and is lighter. This cleaning buddy is the best if you're seeking something compact and transportable for jobs like washing vehicles. 

Check DEWALT Cordless Pressure Washer price below:
add_circle
It comes with a piece of flexible hose
add_circle
Includes attachments
add_circle
It comes with four nozzle heads
remove_circle
Not powerful as the traditional pressure washers
Product Specifications
Pressure: 550 PSI

Flow Rate: 1.0 GPM

Power Source: Cordless
The DEWALT 20V Max Power Cleaner offers portable cleaning with 10X the cleaning power of a garden hose at the workplace or home. When a garden hose is not readily available, this equipment may pull water from any fresh water source using a supplied suction hose.
Key Features
It includes a soap container, four nozzles stored on the machine, and everything you need to clean. This tool, part of the 20V Max DEWALT system, is a fantastic addition. For convenience on the go, this handy machine allows you to draw water from any fresh water source.
Why Buy This
With the handy quick-connect adaptor, you can attach it to your garden hose at home or the job site. This tool is excellent for quickly and efficiently cleaning tools and equipment, decks, boats, patio furniture, and automobiles.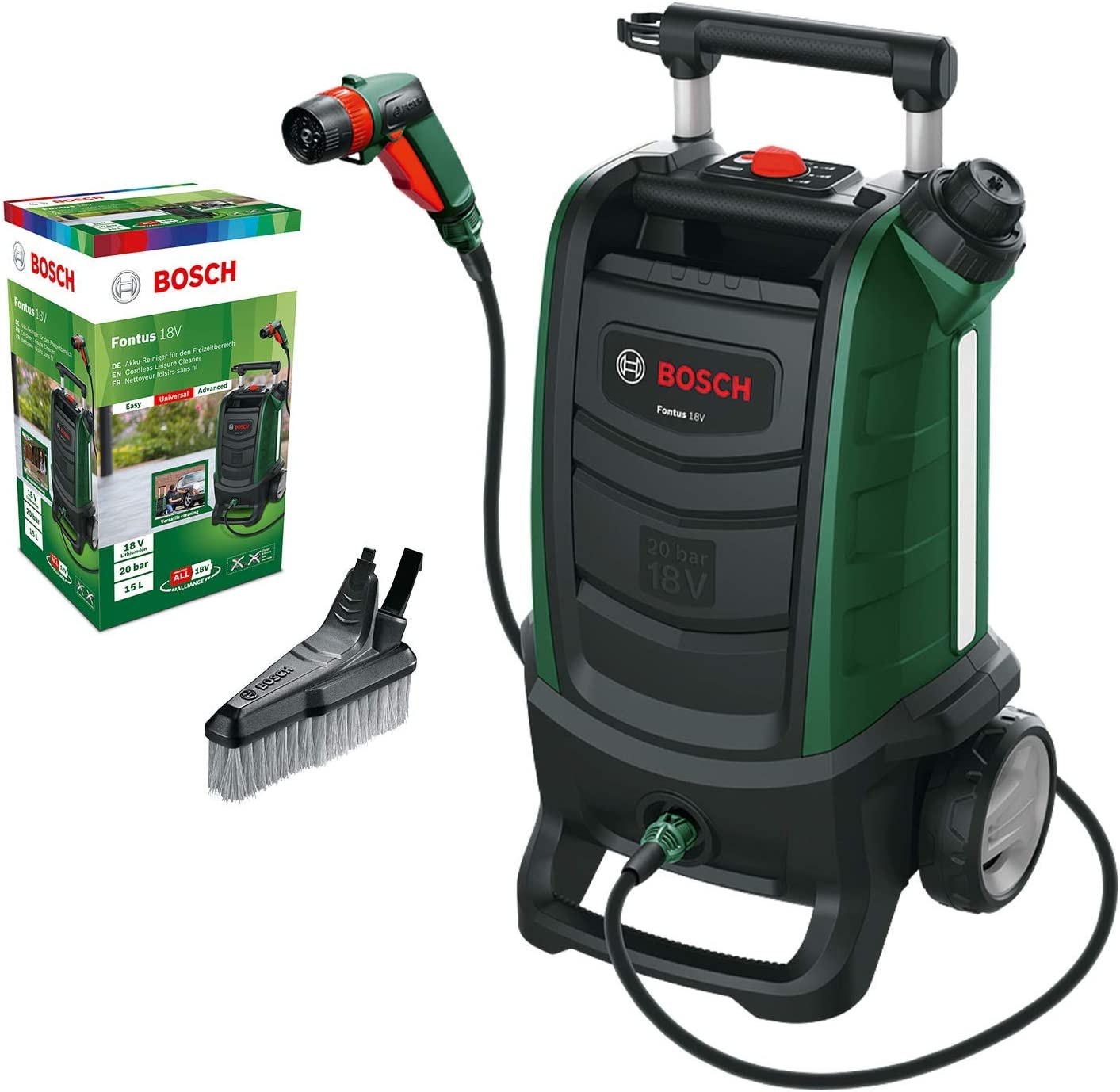 Check Bosch Cordless Portable Pressure Washer price below:
add_circle
Portable and lightweight
add_circle
It includes accessory storage
add_circle
Versatile spray patterns and adjustable pressure:
remove_circle
Pressure is not as high as in others
Specifications
Pressure: 20 bar

Flow Rate: N/A

Power Source: Cordless/Battery-powered
Fast results are simple with the cordless Fontus 18V's quick setup and maneuverability. Enjoy four spray patterns with adjustable pressure modes, including a shower jet for delicate cleaning and a fan jet with a 15° angle for pinpoint accuracy on smaller surfaces. 
Key Features
In contrast to conventional high-pressure washers, this portable cleaner's mains water connection, 15L built-in water tank, and 18 V battery (Battery supplied separately) make it ideal for usage at home or while traveling.
Why Buy This
For delicately cleaning more extensive surfaces, such as vehicles or patio furniture, this best pressure washer comes with an attachable SmartBrush; now, cleaning is made even more practical with accessory storage and an active spray gun holder.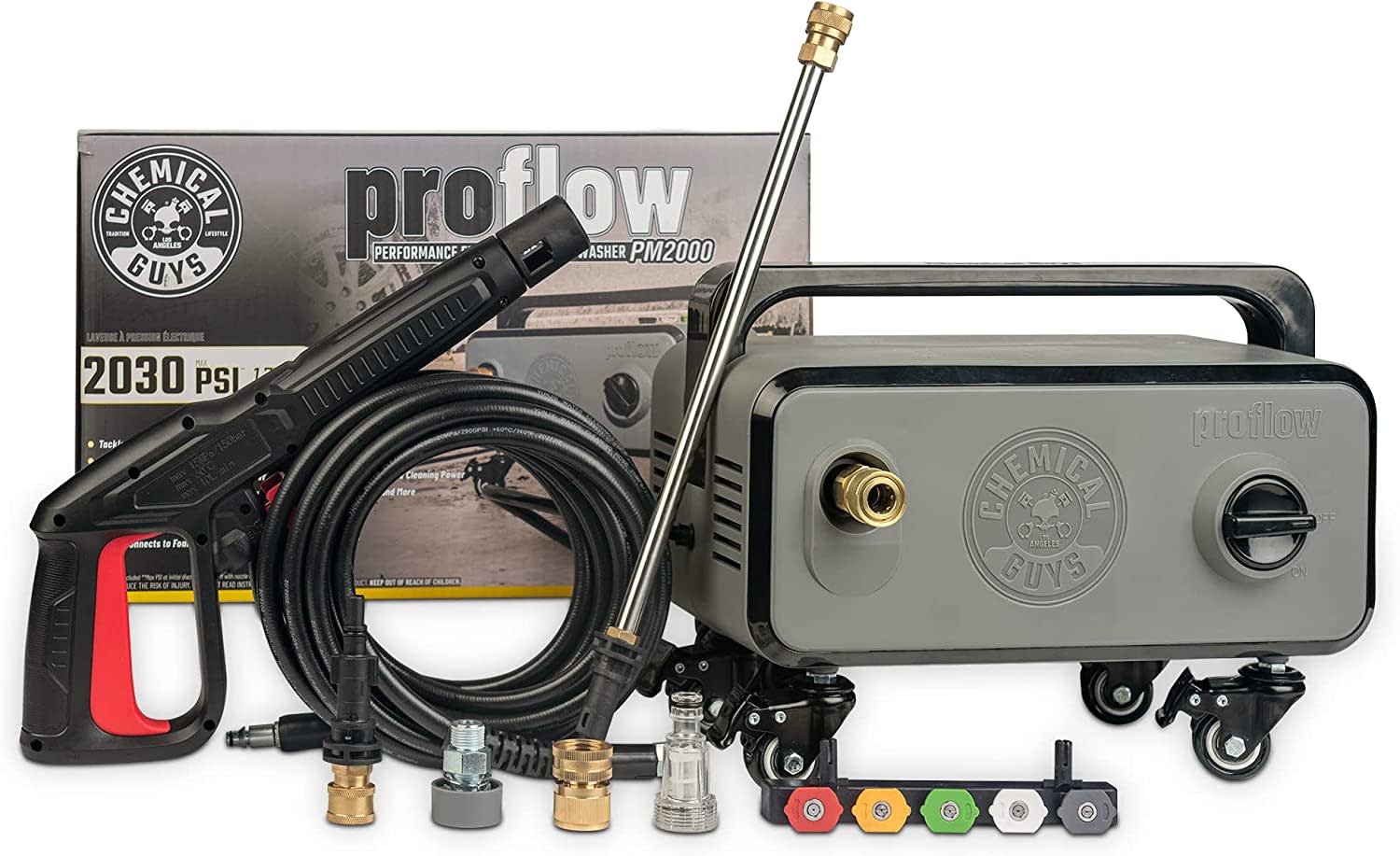 Check Chemical Guys EQP408 Electric Pressure Washer price below:
add_circle
Powerful motor
add_circle
Compact and lightweight
remove_circle
The filter at the water inlet is plastic
Pressure: 1305 PSI

Flow Rate: 1.77 GPM

Power Source: Corded Electric

Motor: 14.5-AMP/1680W
Check and take hold of the ProFlow's ergonomic handle and move the lightweight, small-in-size, yet-powerful device where the dirt demands power washing away grime off fences, walls, pavement, outdoor furniture, garage floors, and more!
Key Features
With its 14.5-AMP/1680W motor, the ProFlow Performance Electric Pressure Washer can effectively provide up to 2030 PSI on a first discharge and 1.77GPM of water flow, making even the most difficult tasks quick and simple. The Autostop Turn Off Technology feature automatically turns on/off the pressure washer pump, depending on trigger engagement.
Why Buy This
This high-pressure washer is user-friendly as it quickly releases attachments that let you start cleaning immediately – maximizing productivity and reducing work time. It also connects effortlessly to Chemical Guys' Foam Cannon for the best wash experience.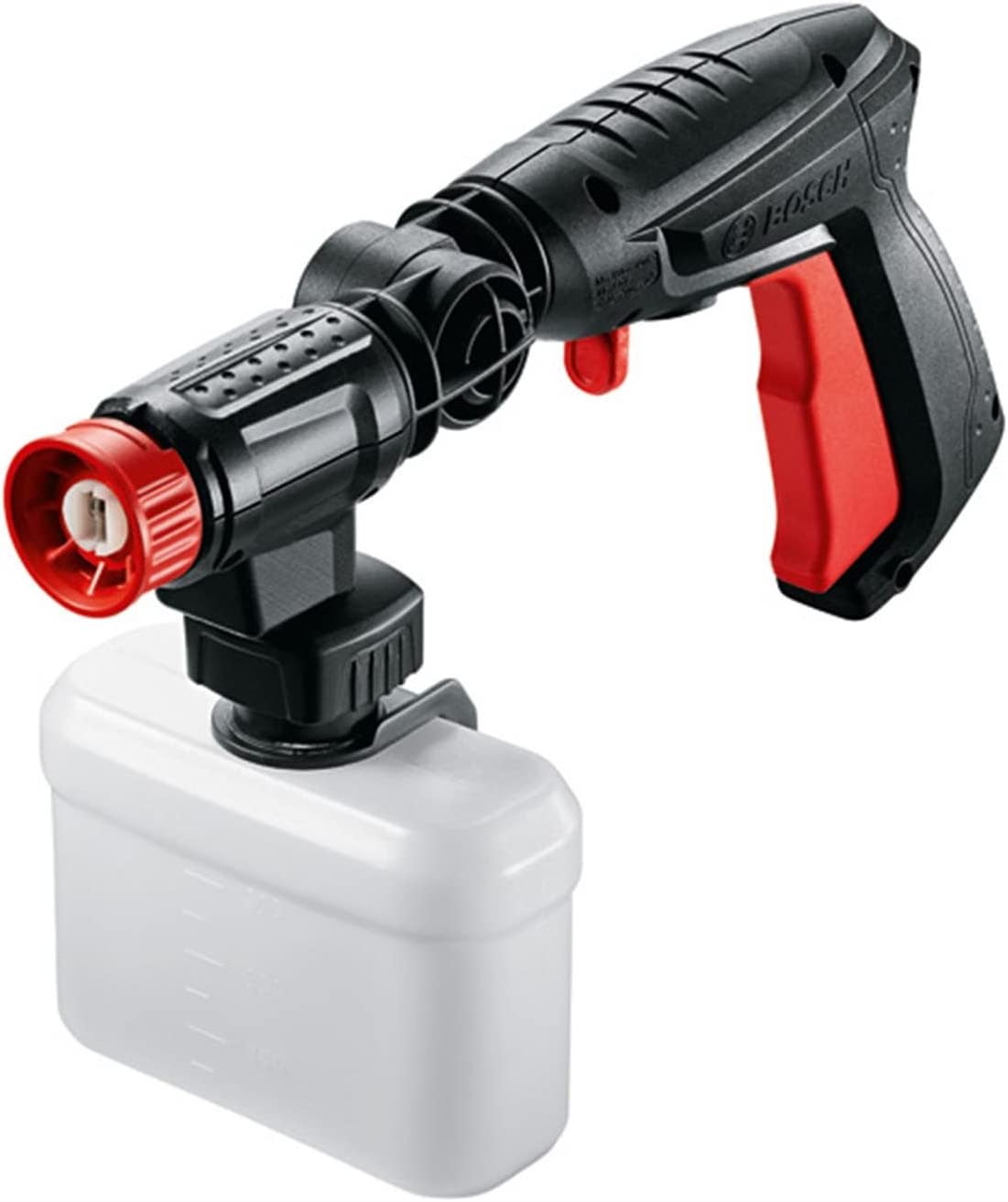 Check Bosch Home & Garden 360-Degree Gun Pressure Washer price below:
add_circle
Portable and handy
remove_circle
The detergent tank is flimsy
Specifications
Pressure: 135 bar

Detergent capacity: 450 ml

Motor: 135W
Who says that a gun pressure washer can't do much? Well, this replacement high-pressure pistol includes a pivoting joint for regulating the angle of the spray. It allows full nozzle rotation, making cleaning hard-to-reach filth even easier.
Key Features
With its 360-degree feature, this Bosch Aquatak Gun can fully rotate the nozzle. Also, it includes a 450ml capacity of detergent accessories – allowing you to thoroughly clean vehicles and trash cans. 
Why Buy This
It is simple and quick to set up – all thanks to the simple push-fit connections. This gadget will completely change how you wash your cars. This pressure washer gun is far more comfortable, manageable, and convenient to handle than the standard cannon with a long lance.
---
What is a Pressure Washer?
With its high-pressure washer, a pressure washer can spray a powerful stream of water at huge, hard surfaces like farm machinery, buildings, and highways. A gas or electric motor powers a pump in a pressure washer that pushes water under high pressure through a concentrating nozzle. 
---
How to Use a Pressure Washer?
Indeed, you can prepare a little when using a pressure washer. Here are some valuable tips you might want to know, especially if it's your first time using a high-pressure washer.
Wear safety attire

Prepare the area you want to clean; protect/cover plants and other breakable objects that might wash out.

Get your power washer ready. Fill the tank with engine oil if it's a gas power washer. If it's electric, plug the washer into a properly grounded outlet.

Connect a garden hose to the water inlet of the pressure washer. 

Add a detergent solution to the reservoir or a bucket for more cleaning power. 

Attach the spray tip. To begin, place the spray point at a distance of at least 2 feet from the surface. Hold the nozzle with the cover at a 45-degree angle.

Spray in a side-to-side motion, avoiding staying in one place for an extended time.

After using detergent in a power washer, cleanse the system according to the manufacturer's instructions.
---
Buying Guide: How to Choose a Pressure Washer
Choosing a high-pressure washer can be overwhelming, especially if you need to familiarize yourself with the different types and features available. Here are the factors to consider when selecting a pressure washer:
Types of Pressure Washers

: Gas-powered and Electric-powered are the two main pressure washers. Gas-powered pressure washers are more powerful and portable. Still, they are also louder, require more maintenance, and emit exhaust fumes. Electric-powered pressure washers are quieter, lighter, and require less maintenance. Still, they are also less powerful and need more mobility due to their power cord.

Pressure Output

: The higher the PSI, the more powerful the pressure washer. For light-duty cleaning tasks such as washing cars, patios, and furniture, a pressure washer with a PSI of 1300-2000 should suffice. For heavier tasks such as cleaning driveways, decks, and siding, a pressure washer with a PSI of 2000-3000 is best.

Water Flow Rate

: A higher GPM means the pressure washer can clean more area quickly. For light-duty cleaning tasks, a pressure washer with a GPM of 1.5-2.5 should suffice. A pressure washer with a GPM of 2.5-4.0 is best for heavier tasks.

Nozzle

s: Different nozzles can be attached to a pressure washer to adjust the pressure and the spray pattern. Nozzles are usually color-coded based on the spray pattern they produce. For example, a red nozzle has a narrow, high-pressure stream for heavy-duty cleaning. In contrast, a green nozzle produces a more expansive, lower-pressure spray for light-duty cleaning.

Hose Length

: The hose length of a pressure washer is essential because it determines the mobility and reach of the unit. A longer hose will allow the cleaning of a larger area without moving the pressure washer around. However, a longer hose can also decrease water pressure, so finding a balance between hose length and pressure output is essential.

Accessorie

s: Some pressure washers have accessories such as surface cleaners, extension wands, and soap applicators. These accessories can make cleaning more accessible and more efficient. Still, they can also add to the cost of the unit.

Price

: Pressure washers can range from less than $100 to several hundred dollars. While it may be tempting to opt for a cheaper unit, it's essential to consider the quality and durability of the pressure washer as well. A more expensive unit may save money by lasting longer and requiring less maintenance.
---
Best Pressure Washer Brands in Australia
Looking for the best water pressure washer brands is essential to your decision-making. Here we listed some of Australia's best water pressure cleaner brands. 
Bosch Pressure Washer
The Bosch Group is a well-known provider of technology and services globally. As a top IoT provider, Bosch provides advanced options for linked transportation, Industry 4.0, and smart homes. It uses its experience in sensor technology, software, and services and its own IoT cloud to provide its clients with connected, cross-domain solutions from a single source.
Craftsman Pressure Washer
CRAFTSMAN believes that time spent using tools should be time well spent. From the simplest oil change to getting more horsepower out of their beloved vehicle, they delight in every accomplishment. CRAFTSMAN tools are put to the test in real-world scenarios.
Dewalt Pressure Washer
To provide complete assurance for the most demanding job site situations, DEWALT has continued to design and optimize professional workhorse solutions since 1924. These solutions include tools, accessories, and services. 
Sun Joe Pressure Washer
The business started in 2004 to provide households with intelligent winter solutions and has developed into the market share leader for electric and cordless snowblowers and the electric pressure washer industry.
Chemical Guys Pressure Washer
Chemical Guys redefine the industry through special small-batch waxes, state-of-the-art hybrid coatings, nano-polishes, and ceramic sealants. At Chemical Guys, they specialize in creating one-of-a-kind solutions for an industry that is constantly evolving. 
---
Pressure Washers Price Range Here in the Australia
The price range of pressure washers in Australia can vary depending on the type and features of the unit. 
Generally, basic electric pressure washers can range from $100 to $500, while gas-powered models can range from $500 to $1,500. Industrial-grade pressure washers can cost even more, ranging from $1,500 to $5,000.
It's important to note that prices can vary significantly depending on the brand, model, and retailer. It's always best to shop around and compare prices before purchasing to ensure you get the best deal.
---
Where to Buy Pressure Washers in Australia?
Here are some available options for where to buy pressure washers in Australia:
Home improvement stores - You can find pressure washers in most home improvement stores, such as Bunnings, Mitre 10, and Masters.

Online retailers - Various online retailers offer a wide range of pressure washers. Some popular options include Amazon Australia, eBay, and Kogan.

Hardware stores - Local hardware stores may also carry pressure washers, so it's worth checking out your nearest store.

Specialty stores - Some stores specialize in outdoor power equipment and may have a good selection of pressure washers.

Manufacturer websites - Some manufacturers of pressure washers sell directly to customers through their websites. It's worth checking the websites of the brands you're interested in to see if they offer online sales.
---
Conclusion
Learning as much as possible about each brand is critical before deciding which pressure cleaner is ideal for a specific task. Everything from small, portable machines to enormous ones designed for professionals is on our list of the top pressure washers in Australia.