Avoiding tooth decay and gum infections requires thorough tooth brushing. Because of this, electric toothbrushes come with various capabilities tailored to varied oral care requirements, from cleaning braces and dentures to softly and gently whitening teeth caused by smoking and alcohol. The more attention you give your teeth and gums today, the less likely you will require costly dental and oral care later!
This post covers every aspect of toothbrushes, including electric toothbrush pricing and the best model for your brushing habits. Moreover, we will present you with the best and most affordable electric toothbrush choices. We will also give you the best electric toothbrush reviews and top-rated electric toothbrushes you can see on our market today. We have included a list of Australia's top 10 best electric toothbrushes you can buy now. Enjoy your shopping!
---
10 Best Electric Toothbrush in Australia 2023 - Brands & Reviews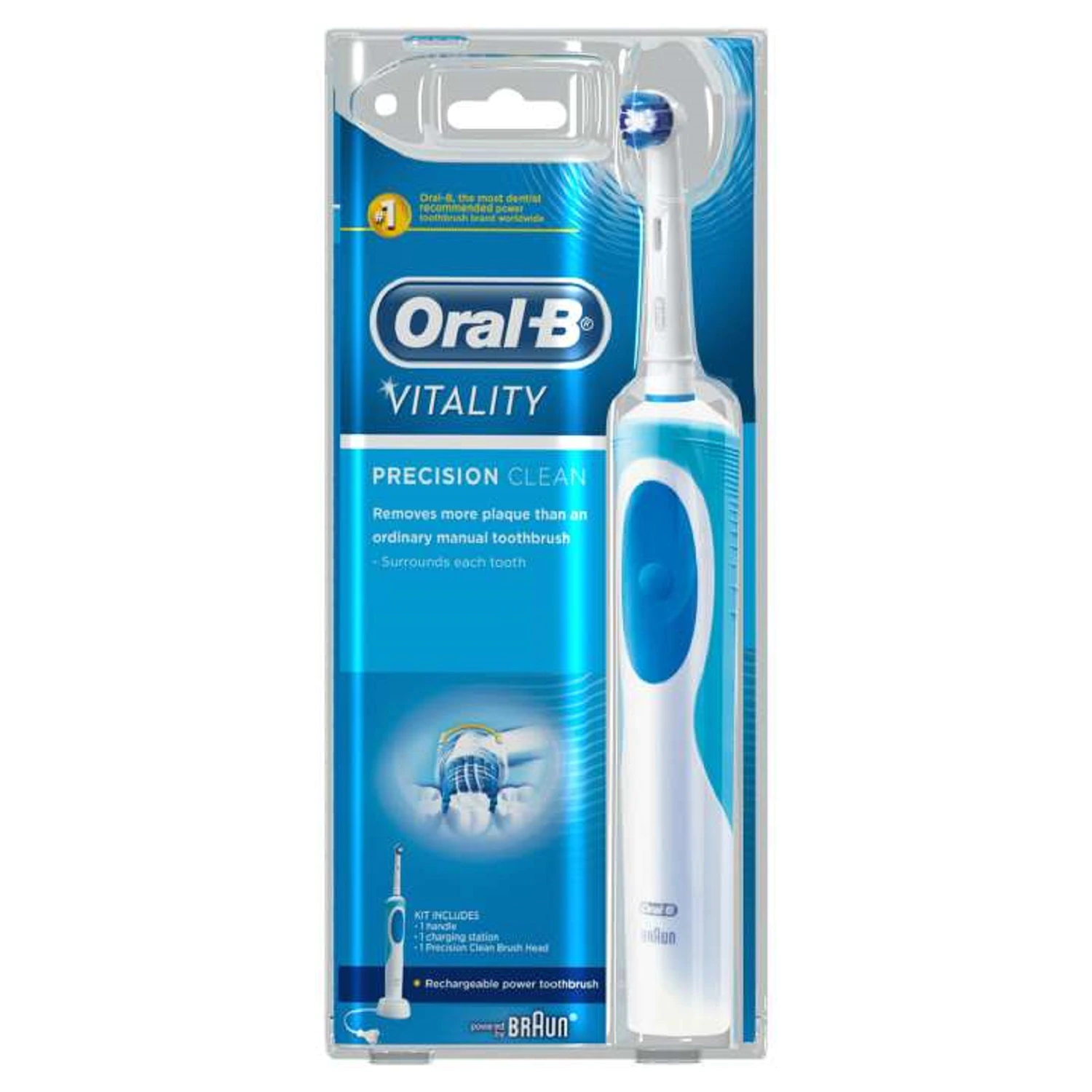 Check Oral-B Vitality Precision Clean Electric Toothbrush price below:
add_circle
It has soft bristles
add_circle
The handlebars are waterproof
add_circle
It can give you eight days of use without charging
Why It's Our Top Pick
So many electric toothbrushes are available in our country today. Some are often based on how the features and specifications present them. One of the best overall electric toothbrushes is the Oral-B Pro 100 cross-action, which guarantees comfortable and safe use. Moreover, it is an excellent electric toothbrush and rechargeable electric toothbrush. It also has a soft bristle that can give you more safe and anti-gum damage for every brush.  
The Oral-B Pro 100 cross-action electric Toothbrush offers a quality electric toothbrush lasting up to 8 days without charging. It is also the best overall electric Toothbrush we have on the list. Check the details below for more features. 
Key Features
One of the critical features of the Oral-B Pro 100 cross-action Electric Toothbrush is the more robust battery, as it gives you eight days of use without charging. It is also clinically proven to remove 100 percent more plaque.
Why Buy This 
The Oral-B Pro 100 cross-action electric Toothbrush guarantees safe and comfortable use, as it has soft bristles that protect your gums from bleeding. It also has tongue cleaning made from soft rubber that cleans your tongue without itching or feeling rocky.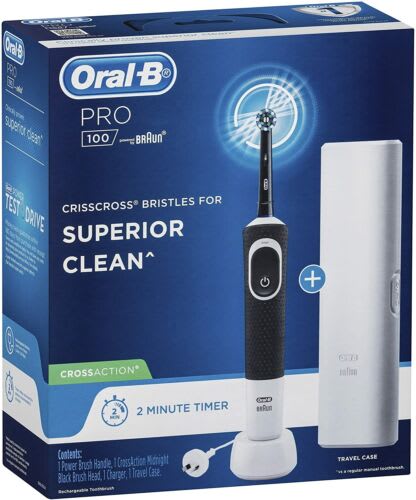 Check Philips Diamondclean Electric Toothbrush price below:
add_circle
It can remove the surface stains from your teeth
add_circle
It has safe and soft bristles
add_circle
It removes 10x more plaque along the gums
remove_circle
Not for children's use since it is a bit bulky
The Philips Sonicare Electric Toothbrush gives a safe use for those who have sensitive teeth that need prior assistance when in use. It also has quality features and specifications that are worth your money. 
Key Features 
Gums will get healthier in 2 weeks with the best cleaning possible from your DiamondClean. You'll achieve the healthiest smile possible by removing up to 10 times more plaque from the gum line than a manual toothbrush. With DiamondClean, you can be confident of a secure brushing experience regardless of your requirements.
Why Buy This 
You receive a daily clean that is genuinely revitalizing with DiamondClean. Our four modes meet all your brushing needs: Clean for excellent daily cleaning, Gum Health for gently massaging gums, Deep Clean+ for restoring deep cleaning, and White+ for removing surface stains. The BrushSync technology warns you when the brush head is already worn out and no longer effective and optimizes the brushing mode and intensity level for each brush head.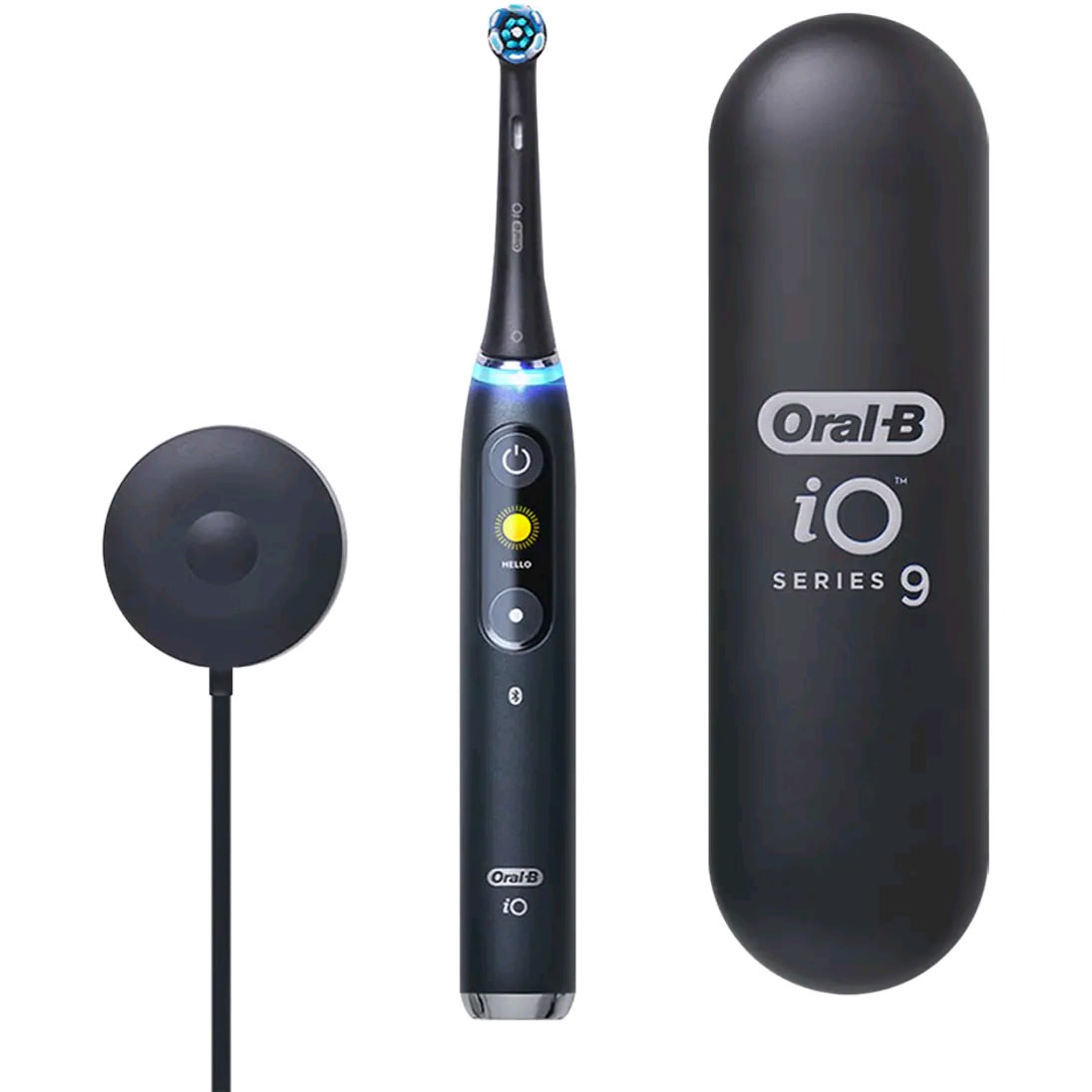 Check Oral-B Series 9 Electric Toothbrush price below:
add_circle
It has twisted bristles for more soft use
add_circle
It has a visible timer
add_circle
It has a stylish design
The Oral-B iO Series 9 has some value-laden electric toothbrush features and specifications. It is one of the most sturdy and classy styles of electric toothbrushes we have on the list. 
Key Features
The Oral-B iO Series 9 offers a customized brushing display screen that helps encourage you and enables you to tailor your brushing experience. It has perfect pressure signals that are red when you brush too hard and green when you brush just right.
Why Buy This 
With twisted bristles that reach every contour for a thorough clean, the brand mentioned above of electric toothbrushes offers a sensationally clean, redesigned round brush head inspired by dentists. Furthermore, it provides live tutoring with an A.I. visible timer. It tracks your brushing progress and directs you to complete coverage to experience all areas. The visual timer ensures you brush for the recommended two minutes by the dentist.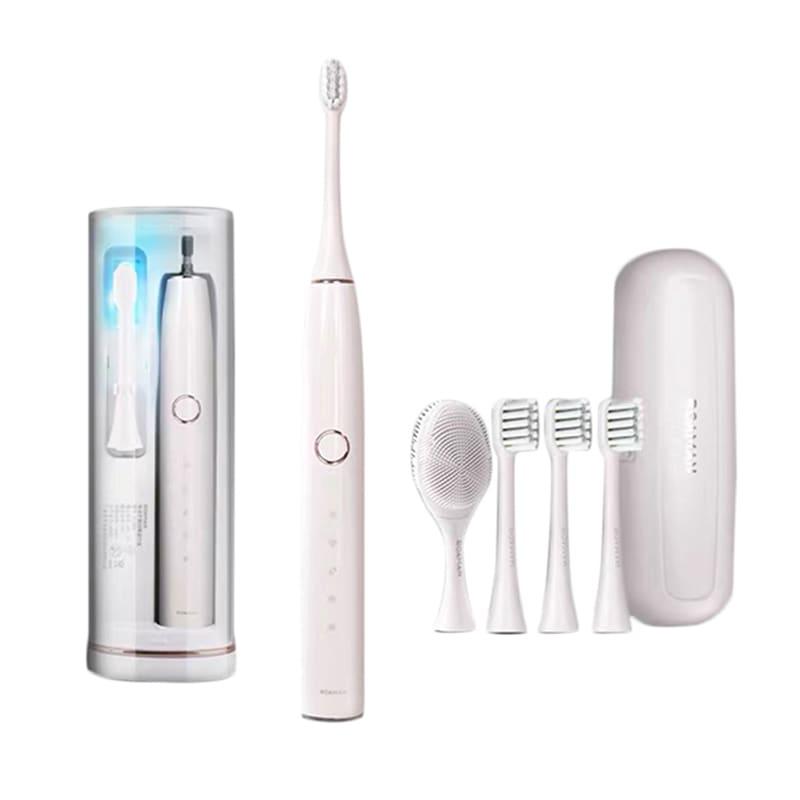 Check Roaman Electric Rechargeable price below:
add_circle
It has a double-sided soft cleaning brush
add_circle
It has an outstanding vibration feature that cleans the teeth
add_circle
It has three modes
Suppose you are looking for an electric toothbrush that is efficient and perfect for those who have braces. In that case, the Roaman Electric Toothbrush is excellent and reliable. 
Key Features 
The Roaman Electric Toothbrush offers a neat style with compact bristles enough to handle the braces in every brush. It also has delicate comb-like follicles that prevent the strips from sticking to your bracket. 
Why Buy This 
One of the Roaman Electric Toothbrush's best performances is the magnetic levitation sonic technology with deep clean. It has 48,000 times/min high-frequency sound vibration with 240 times cleaning rate deep whitening. It has round bristles that protect your gums from bleeding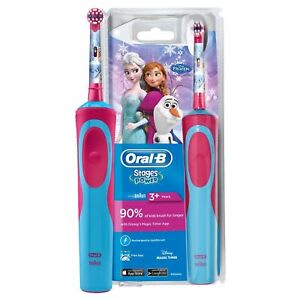 Check Braun Oral-B Power Kids Electric Toothbrush price below:
add_circle
It has an excellent design
add_circle
It has a powerful battery that can last for seven days
add_circle
It has 3D technology movement
remove_circle
The handle is made from plastic materials
So many electric toothbrushes are available in our partnered e-commerce apps; one is the Oral-B Braun power kids electric toothbrush that can give you good use. 
Key Features 
The brand, as mentioned above, has an automatic timer that educates teenagers to clean their teeth for two minutes. Also, it incorporates Oral B 3D technology movement, which causes the round toothbrush head to oscillate, rotate, and pulse to remove 100% more plaque than a manual toothbrush. Finally, it includes a rechargeable battery that, with regular use, can last for over seven days.
Why Buy This 
The brand above has extra softer bristles that have been clinically shown to be kind to teeth and gums. Also, it includes a waterproof feature that stops the electric Toothbrush from breaking down.
Check Oclean X Pro Smart Sonic Electric Toothbrush price below:
add_circle
It is fast charge
add_circle
It has a unique design
add_circle
It has an automatic timer
If you are experiencing receding gums and need immediate treatment, do not hesitate to check it with a doctor. But there is also a factor why it is happening like excessive teeth brushing. With that, we present to you the Oclean X Pro smart electric toothbrush that helps reduce the redness of your gums.
Key Features 
The Oclean X Pro has an intelligent display that lets you view cleaning records. Its electric Toothbrush ensures that every tooth is thoroughly cleaned and notifies you even when a cleaning region is overlooked. In addition to having frequency reduction protection, the Oclean X Pro incorporates a pressure sensor that prevents vibrations from the smart Toothbrush when you brush too vigorously, fully protecting your teeth and gums.
Why Buy This 
The mentioned brand's deep cleaning performance is exceptional; it uses 84,000 brush head movements per minute of a new generation magnetic floating technology brushless motor to help deep clean teeth, remove plaque, and freshen breath. Also, it offers customization settings. The clean sonic Toothbrush has 32 intensity options and three cleaning modes (cleaning, whitening, and massage). You can select the mode and intensity that work best for you based on your habits.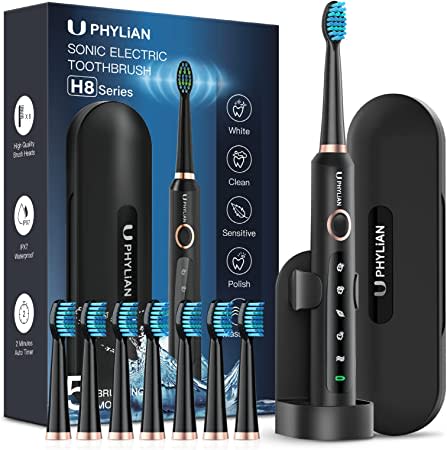 Check Phylian H8 Series Electric Toothbrush price below:
add_circle
It has an automatic timer
add_circle
It has classy and unique features
add_circle
It has five modes of cleaning teeth
When traveling, we must have the essentials like shirts, food, and hygiene kits. One of the best travel buddies for your teeth is the Phylian Electric Toothbrush. The said brand will guarantee you safe and comfortable use.
Key Features 
With 40,000 vibrations per minute, the naturally curved electric toothbrush bristles press toothpaste into difficult-to-reach areas of the teeth while removing plaque, lessening discoloration, and reviving breath. The built-in timer guarantees a 2-minute cleaning time. This electric Toothbrush also includes a USB charging wire and a travel case. It offers seamless 60-day performance and can be fully charged in 3 hours, making it the ideal travel electric toothbrush.
Why Buy This 
The electric Toothbrush from the brand above includes eight attractive and robust brush heads that will last for two years (1 brush head for three months). The gentle, vibrating bristles further shield the gums. Choose between the Sensitivity Mode to protect your sensitive gums, the Cleaning Mode for routine dental care, the Whitening Mode for weekly use, the Polishing Mode for Whiter Teeth, or the Massage Mode for Stronger Teeth. It also features five cleaning modes. The PHYLIAN Sonic electric toothbrush gives you a whiter, healthier, and cleaner smile.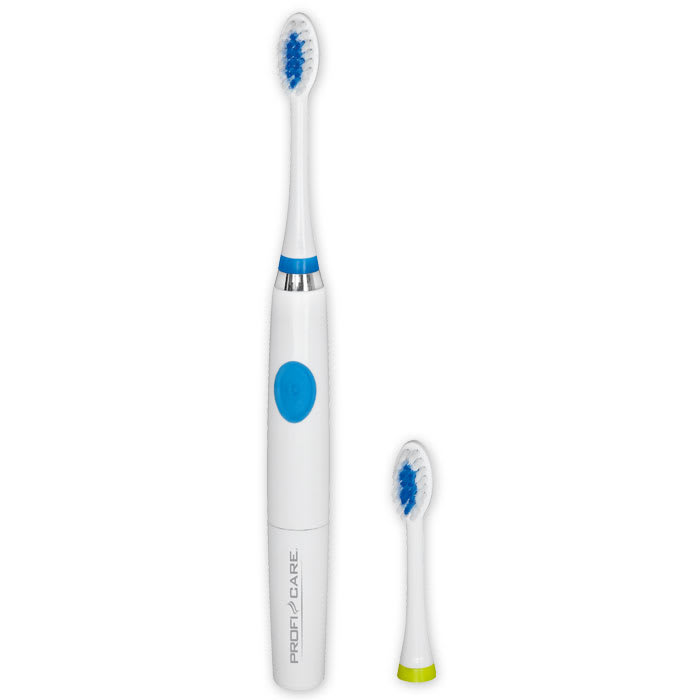 Check ProfiCare PC-EZS 3000 Electric Toothbrush price below:
add_circle
It has 25,000 vibration heads for excellent cleaning
add_circle
It is handy and can also be used for travel
add_circle
It has a neat design
remove_circle
The battery only ranges for 2-3 days
Suppose you are looking for an affordable electric toothbrush that can be used for traveling and even for regular use. In that case, the Proficare electric toothbrush will guarantee you safe and comfortable use. 
Key Features 
High-performance cleaning, the ProfiCare PC-EZS 3000 sonic toothbrush can help you achieve healthier, better-groomed teeth for a bright smile. With up to 25,000 brush head revolutions, ProfiCare uses advanced technology to entirely and delicately clean your teeth. Gentle vibrations more effectively remove plaque than a conventional manual toothbrush.
Why Buy This 
As mentioned above, the soft touch on/off switch makes the brand convenient, ensuring ergonomic and straightforward handling. Also, it contains rounded bristles made of Tynex DuPont fibers for gentle and effective cleaning of the gums and teeth.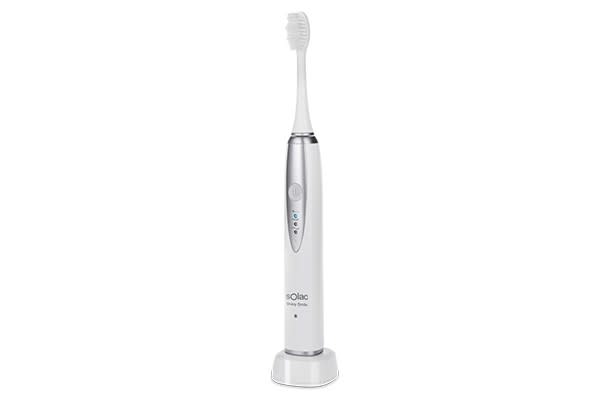 Check Solac Shiny Smile Electric Toothbrush price below:
add_circle
It has three modes of cleaning
add_circle
It has a prolonged battery life
add_circle
It is durable and has a unique style
Electric Toothbrush for teenagers is that electric Toothbrush that has a unique and neat style of electric Toothbrush; one of them is the Solac electric toothbrush. 
Key Features 
The brand mentioned above uses mechanical sound technology with a dual action that simultaneously eliminates plaque and inhibits bacterial development through acoustic and hydrodynamic vibration. Also, it contains a 2-minute complete timer, which ensures thorough cleaning and is the cleaning time advised by dentists. Moreover, it includes an audible alarm that sounds every 30 seconds when the brush area is changed. Assures uniform washing. 
Why Buy This 
There are three cleaning, soothing, and massage settings on the Solac electric toothbrush. You have a choice among three working speeds to meet your demands. The lithium-ion battery offers the highest level of durability, allowing for up to 30 days of use on a single charge and charging wirelessly with a battery level indication. Contains two attachments.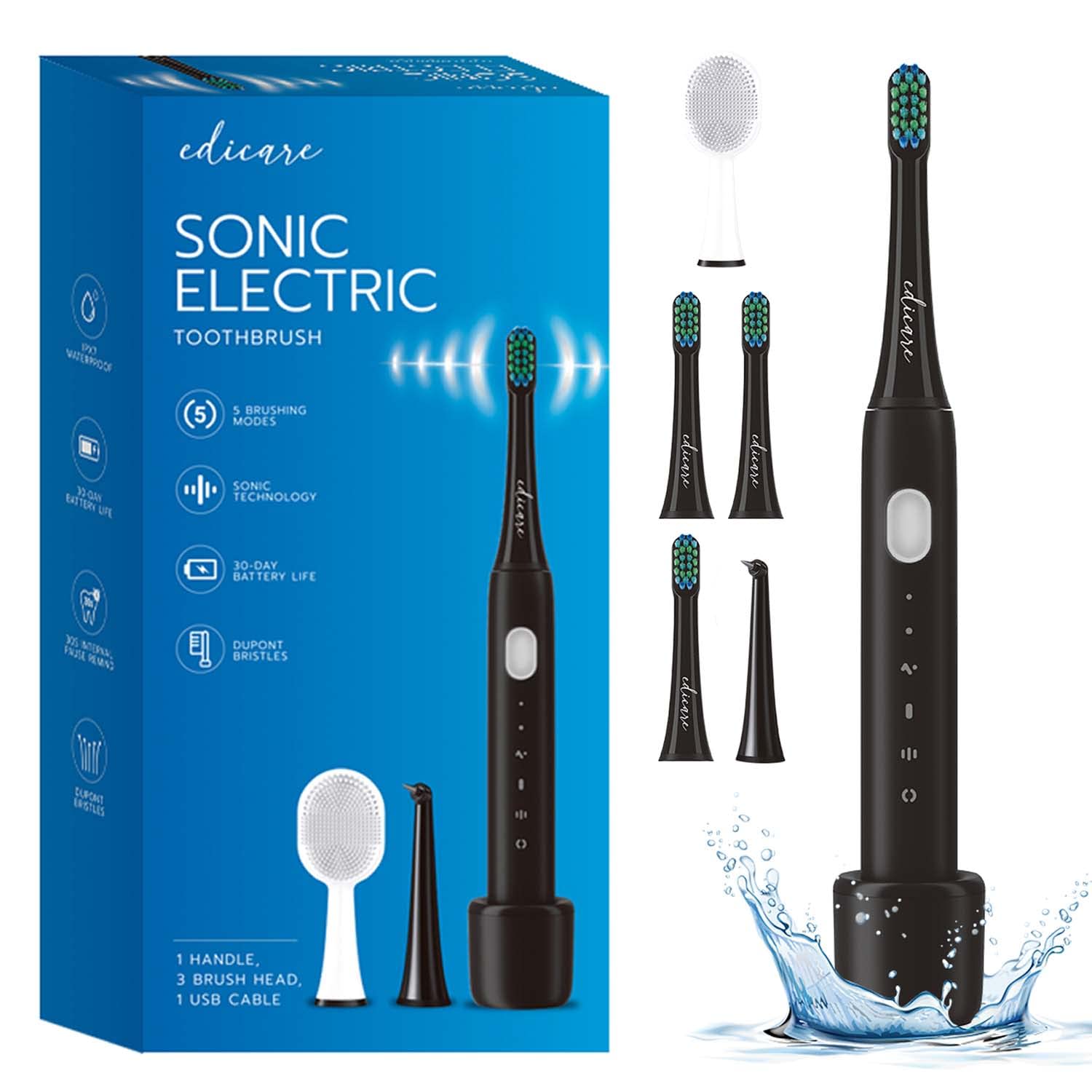 Check Edicare Electric Toothbrush price below:
add_circle
It has a unique facial cleansing feature
add_circle
It has hydrodynamic vibrations
remove_circle
No modes for additional cleaning
There are so many durable electric toothbrushes available in our market today. Still, this brand satisfies the criteria, and that is the Edicare Electronic Toothbrush.
Key Features 
An electric toothbrush, a USB to USC connection, a charging station, and a total of 5 brush heads—three for cleaning teeth, one for removing tartar, and one for cleansing the face—are included in the Complete dentistry kit from the brand above. Also, it contains sonic brushes, the best for cleaning gum and interproximal areas. Instead of settling for mechanical cleaning, use its acoustic and hydrodynamic vibrations to disintegrate and remove contaminants.
Why Buy This 
With the dependable battery from the Edicare brand, you can brush for a month on a single charge. Without worrying about charging your Edicare Toothbrush, maintain optimum hygiene. The head for removing tartar and bacteria is only for this application, so preventing and fighting plaque are also considered. The last feature is that it features a unique face-washing head that is the best instrument for massaging your facial skin. Utilize your regular creams or gels while taking advantage of a higher degree of care.
---
What is an Electric Toothbrush?
A toothbrush that cleans teeth quickly and automatically by rotating or oscillating back and forth (where the brush head alternates between clockwise and counterclockwise rotation) is known as an electric toothbrush. A motor is used to create motions that are sonic or slower. A piezoelectric crystal creates ultrasonic vibrations in the case of ultrasonic toothbrushes. A rechargeable battery that uses inductive charging typically powers electric toothbrushes when the brush is placed in the charging base between uses.
Depending on whether they produce motions that are below, within, or above the audible range (20-20,000 Hz or 2400-2,400,000 movements per minute), respectively, electric toothbrushes can be categorized as power, sonic or ultrasonic brushes based on the frequency (speed) of their movements.
---
How to Use an Electric Toothbrush
There are several ways to use an electric toothbrush, depending on how you use it. We have listed some of the tips you can use when you are using your electric Toothbrush. 
Make sure your electric toothbrush is charged before you start brushing. Most models come with a charge indicator light to let you know when your brush is set and ready for use. Moreover, before you start brushing your teeth, floss them. This makes it simpler for your toothbrush to remove any plaque or food fragments stuck between your teeth by helping to loosen them.

Hold your brush at a 45-degree angle when you start brushing, just like a manual toothbrush. Start by brushing the outside of your teeth, then move the brush head slowly and gently from tooth to tooth. Hold the brush head firmly against the previous tooth for a few seconds before moving on to the next. Be sure to brush each tooth, following its shape and how your gums bend.

Repeat your movements after finishing the outside surfaces of your teeth on the inner feelings and then once more on the chewing surfaces. Remember to brush the area between your back teeth.

Take a few extra seconds after brushing your teeth to run the brush head down your gum line and on your gums. Any excess plaque will be removed by doing this. Be careful not to press too firmly when brushing your gums, which could irritate them.

Lastly, carefully clean your tongue and the roof of your mouth with your brush. You can freshen your breath and assist in removing any leftover food particles by doing this.
---
Buying Guide: How to Choose an Electric Toothbrush
Using an electric toothbrush is a fantastic method to maintain a bright, healthy smile. How can you determine which model is best for you when so many options are available? We'll talk about different kinds of electric toothbrushes, the qualities to look for, and how to pick the best one for your requirements.
The number of brushes stroke per minute (BPM) -

The Toothbrush will more efficiently remove plaque and bacteria the higher the BPM. While sonic toothbrushes have a BPM of 24,000 to 30,000 or more, most oscillating-rotating toothbrushes have a BPM of between 1,300 to 8,800.

Timer/Quadrant Pacer -

You can use an electric toothbrush with a timer to determine when you have finished the necessary two minutes of brushing. Some brushes also incorporate quadrant timers that divide your brushing session into four equal halves.

Range of cleaning modes -

One or more cleaning modes, such as high speed, sensitivity, or gum care, are available on some electric toothbrushes. Also, you can choose between various vibration intensity levels (in sonic toothbrushes). Some even let you mix multiple modes and intensities to customize your brushing experience.

Pressure Sensors -

Pressure-sensitive electric toothbrushes will pulse if you brush your teeth too hard, protecting your gums from injury.

Waterproof -

Some people prefer to brush their teeth in the shower because they enjoy multitasking. If you enjoy doing this, be sure to get a waterproof toothbrush.

Charging method -

There are two ways to charge electric toothbrushes: inductive and USB. At the same time, the Toothbrush must be placed in a unique cradle for inductive charging and can use any standard USB port for USB charging.

Rechargeable or disposable batteries -

Rechargeable or disposable batteries are available for electric toothbrushes. In the long term, rechargeable toothbrush models are more cost-effective. Still, disposable types are more practical if you need a place to recharge them.

Travel case -

Get an electric toothbrush with a travel case if you intend to take it on trips. When you're on the run, this will assist in shielding the brush head from harm.

Type and size of the brush head -

Most electric toothbrushes have a changeable brush head, so you need to buy a new one every two to six months rather than the complete Toothbrush. Finding a brush head appropriate for your teeth is crucial because the size and form of the brush head might vary. Because they can clean in difficult-to-reach locations, you must pick smaller electric toothbrush heads.

Bristle Stiffness -

Some people want stiff bristles, while others choose soft ones. Manufacturers of electric toothbrushes typically provide a range of bristle firmness options. If your sensitivity is higher, seek an electric toothbrush with gentle bristles.
---
Best Electric Toothbrush Brands in Australia
Several electric toothbrush brands are available in our e-commerce apps; some are quality in terms of materials. We listed some of the best brands in terms of performance and features. 
Oral-B Electric Toothbrush 
The Oral-B brand is one of the most well-known electric toothbrushes worldwide. It is extraordinary in many terms and can give you safe and comfortable use. 
Philips Electric Toothbrush 
Philips is also one of Australia's top brands of electric brushes. It gives you a durable and extraordinary performance that is worth your pay. 
Roaman Electric Toothbrush 
The Roaman electric brush offers you a modernized and neat electric toothbrush style. It is also excellent for travel, teenager use, and more. 
Oclean Electric Toothbrush 
Oclean offers extraordinary battery life for electric toothbrushes to prolong your use. It also has superior materials that can provide you with durability.  
Phylian Electric Toothbrush 
The Phylian electric Toothbrush is one of the best brands on amazon. It has a neat and modern design that most users will love. 
---
Electric Toothbrush Price Range here in Australia
The price range of the best affordable electric toothbrush in Australia can vary depending on the brand, features, and quality. Generally, you can expect to pay between AUD 30 to $300 for an electric toothbrush in Australia.
---
Where to Buy Electric Toothbrush in Australia?
A good electric toothbrush is widely available in Australia, and you can purchase it from online and offline retailers. Here are some options:
Supermarkets and Pharmacies 

Online retailers like Amazon Australia, Kogan, Catch, and eBay

Dental stores  

Department stores 
When purchasing an electric toothbrush, it is essential to do your research and choose a model that suits your needs and budget. Reading the best electric toothbrush reviews and comparing prices before purchasing is also good.
---
Conclusion 
Adequate tooth brushing is a crucial component of any oral hygiene regimen. It aids in removing plaque, preventing gingivitis and other gum diseases, and maintaining healthy gums. This work can be made simple with electric toothbrushes, which can also assist you in making sure that every time you brush, you are removing any food or plaque.