You've got to agree that the sea and everything in it is truly a beauty. The only problem, however, if you can't take photos under water with just a regular camera. You'll need something that can handle the pressure, something that has the durability to survive a long dive. What you need is an underwater camera, and this list will provide you with a great selection of it.
Nikon CoolPix AW130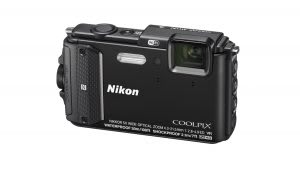 SGD 469.00
Best for snorkelling beginners
Scuba diving is an astounding experience, a truly one of a kind. But not everyone is comfortable trying it right away. If you're one of those who would love to give it a shot but still too afraid, snorkelling might be just for you, and this camera is an excellent pair, the Nikon CoolPix AW130.
With a half-inch 16-megapixel sensor, it's able to give you higher resolution images. It can also record full-HD 1080p videos, which is decent enough to capture what the shallow waters can offer while you enjoy snorkelling. And when you're ready to give diving a go, you can use this camera in depths of up to 30 meters.
Although it can't compete with the other cameras when taking pictures in low-light conditions, it still provides publication-worthy images in the right hands and with excellent lighting and editing. Aside from being an ideal camera for beginners, we also recommend it to everyone else who just wants a well-rounded underwater camera.
Sony RX0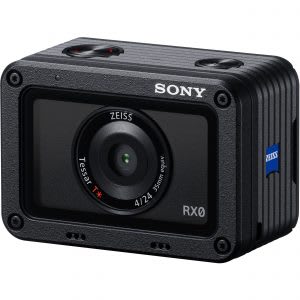 SGD 999.00
Best small but rugged camera that's waterproof and shockproof
One of the most common problems with any device is durability. A sudden fall could be enough to say goodbye to your phone or camera. However, with the Sony RX0, dropping it at two meters above the ground won't even leave a dent – it's that sturdy.
This camera is waterproof (10 meters) without any protective housing and can go beyond that if you choose to buy an underwater case for it. But what will surprise you the most is its size, it's almost half an inch smaller than the GoPro Hero 6.
Due to its size, however, it can only record 1080p videos and can be quite hard to operate (tiny buttons are by no means easy to press). Furthermore, it's expensive and so are its accessories. But if you want an underwater camera that's out-of-this-world compact, nothing can currently beat the RX0.
GoPro Hero 6 Black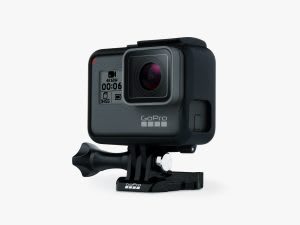 SGD 499.00
Best 4K action/head camera for your water adventures
Next on our list is, without question, the most popular action camera today, the GoPro Hero 6. And its success can be explained by just providing you its incredible features.
First of all, it can record smooth 4K videos at 60fps, which is already amazing on its own. Second, it's durable and has a lot of accessories available to help you have a better recording experience in whatever extreme sports you're into. And lastly, it's user-friendly and can be operated via voice commands, so you don't need to worry about handling the camera. Just speak, and it'll do the rest for you.
Olympus Tough TG-5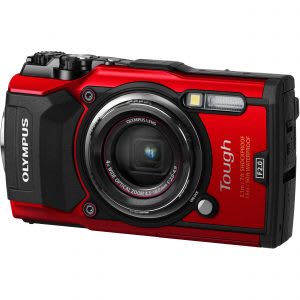 SGD 660.00
Best point-and-shoot camera for diving
If you want to capture stunning deep-water sceneries, you'll need a camera that will survive the pressure but still has the means to take photos even in low-light conditions. Lucky for you, that's what the Olympus Tough TG-5 is all about.
This camera is perfect for divers; it can go as deep as 15 meters on its own and even deeper with its PT-058 underwater housing (45 meters), which is sold separately. With its 12-megapixel BSI CMOS sensor and TruePic VIII image processor, it'll always give you crisp and vibrant shots even in the dark depths of the sea.
Aside from the superb attributes that make it an ideal camera for diving, it is also robust. It's shockproof (2 meters), crushproof (100 kilograms-force), and dustproof. Two things that might turn you off is its bulky size and its price, which is SGD 660.00 – but still more affordable than the RX0.
Nikon Coolpix W300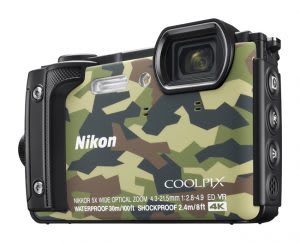 SGD628.00
Best waterproof travel camera with Wi-Fi connectivity
Next on our list is a direct counterpart of the previous camera, the Nikon Coolpix W300. There are a few differences worth mentioning right away. For one, it's about SGD 40.00 cheaper. Aside from being more affordable, it is also more aesthetically better, too.
When it comes to technicalities, however, the TG-5 does outperform this camera when taking pictures in the dark. Although you can take it up to 30 meters deep, it won't provide the same quality images due to its slightly weaker sensor. But when using it as a regular point-and-shoot camera on land, it offers higher resolution photos (16 megapixels).
One of the things we admire about this camera is its Wi-Fi connectivity. When connected to the internet, you can use its GPS for geotagging, which is essential for travel photographers. In a nutshell, it's a well-rounded camera that's ready for anything.
Nikon 1 AW1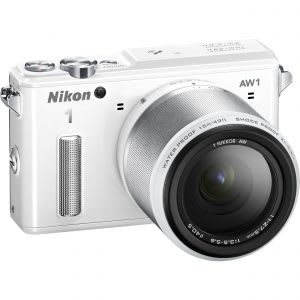 SGD 1,927.38
Best saltwater-resistant camera for low-light photography
If the Olympus Tough TG-5 is enough for low-light conditions, the Nikon 1 AW1 is unbeatable at it. But the only reason you'd want to buy this camera is if you're dead serious about underwater photography. If you love the view rather than the experience of diving, and you'd like to share it with the world, you need the 1 AW1.
First thing first though, this camera is the most expensive one on the list. It's almost SGD 2,000.00, so you might want to prepare some hefty amount of cash. If you only want an underwater camera for social media, you are better off with another camera.
The 1 AW1 is geared with a whopping 1-inch 14.2-megapixel CMOS image sensor to give you superior image quality in low-light conditions – publication worthy. Although there's always a need for image enhancement when taking shots in the dark, this camera will reduce your editing time in half. You can take the camera at 15 meters deep without any casing and has similar durability attributes as the two previous cameras.
Amkov W599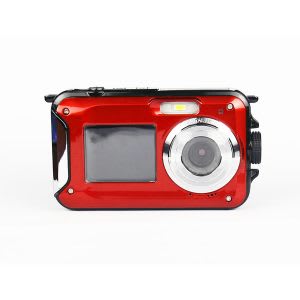 SGD 73.71
Best for underwater selfies
Next on our list is targeted for individuals who love selfies. Some of you might already have a regular camera or a powerful smartphone to get the job done on land, but selfies underwater is an entirely different thing. If you want to pose and see how good you look, the Amkov W599 that has a front screen display will help you out.
This camera can be submerged three meters underwater. Although that doesn't seem deep enough, it will be beneficial since it doesn't provide the best image quality in dark conditions. The Amkov W599 is affordable and easy to use. Granted, it's not high-powered, but it's enough to give you a good time taking selfies with friends and family.
Fujifilm FinePix XP90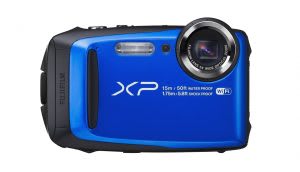 SGD 399.00
Best for high-speed Bluetooth connection – also ideal for kids
The last camera on our list is perfect for some of you who are super busy. Just because you're always occupied, it doesn't mean you should no longer upload your recent pictures at the beach. With the Fujifilm FinePix XP90, you can easily upload your photos and videos using its fast Bluetooth connection feature.
Not only can it upload images straight to your computer, but it can also take you to depths of up to 15 meters. It's affordable, durable, and one of the easiest cameras to operate, too. Although it's not the best camera for professionals, it's ideal for kids and average consumers.
Disclaimer: The pricing shown is just a good indication of how much these products are worth. The prices could change based on the e-commerce promotions that are going on. If some of the products are not available, do email us at [email protected] Thank you!