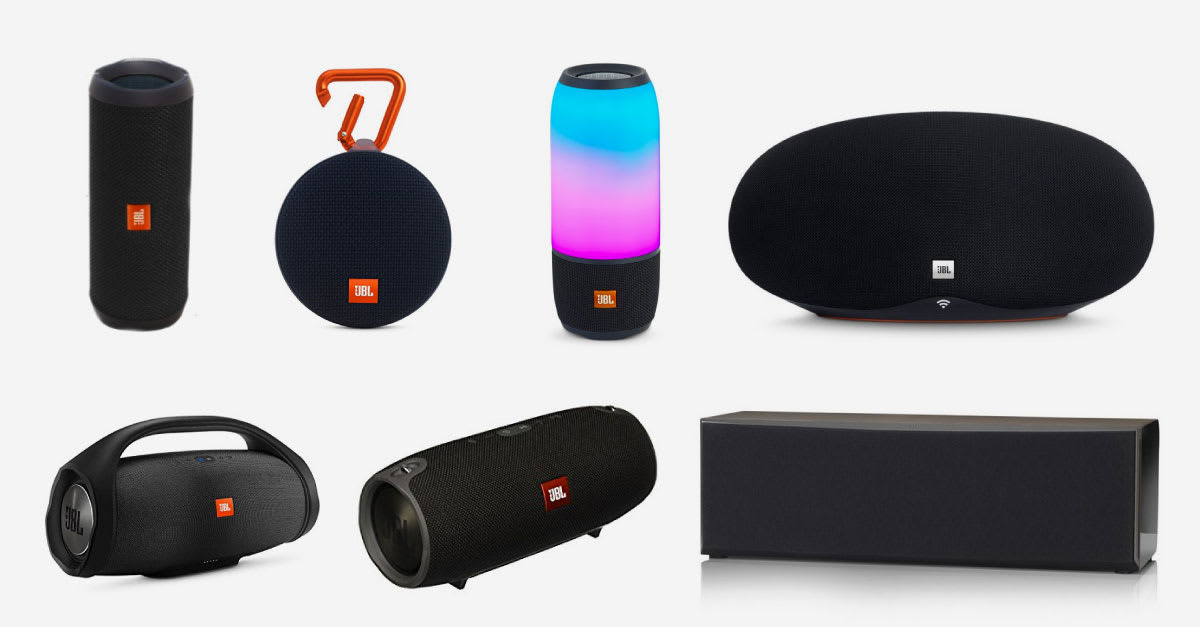 When it comes to choosing speakers, you're slapped with hundreds of brands claiming excellence and other alluring words. In a nutshell, it's almost a trial and error thing in terms of getting to know the brand and building trust. But don't worry; we've got you covered by picking the one we've tested over the years and proven worthy, JBL.
Here are seven of the best products JBL has to offer – from compact speakers for solo use to enormous ones for the entire crowd. We're sure one of these will be a perfect fit for you.
First on our list is the JBL Flip 4, which is more of an all-rounder. It's decent for enjoying music, playing movies, or just listening to podcasts. It's durable, easy to carry, and provides a balanced mix of all high, mid, and low notes.
Aside from being completely balanced, this speaker is also waterproof! You can drop it in the pool without any worries. However, it's advisable that you refrain from doing that though as prolonged submersion (more than 30 minutes) may still potentially damage the device.
The Flip 4 also provides 12 hours of continuous music on a single charge. For about SGD 130.00, you get to enjoy quality sound, superb durability, and long hours of use.
---
Next JBL speaker on our list is not only the most affordable of the bunch but also the most compact as well, the Clip 2. For starters, it's relatively small and can fit on your palm. Being straightforward though, it lacks quite some bass but far better and more superior than its rivals from other brands.
We recommend this speaker for backpackers or people who love to workout with some background music. If you're the type that prefers speakers over headphones, the JBL Clip 2 will sweep you off your feet.
Aside from its portability, it's also waterproof. Well, not the typical type where you can submerge it, but it's waterproof as it floats on water. It also has a carabiner attached to it, so you can clip it on your car door or wherever you feel like it.
---
If you want aesthetics and exceptional sound for your music in a speaker, nothing can beat the JBL Pulse 3. It's more of a total upgrade of the Flip 4 - from sound to appearance.
For starters, it provides a 360-degree sound experience. That means you can't truly distinguish where the sound is coming from, making it a magical experience for music listeners. Aside from that, it also provides a 360-degree light show. So not only are your ears pleased but your eyes as well.
The Pulse 3 is waterproof and like the Flip 4, it lasts up to 12 hours of continues playing. One other feature, however, that makes this speaker more amazing is the Connect+. This feature allows it to sync with other JBL speakers with a Connect+ to pump up the maximum volume.
---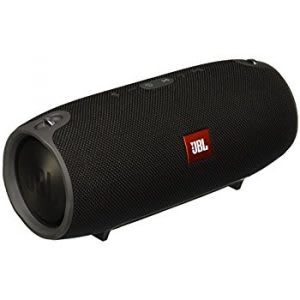 Is loudness key for you? If so, you'll surely adore the JBL Xtreme. At only SGD 359.00, it's able to pack the powers of two typical 36-inch speakers with subwoofers into a mere 10-inch capsule-like speaker. One thing you have to prepare for is that it's around two kilograms in weight.
When it comes to being waterproof though, unfortunately, it lacks that. It is, however, water resistant. So splashes and rain won't harm it, as long as you won't drop it in the pool, it should be fine. With this speaker, you can party at 50% volume for 15 hours straight.
If you travel a lot with friends or just hang out with them to have a good time, this speaker should suffice and provide an impressive club ambience. Although it may be on the more expensive side of the spectrum of speakers, we guarantee it's worth buying.
---
If you're in need of a speaker that's able to connect via Wi-Fi rather than Bluetooth, you're in luck because the JBL Playlist is here for you. In a nutshell, it's more of a desktop/laptop speaker, but still versatile enough for your phone or television.
Although it's not as portable as you have to plug it in, it's still ideal to bring it around to a friend's house as it's not that bulky. It's stylish and has an exceptional balance of highs, mids, and lows.
What really makes this speaker stand out though is its compatibility. You can control and sync with this speaker with almost any device, from iOS to Android, or just plug a 3.5mm audio jack and you're good to go.
---
Next on our list is for anyone who loves to upgrade their sound system or home theater, the JBL Studio 225C. This speaker can provide you with an immense experience when it comes to watching films. Not only can it supply super accurate sound, but it's also out-of-this-world clear.
It is the type of speaker that can pinpoint where the sound comes from, and that's thanks to its surround sound system. It's loud when it needs to and can be gentle as well. Believe it or not, you'll be able to hear even the minutest details in any movie with this speaker – from a spoon drop or hands touching an object. And you get to have that experience for only SGD 299.00.
---
Last on our list is the baddest and most expensive one of the bunch, the JBL Boombox. There are only two reasons you'd like to buy this speaker. First of all, you have the money and want the best out of it. And second of all, you're a DJ that needs to share your music with the crowd with ease.
The Boombox is able to spread music to everyone continuously for an entire day! And it's definitely loud, packed with powerful bass, and has crisp, clean highs and mids. Here's a surprise as well, it's waterproof so you can dip it in water and still host the party like a boss.
Overall, it's one of a kind. It's super heavy though, heavier than the extreme at around five kilograms. But when it comes to keeping people alive anywhere, anytime, this is the monster you need. Just keep in mind, it's about SGD 600.00.
---
Disclaimer: The pricing shown is just a good indication of how much these products are worth. The prices could change based on the e-commerce promotions that are going on. If some of the products are not available, do email us at [email protected] Thank you!
Like writing about great products? We're hiring! Learn how you can write for us!