Stretch marks are part and parcel of life. They usually form when one goes through pregnancy, quick weight gain, and growth spurt.
It appears due to various reasons, but this occurs commonly when the skin overstretches or shrinks too quickly. This is also true when there's an increase in cortisol/stress levels which weakens the elastic fibres in our skin, or when our body experiences imbalance hormones.
They can look like a kind of scarring on the skin and are not easy to remove, but they can diminish over time with treatment, patience, and the right product.
What ingredients will help diminish stretch marks?
Just like any problem, stretch marks have a solution. It lies in the ingredients of products that are especially effective in visibly reducing the appearance of stretch marks.
Some popular and effective products include:
Aloe vera: This plant has hydrating and healing properties that aid in the treatment of stretch marks. Supplied with ample hydration, the skin would then be able to strengthen the hold of collagen and elastic fibres and fend off future occurrences of stretch marks.

Vitamin A: Also known as retinol, retinoid, or retinoic acid (vitamin A compounds), vitamin A has been proven to be effective in skin treatment and health, bringing a more youthful and smoother appearance.

Hyaluronic acid: This works by attracting moisture from the environment to hydrate the skin, which is great in Singapore's humid weather as there's a lot of moisture in the air. It also helps to boost collagen production in the skin.

Coconut oil: Known for its healing and anti-inflammatory properties, it accelerates the healing time for stretch marks aside from replenishing skin hydration.
Knowing all of these now, you might still be at a loss as to which product you'll need. Here's a list curated for different needs related to stretch marks.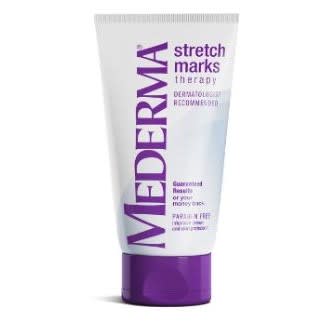 Mederma Stretch Marks Therapy
SGD 68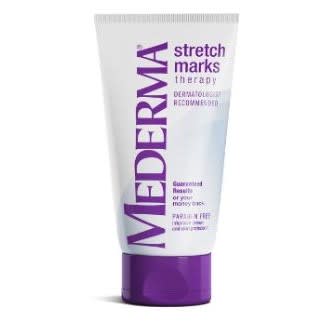 The Mederma Stretch Marks Therapy is a cream worthy of its name. This cream is recommended to be used as early as the second trimester of pregnancy up to the breastfeeding stage.
How it works is that it locks in moisture in the skin to increase elasticity and to prevent the appearance of stretch marks. And, it's very versatile cream, suitable to be used during and post-pregnancy.
The formula contains Mederma's own botanical extract blend called Cepalin, which aid in improving the look and texture of stretch marks. This cream also contains Hyaluronic acid and Centella asiatica. The former retains moisture which then decreases the visibility of lines while the latter helps to strengthen the skin for better elasticity.
Generally, one should expect results from 4-12 weeks. Some users have said that they noticed visible fading of stretch marks in just a few applications. However, this mainly applies to new and fresher stretch marks. By regularly applying this cream, even stubborn, deep stretch marks will fade in colour (but not completely diminish them).
All in all, we recommend religious use of the product at up to two times per day.
---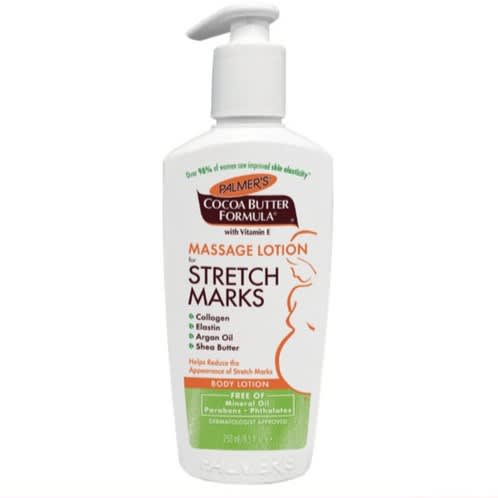 Palmer's Cocoa Butter Formula Massage Lotion for Stretch Marks
SGD 27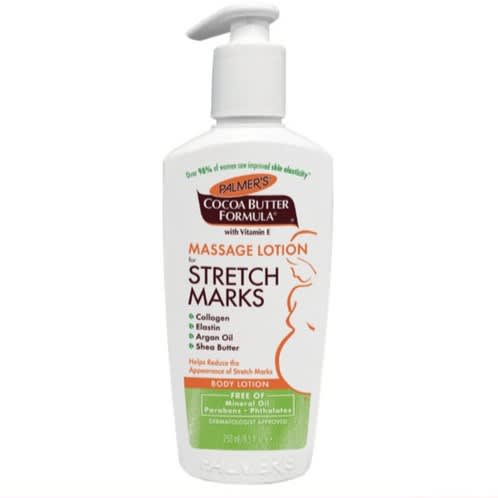 With the help of its powerful moisturising ingredients such as shea butter, vitamin E, and cocoa butter, this Palmer's cream lotion helps to improve skin elasticity during and after pregnancy. And because of its super-effective ingredients, the cream is best recommended for stretch marks that occur from weight fluctuations, which is common during pregnancy.
In terms of application onto the skin, it is said to be silky yet slightly heavy, but not greasy.
We have found that it has quite a thick consistency which can take a while to absorb into the skin. But generally, it is easily spreadable upon application. Moreover, we love its moisturising and soothing application when in contact with itchy, stretched skin, which can occur during pregnancy.
Simply use it like any other lotion;- just apply it onto the stomach, hips, thighs, and bust areas. Suitable for daily use, applying the cream as early as possible pre-pregnancy can help prevent stretch marks from appearing.
---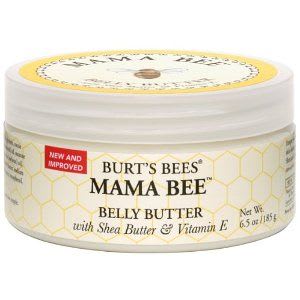 Burt's bees Mama bee belly butter
SGD 26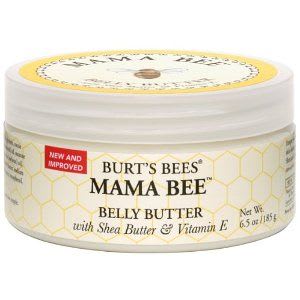 Natural and nourishing, this extra-rich body butter is reportedly great at preventing stretch marks. It has a creamy consistency that's literally between butter and lotion. But don't let that fact scare you.
Although thick, the cream is very moisturising, formulated with vitamin E and shea butter as its key ingredients. These two very beneficial ingredients for the skin aids in reducing inflammation and bring vitality to the skin, as well as soothe it.
Suitable for all skin types, it is non-greasy and absorbs quickly into the skin, leaving it soft and smooth. This is pretty evident among pregnant ladies, who have also commented that they noticed their existing stretch marks fading without any new stretch marks appearing after.
And thanks to shea butter, many do love it most when applied onto their itchy skin which is a regular occurrence with pregnant mothers. It soothes the itch while keeping skin well-moisturised. Additionally, users feel safe with the use of natural ingredients instead of chemicals.
---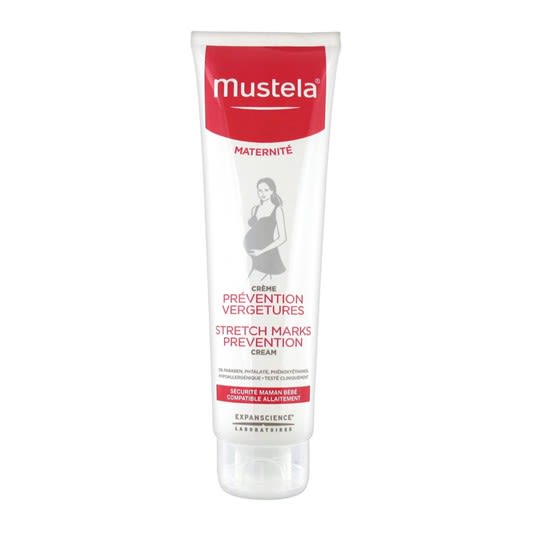 Mustela Maternity Stretch Marks Prevention Cream
SGD 35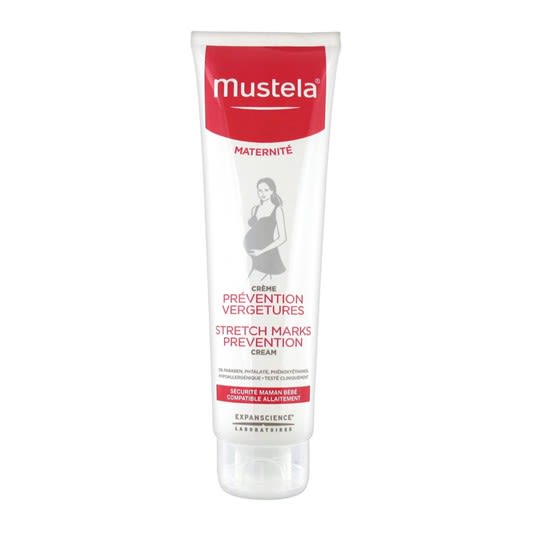 The Mustela Maternity Stretch Marks Prevention Cream is one of the rare options out there that comes in two versions; with fragrance and without, so you can choose based on your preference.
This cream is made for prenatal and postpartum skin care as it contains ingredients such as Avocado peptides and Galactoarabinan, which comes from the Larch tree. These two ingredients aid the skin in withstanding too much stretching and improving skin elasticity.
Of course, moisturisation is one of the key to treating stretch marks, and this cream does so with shea butter, delivering a rich surge in moisturisation and thus, applies on silkily.
This can be both a good or a bad thing; the formula dries fast. And if it dries rather quickly, you may end up with a crumbly texture that doesn't get absorbed into the skin.
So, instead of dry skin, we recommend applying it onto damp skin, such as being fresh out of the shower. This method is suggested as the skin needs ample moisture (like a sponge) to absorb liquid better.
Even better if you happen to take a warm/hot shower, as your pores will open up and thus, absorb quicker without wasting any of the product. This way, you get full nourishment and care.
To note, the price may seem steep for the amount of product packaged. But parents commonly advice that a little goes a long way.
---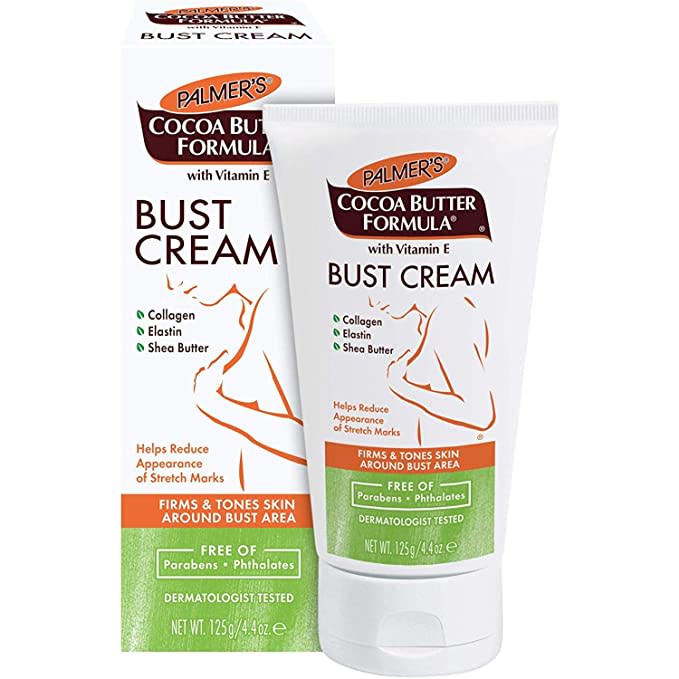 Palmer's Cocoa Butter Formula Bust Firming Cream
SGD 26.5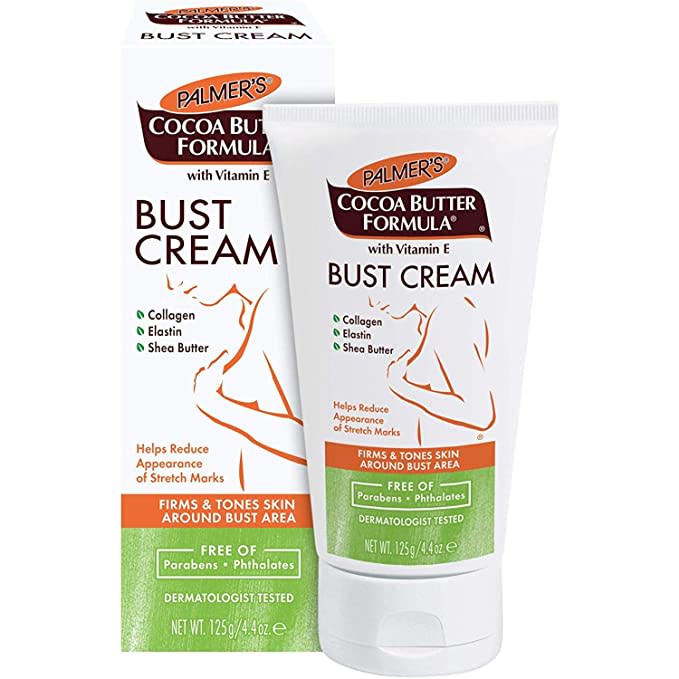 The Palmer's Cocoa Butter Formula Bust Firming Cream works just like most of its other firming cream. It comes with the promise to tone and firm pregnancy stretch marks around the tummy. Of course, the cream is especially recommended for the bust area due to its additional ingredient of collagen.
Aside from collagen, the other star ingredient here is cocoa butter, which not only works as a salve to moisturise the skin; it's also great for relieving itchy stretch marks.
This cream definitely delivers as a highly-rated product that has a non-greasy application which is moisturising and fast-absorbing, although it can feel a little heavy upon application.
Numerous mothers have raved about its effectiveness albeit at varying levels as some see the results quicker than the others. One thing that is for sure is its hydrating factor as the bust area is always smooth and supple with application. Therefore, frequent use is best; results will definitely show within a month.
However, there is something to take note of; traces of the product should be removed from your skin before breastfeeding your little one.
---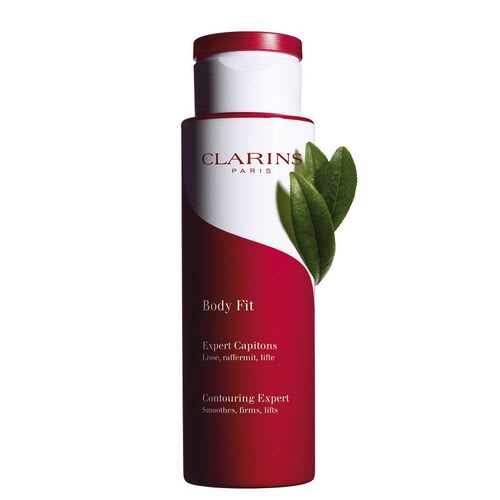 Clarins Body Fit
SGD 95.00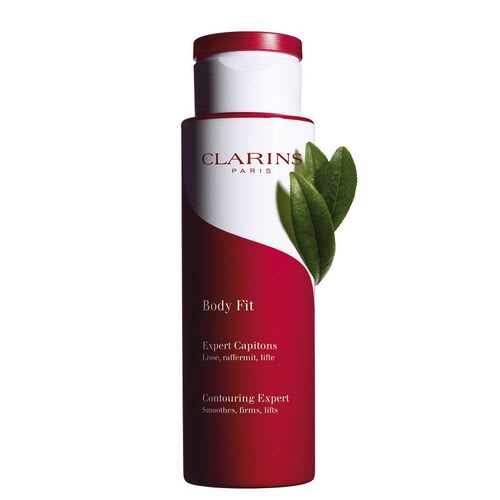 Powered by Quince leaf extract which is able to visibly firm and smooth the skin, this unique product aids in reducing the appearance of cellulite - something that's harder to get rid off than stretch marks.
The product has a cream-gel texture that applies well and easily onto the skin while providing ample moisture and hydration.
While it is on the pricier side, we still highly recommend this product for its good key ingredients. The cream uses horse chestnut, sunflower, water mint, celosia, and the aforementioned Quince leaf extract. All of these ingredients work together to give you a sculpted figure with firm skin and reduced cellulite.
Plus, it's all the work of nature, not chemicals! Therefore, the cream is formulated to treat all skin types.
There are a myriad of positive reviews out there on its efficacy. Some have even noted that they've used the cream for over 20 years, and it has not failed them in terms of results. Regular application will bring you to our side when you see the desired results.
---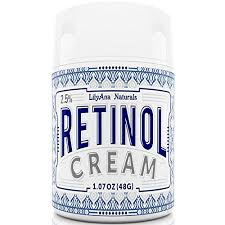 LilyAna Naturals Retinol Cream Moisturizer
SGD 58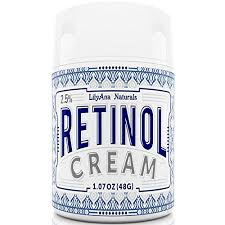 The LilyAna Naturals Retinol Cream Moisturizer is a wonder product that fights off almost every skin problem there is, such as acne, stretch marks and even scars.
We love this product as it is a worthwhile investment due to its ingredients list which includes vitamin A, green tea, and hyaluronic acid. The use of these ingredients have proven themselves worthy over the amount of loyal, avid users that this product have acquired. Results are clearest in improvement on the appearance of stretch marks, followed by other skin troubles.
There are many things to take note of when it comes to retinol products. They can be used daily, but it is best to start out by using sparingly as retinol products can be very drying.
You should try using it once a week to start off, before slowly shortening the timespan. It's best to apply it on dry skin and wait for 20 minutes before applying anything else as water and other products will reduce its effectiveness.
Last but not least, it may not be safe to use during pregnancy. So always remember to consult your doctor first before using this product.
---
Disclaimer: The pricing shown is just a good indication of how much these products are worth. The prices could change based on the e-commerce promotions that are going on. If some of the products are not available, do email us at [email protected] Thank you!
Like writing about great products? We're hiring! Learn how you can write for us!