As a baby's immune system isn't as strong as an adult's yet, it's crucial that we keep their items clean from germs and bacteria. One such product that's catered to this issue is a bottle sterilizer. Sanitising your baby's bottle would work to keep nasty germs and bacteria forming, keeping your little tot from any risk of infection.
Having said that, here are some top-notch baby bottle sterilizers to keep your baby safe.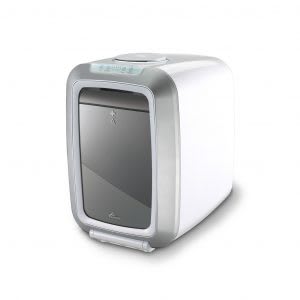 Hanil UV Sterilizer Dryer
SGD 359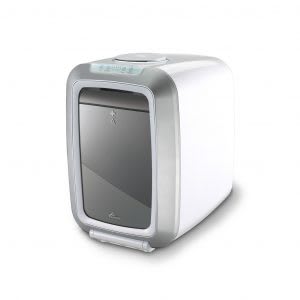 Ensure maximum level of disinfection with this 2-in-1 sterilizer and dryer. It uses UV Light to kill 99.9% of germs and 3M HEPA filter that blocks 99.99% of airborne dust and particles. The sterilizer also has a drying function which allow bottles to be used immediately and to keep it susceptible from moulds.
Given its compact design, it has a surprisingly large interior that fits up all baby bottle sizes, being able to accommodate up to 9 big baby bottles at a time. Plus, it can be used to sterilize other items, too, like toys and other baby essentials.
---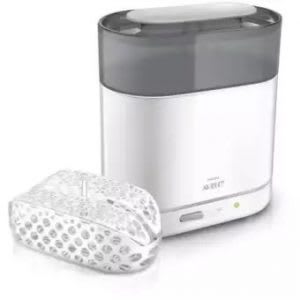 Philips Avent 4 in 1 Sterilizer with Warmer Bundle
SGD 169.00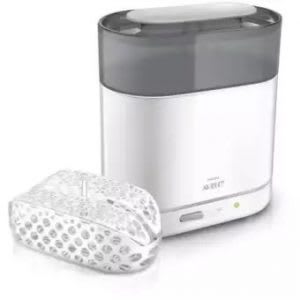 The Philips Avent 4 in 1 sterilizer is designed to kill 99.9% of harmful germs in just 6 minutes. It also keeps its content sterile at up to 24 hours if it stays unopened. With an integrated display feature and an auto shut off function, you are guaranteed a worry-free operation.
There's also an included electric bottle warmer that warms up baby bottles evenly in just 3 minutes. Featuring a defrost setting, parents need not worry about the dangers of warming up milk using a microwave. And not only that, but it can also be used to warm baby food.
---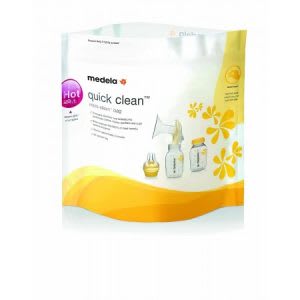 Medela Quick Clean Micro-Bags
SGD 28.9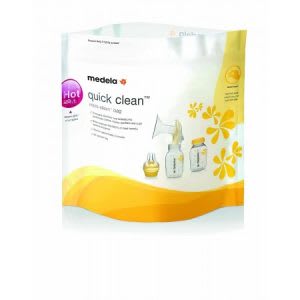 If you need an easy and hassle-free option to sterilise your baby items when travelling, you can't go wrong with Medela Quick Clean Micro Bag.
With each bag reusable for up to 20 times, simply place the baby bottle inside the bag, add some water, and pop it into the microwave. This way, you disinfect and eliminate about 99.9% of harmful germs and bacteria from your baby's bottle and feeding items in just 3 minutes!
---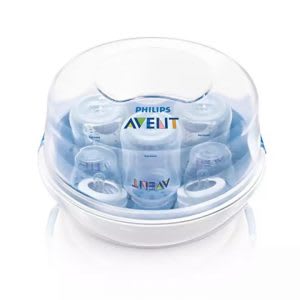 Philips Avent Microwave Steam Sterilizer
SGD 45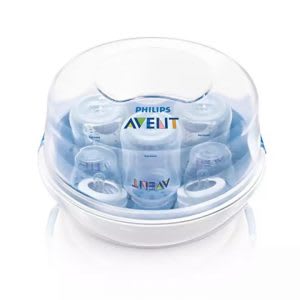 This Philips Avent Microwave is a smart choice for moms who want a fast, convenient and space-saving steriliser. All you need is to have some water inside, then put it in a microwave to create natural steam. It'll then eliminates 99.9% of bacteria in just 2 minutes, with items staying sterile up to 24 hours with lid intact.
The steriliser can hold up to 6 bottles at a time and is also fitting with most microwave ovens out there. It can also be used to sterilise other microwave-safe baby accessories. Affordable, effective, and flexible!
---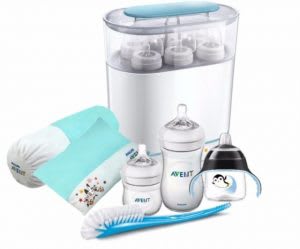 Philips Avent 3 in 1 Electric Steam Sterilizer
SGD 145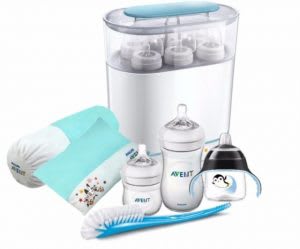 This steriliser is widely talked about due to its flexibility and ability to clean a wide variety of baby items. As they say, it is a brilliant "do-it-all" buy for mothers. With just 6 minutes, banish harmful germs from up to six 330ml bottles at once. Once done, the items stay sterile in the steriliser (with lid intact) for up 24 hours.
---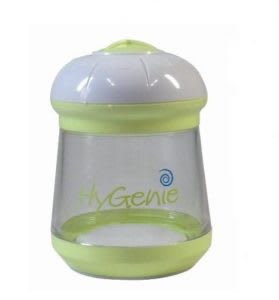 HyGenie Portable UV Sanitizer
SGD 68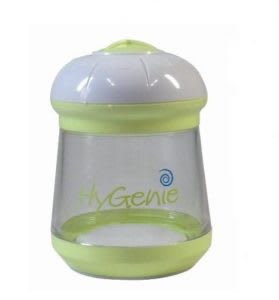 For a hassle-free experience, the HyGenie Portable UV Sanitizer uses UV-C and ozone technology to sanitise items in a natural and chemical-free manner.
Within 7 minutes, it eliminates up to 99.9% of harmful germs and bacteria in most standard bottles, nipples, and pacifiers. It operates with only 2 AAA (1.5V) batteries which makes it environmentally friendly. Space-saving is one of this smallest steriliser's best feature, allowing you to use it anywhere and anytime you want.
---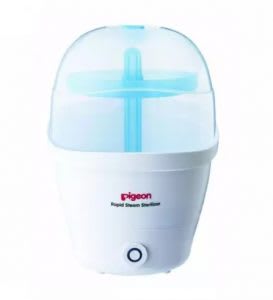 Pigeon Rapid Steam Sterilizer
SGD 139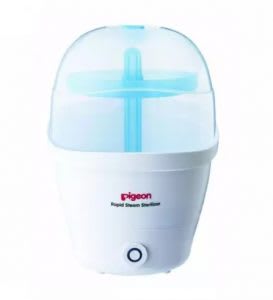 Pigeon's Rapid Steam Sterilizer is designed to accommodate all sizes and shapes of feeding bottles. In just 6 minutes, it kills bacteria and keeps the contents sterile up to 6 hours if not opened. There's also a sizeable 2-layer accessory tray to hold all bottles and other baby items, whether big or small.
---
Disclaimer: The pricing shown is just a good indication of how much these products are worth. The prices could change based on the e-commerce promotions that are going on. If some of the products are not available, do email us at [email protected] Thank you!
Like writing about great products? We're hiring! Learn how you can write for us!