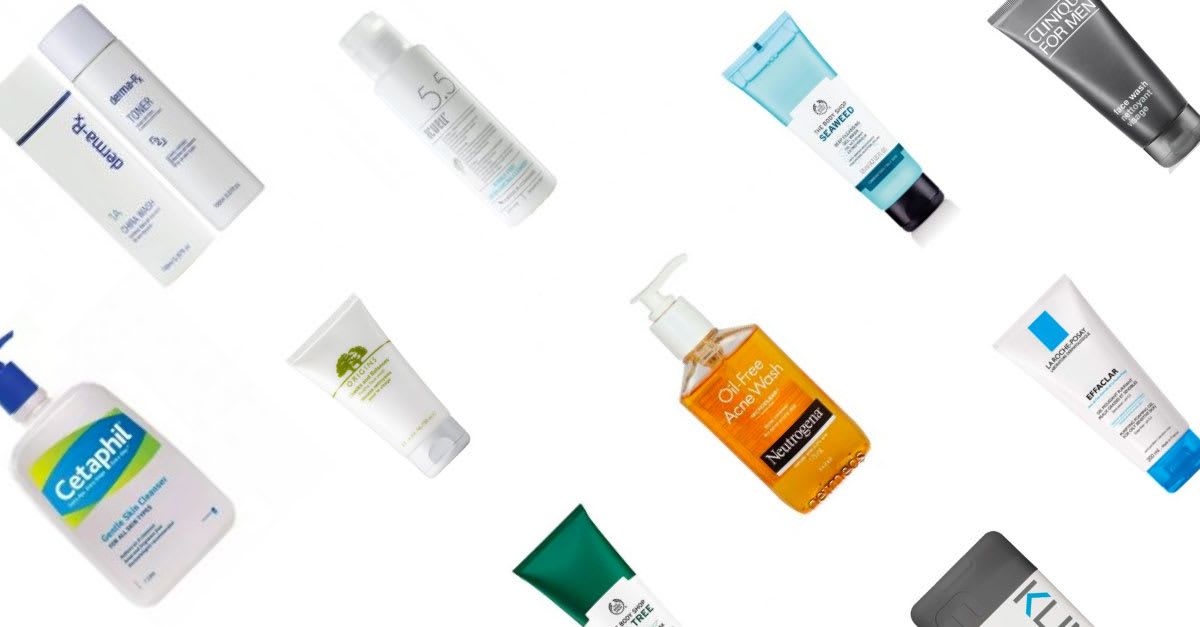 Most guys think that cleaning their face with any facial wash will make them lose man points. But here's the fact, women adore men who take good care of themselves.
So just shake the stereotype off. We've listed ten of the best face washes available in Singapore. It doesn't matter if you have an oily or dry face, if you have problems with acne, or if you have pimples. On this list, there's one bound for your skin concerns.
Best oil-control face wash for oily skin
Price from SGD20.90
First on our list is for men who have problems with excessive oil on their face, The Body Shop Seaweed. It's a cleansing gel wash that uses seaweed extracts to remove impurities and naturally reduce face oil.
It's gentle on your skin and leaves your face shine-free. Also, it doesn't use oil or soap, making your skin properly moist. If you're not allergic to seaweed and have too much excess oil on your face, this face wash is for you.
Best for dry skin
Price from SGD38.00
Next face wash on our list works for the complete opposite of the first product, Clinique for Men Face Wash. This facial wash is ideal for guys with dry skin. It's gentle but doesn't have any compounds that will reduce oil production. It just leaves your face clean and moist.
What you'll instantly feel after using this face wash is that your skill will be a bit loose. You want that because if it's too tight, it means it's clogging the sebaceous glands (responsible for producing oil). It loosens your skin to promote moisture, so it's a great balancer for men with relatively flaky or dry skin.
Best face wash for sensitive skin
Price from SGD23.90
Some guys have super delicate skin, and trying random facial products may do more harm than good. If your skin easily gets irritated after applying any type of facial cleanser, we recommend you to use Acwell Bubble-Free Balancing Cleanser.
This face wash is incredibly mild and has a perfect pH balance of 5.5. It doesn't have soap or any kind of ingredient that may potentially irritate your skin. Like most facial washes, it simply leaves your skin moist, clean, and free from excess oil.
Best for blackheads
Price from SGD29.90
Blackheads are annoying and do significantly downgrade your face when left unattended. If you have a couple of blackheads, you're in luck because The Body Shop Tea Tree 3-in-1 Wash Scrub Mask is here for you.
This face wash cleanses your skin and can then be used as a mask, too. It removes impurities, and when it's left to dry on your skin, the tea tree extract activates and loosens your blackheads. After removing the mask, your blackheads will be gone as well.
Best face wash for combination skin
Price from SGD42.00
Men with a combination face type can be quite tricky to manage. Some of you might have seasonal changes while some have unevenly distributed oil and dryness on your face. But don't worry because the Origins Checks and Balances work wonders for this skin type.
It's formulated meticulously to neutralize your skin. It has two key components: Broad Leaf Kelp Extract that discourages excess oil production and Wheat Protein that moistens and protects dry areas. In short, it leaves everything balanced. Although it's not going to keep your face perfect throughout the day, continuous use will provide permanent results.
Best for acne and pimples
Price from SGD10.90
Acne and pimples are one of the most common skin problems that decrease confidence. However, with the Neutrogena Oil-Free Acne Wash Cleanser, you can finally say goodbye to that problem.
For starters, this face wash is a bit aggressive but does its job well. It eliminates excess oil super fast, and in turn, it encourages your skin to heal acne and pimples faster. However, excessive usage might cause you to have dry skin. So keep things balanced and once you see results, use a milder face wash like the ones above.
Best organic face wash for men
Price from SGD18.00
If you're a guy who advocates all things organic, then the Milk Face Wash is your best option. It's made from walnut shell, jojoba esters, nori, and spirulina extracts. All these ingredients when combine pack a lot of cleaning power and controls excessive oil production. Plus, it's only around SGD 18.00, making it super affordable to anyone who wants to give it a shot.
Best foaming face wash
Price from SGD33.90
Next on our list is the fastest cleanser you can get your hands on, the La Roche-Posay Effaclar Foaming Purifying Gel. It foams just after a few rubs, and it cleans deep, too. And aside from that, it also has a superb pH balance at 5.5.
It's ideal for guys who are always in a hurry but has sensitive skin. However, we don't recommend this face wash for those with dry skin as it has too many active ingredients at work and may cause to irritate your skin as it really leaves a tight feeling after each use.
Best gentle, mild face wash
Price from SGD21.90
Last on our list actually is for everyone. So both men and women who are really afraid of face washes due to a super sensitive skin will enjoy the Cetaphil Gentle Skin Cleanser. It's from the most trusted baby's soap brand, Cetaphil. And trust us; it won't do any harm on your skin whatsoever, it even handles babies' skin which is a hundred times more fragile.
It's free from chemicals, soap, and fragrance. It's super mild that it will take you a minute just to get it to lather. Although it doesn't give you a deep clean or reduce oil production, it does keep you free from impurities on every wash. And the best thing about it is that you can use it more than twice a day.
Disclaimer: The pricing shown is just a good indication of how much these products are worth. The prices could change based on the e-commerce promotions that are going on. If some of the products are not available, do email us at [email protected] Thank you!