No matter how big your screen is, it will only bring you half the experience. Home theatre systems exist for tons of reasons. They deliver high-quality audio and further appreciate tunes, helping to bring cinematic actions truer to life. Without sounds, watching horror movies can never give you jumpscares, and dramas can never make you cry without its heart-touching music.
Without further ado, let us list the best ones for your picking.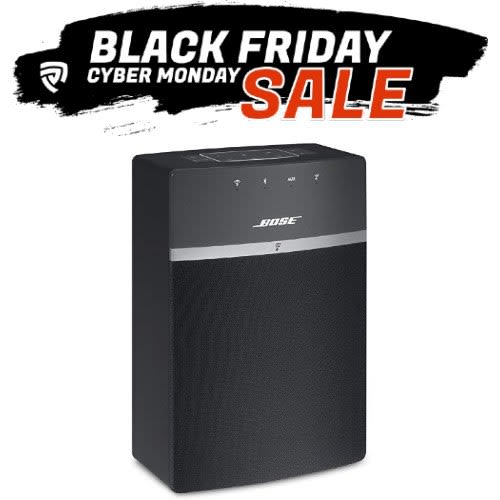 Bose SoundTouch 10
SGD 319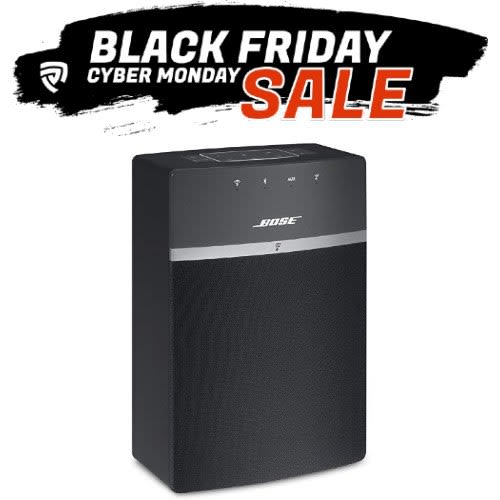 add_circle
Decent sound quality
add_circle
Presets are easy to use
remove_circle
Design could be better
remove_circle
Not portable
If you want to start with something small, like a compact theatre system that individuals living alone can enjoy, the Bose SoundTouch 10. This speaker is best for small rooms or apartments as it doesn't consume a lot of space. It only weighs a kilogram and has an identical size of a small rice cooker.
The Bose SoundTouch 10 has decent bass and crisp high notes. And what makes it even better is that it's wireless, so you can connect it to your mobile device with ease. Of course, it has a standard AUX jack to connect your TV in case it doesn't support Bluetooth.
There is streaming integration capabilities as well, so you can enjoy Spotify and other music services. It's easy to use and is absolutely portable. Take note though that it doesn't have a built-in battery, so you have to plug it to use it.
---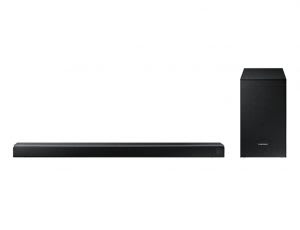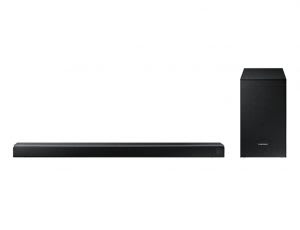 Next on our list is what we think is best for any widescreen LED TV - the Samsung HW-N450. For starters, this home theater system is a beauty. Not only is it simple and elegant, but it is also easy to set up.
The Samsung HW-N450 offers both Bluetooth and AUX connection, so just plug-and-play. It also has a subwoofer for that intense bass feel and has clear mid and high notes. What makes it even better is that even with its high-quality sound output, it's not that bulky. It's only a sound bar and a subwoofer.
Sporting a slender design, the system is encased with a solid, plain black body. Furthermore, it's surround sound ready, so a quick purchase on their rear speaker kit (SWA-8500S) will give you a superb experience.
---

Onkyo HT-S3800 5.1
SGD 503

If you want something a bit more intense for 4K TVs that are 55 inches or bigger, then the ONKYO HT-S3800 5.1 is for you. It's basically a staple home theatre system which produces excellent bass from its dedicated subwoofer, four cone speakers for that surround feel, and a centre speaker that gives you exceptional mid notes.
This theatre system has all the wires ready for you with an innovatively designed amplifier, so it's not difficult to install. It uses Dolby TrueHD technology for the deliverance of accurate sounds when watching movies.
Users should take note of its power consumption. Every speaker it has consumes quite a lot of wattage, not to mention the amplifier itself. So if you want this theatre system, be ready to be able to maintain it.
---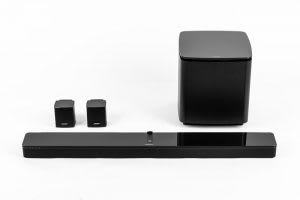 Bose SoundTouch 300
SGD 2134.00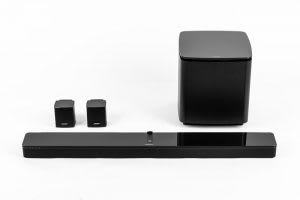 If you're an audiophile and high-fidelity is a must for you, then the Bose SoundTouch 300 is a perfect choice. Although pricey, it will deliver the best sound for music.
It has accurate high and mid notes without any distortion. Although its bass isn't that powerful, it works well with music as it can replicate the original tone at almost 100%. Hands down, this home theatre system will provide you with nothing but clarity. With its Quiet Port technology, you'll find it hard to believe that you're not wearing headphones.
Aside from its stunning performance, you will love its slick, luxurious design and simplicity. Furthermore, you can customize everything easily with its remote.
---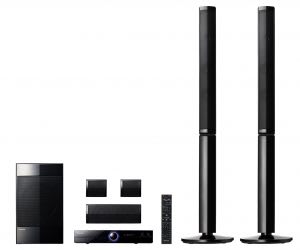 Pioneer HTZ-222DVD
SGD 250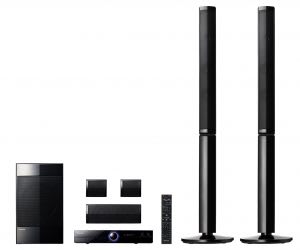 Next on our list is a home theatre system that's worth the money - the Pioneer HTZ-222DVD. This product is composed of two tower speakers, two satellite speakers, a centre speaker, a subwoofer, and a DVD player that offers karaoke.
You get to have all of the above at a super affordable price. However, setting it up can be quite technical, and the sound isn't that amazing when compared to other high-end multi-speaker theatre systems.
Nonetheless, it's really affordable and an improvement from the basics, being able to provide overall decent quality to your entertainment needs while giving you a karaoke experience. If you want a complete package, and you're okay with taking an hour or two to set it up, this classic home theatre system is for you.
---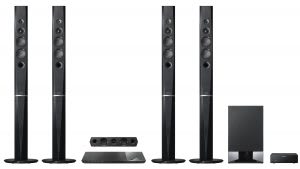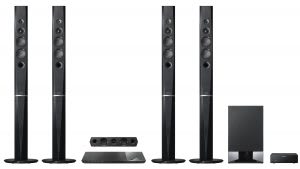 If you want total convenience with outstanding audio output, then the Sony BDVN9200W is for you. This home theatre is the epitome of comfort. You can set it up however you want without thinking about the wires at all.
The Sony BDVN9200W has four wireless surround sound tower speakers that you can place anywhere in your living room. Granted, as long as there is a power outlet, anywhere is okay. It also has a front speaker, a subwoofer, an amplifier, and a Blu-ray player.
Users may experience an increase in wattage usage with this system. But overall, it sounds amazing, it's easy to set up, and it has all the modern bells and whistles you need.
---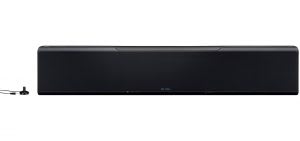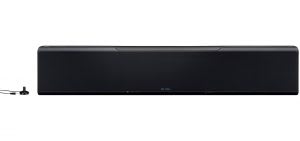 Perfection, this is the best word to describe the Yamaha YSP-5600. If you want to experience the intensity of any film in premium cinema quality, perhaps even better, this soundbar is all you need.
For starters, it's a 43-inch speaker bar that weighs 11 kilograms. Although it's not bulky, it does require a bit of space and needs to be placed in an area where nothing blocks its sound waves. With its Dolby Atmos technology and high-tech speaker setup, you can experience sound atmospherically 360 degrees.
It also doesn't require any technical skills to install, as it doesn't have rear speakers, a subwoofer, or an external amplifier. It's a one-man army and provides you with the best 3D surround sound experience. The only concern is that it's a pricey item to have.
---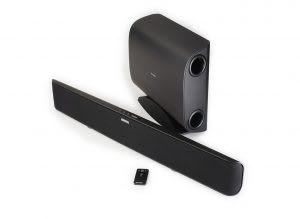 Paradigm Soundtrack 2 System
SGD 1699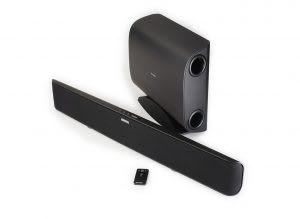 Simplicity and sophistication in one body is a rare sight, but it exists in the Paradigm Soundtrack 2 System. This product is a simple pair of a lengthy 18-inch bar speaker and a minimalistic and portable subwoofer.
At a glance, you will find it very straightforward. However, it has surround sound capabilities, which is surprising for a single front speaker. You can place it just below any LED TV, and it will complement it wonderfully.
While its subwoofer isn't that huge, it provides that boom you get from bulky speakers. Do note that it is not the loudest in terms of volume. Nevertheless, it delivers adequate sound experience into any home.
---


A very cheap option is the Logitech Z337. It's at its very basic with decent sound quality. For those on a tight budget or looking to heighten their subpar TV's sound quality further, the best quick remedy is this theatre system.
It also works on computers and even on mobile devices, thanks to its Bluetooth technology. It's not the best when it comes to style, but for its price, you get to have a solid bass, clear mid and high notes, and improved volume and sound quality.
---
Disclaimer: The pricing shown is just a good indication of how much these products are worth. The prices could change based on the e-commerce promotions that are going on. If some of the products are not available, do email us at [email protected] Thank you!