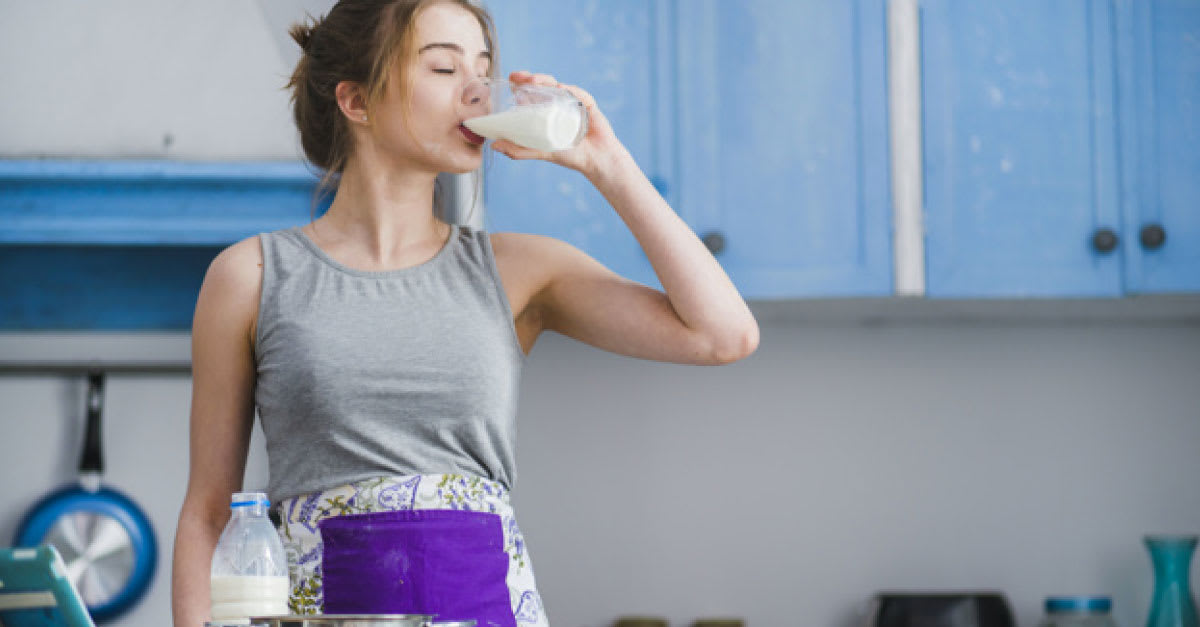 Milk is all we need for a tall glass of calcium. But these days, the options are endless. From plant to nut based, with probiotics and enriched protein, your source of nutrients can come from a cow or other alternatives. And, you can also get them with lowered fat percentage.
Here are our suggested options for low fat milk available locally.
Best low fat plant based milk - has oats, suitable for controlling cholesterol intake
Price from SGD5.80
As similar as it sounds, but Chiccolat is not a typo on 'Chocolate'. Instead, if you're looking for a milk alternative, this is something to cheer about.
Riso Scotti Oat Chiccolat is a nutritious oat milk which gives you more protein than any other plant based milk. It is packed with fibre and provides one third of your daily recommended intake of beta-glucan, helping to keep cholesterol levels in check.
Best low fat almond milk - suitable for weight loss and those on a diet
Price from SGD6.65
Made from organic slow roasted almonds, this almond milk has a nutty taste with a warm, natural sweetness to it. Yes, it's very creamy in texture, but this is a guilt free option as it containing the least amount of calorie and fat compared to regular milk and all plant based milk.
Best lactose-free low fat milk
Price from SGD2.90
Enjoy the taste of real milk without bearing any painful consequences later with this lactose free option from Pauls. Combining 100% Australian milk with a special enzyme called lactase, these help breakdown lactose into simple natural sugar, so that the body doesn't have to.
Rich in calcium, protein and gluten free, this easy-to -digest milk is a heaven-sent for those suffering from lactose intolerance.
Best low fat chocolate milk - suitable for toddlers
Price from SGD5.80
Japan's no.1 milk and popular among children, this Meiji Low Fat Chocolate Milk is a one that both young and old can truly enjoy. Parents will also love the fact that it has no preservatives, and that it's made with the goodness of cows milk filled with proteins, vitamin D and calcium for a child's development.
Best low fat milk for coffee and frothing
Price from SGD2.50
It's common to think that low fat milk will be less creamy. Well, you're not wrong. But this particular option holds the same weight and creaminess of full cream milk. Ideal for mellowing out your cup of joe as well as frothing for a nice airy foam.
Best low fat milk with high calcium - suitable for smoothies
Price from SGD3.20
Sweet and fragrant, this low fat milk by Marigold adds more than just creaminess to a smoothie. High in calcium and protein, it promotes strong bones as well as gives you essential vitamins for good health.
Best low fat milk for acne prone skin
Price from SGD4.95
One of the main culprit behind your bad skin could be the innocent glass of milk you have in your hands. Cow's milk has long been linked to acne as it contains hormones that trigger inflammation and breakouts.
So if you can't quit good ol' milk, coconut milk is a good alternative as it contains a balanced ratio of omega 3 and 6 that keeps inflammation down.
Best low fat milk for Acid Reflux
Price from SGD7.50
We have a gut feeling about this, and it's good. A cousin of the tangy yogurt that we all love, Kefir is a fermented milk drink that contains triple the amount of probiotic strains found in yogurt.
Probiotics are beneficial for maintaining a healthy immune and digestive system, all the while changing your gut flora and reducing the painful symptoms of acid reflux. Containing less milk sugar than regular milk, it is also lower in fat content and can be tolerated by those with lactose intolerance.
Best low fat powdered milk - without sugar, suitable for adults
Price from SGD13.90
If you're looking for a powdered option, this one by Tropicana Slim is a low fat and sugar-free milk with a delicious vanilla flavour to it. Completed with natural fibres and inulin, a glass a day can also help lower cholesterol levels and reduce the risk of coronary heart disease.
Best low fat milk for breastfeeding mothers
Price from SGD23.90
Low in fat but not short on nutrients, new mothers can meet their daily nutritional requirements with 2 glasses of Anmum Lacta. One glass typically covers enough folic acid, iron, calcium, vitamin B1, B2, B6 and B12. It also contains Nuelipi for higher level of GA and DHA with are key nutrients for brain development.
Disclaimer: The pricing shown is just a good indication of how much these products are worth. The prices could change based on the e-commerce promotions that are going on. If some of the products are not available, do email us at [email protected] Thank you!