Whether you've had one too many sleepless nights, stress, or even genetics, the skin under the eyes will tell it all. Be it dark circles, puffy or hollow eye bags, caring for the under-eye os a frustrating skincare woe that many of us have had to deal with on many occasions.
One quick way to make them look better is with a concealer. Investing in a good concealer especially for the under-eyes not only gives the illusion of flawless skin, it can even fake a good night's sleep.
To help you make the right purchase, we have reviewed some of the best concealers available on the market that work best to help you cover up dark circles and puffy bags. From luxury retailers to classic drugstore brands, here are some of the top concealers armed to perfect all your under-eye needs.
How to correctly apply concealer under the eye
Keeping your dark circles under wraps doesn't always have to be a battle. Here are a few tips you can try out to get that flawless well-rested look.
Tip #1 – Before applying concealer, it is best to use a good moisturizer to hydrate your under-eye area. Even better, prep the area with eye cream; just apply about 10-15 minutes before you start your normal makeup routine. This step will ensure your under-eye area is smooth and helps the concealer to be less prone on settling into fine lines.
Tip #2 – If you're worried about your concealer creasing, you can swap your morning eye cream with an eyeshadow primer. A primer as a base will help to ensure the concealer stays in place the whole day without flaking or creasing.
Tip #3 – After the moisturizer is absorbed, it is now time to apply your concealer. Draw your concealer in an upside-down triangle with the base under your eye and the tip pointing toward your cheek then blend it out with a sponge.
To accurately put, cover up the middle point between where the dark circles/eyebags and the top of the cheeks meet, kind of crossing over the cheekbones. Then blend the edges outwards. Do this to reveal a more natural-looking complexion that brightens up your entire face.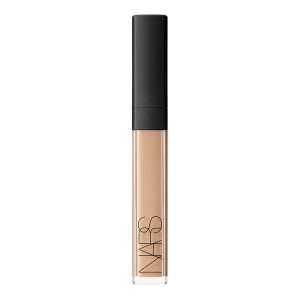 NARS Radiant Creamy Concealer
SGD 46.00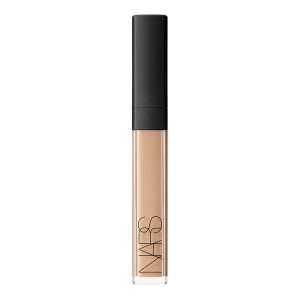 add_circle
Hydrating wear
add_circle
Water-resistant and Water-resistant
add_circle
No alcohol, parabens or fragrance
remove_circle
Does not work well for blemishes
NARS Radiant Creamy Concealer is an uber-iconic concealer that instantly masks any imperfections to produce a radiant and youthful complexion. It's a great all-rounder concealer to cover up almost any issue you have thanks to its buildable coverage for dark circles, and creamy, illuminating-effect formula which is easy to blend over hollow eyes or eye bags.
The formula is infused with Multi-Active Botanical Blend - Magnolia Bark Extract, Grape Seed Extract and Vitamin E. These ingredients work to hydrate the delicate skin around your eyes and ultimately minimize dark circles and signs of fatigue.
NARS says that you'll get about 16 hours of wear. And true enough, many have raved about its long-lastingness throughout the day. Because it's so easy to blend, you don't need a lot to cover up. Moreover, the lightweight-ness is one to love most about. The only slight downside is that this concealer may not have any many shade selection.
Overall, it's the perfect makeup buddy for those nights when you don't get to clock in enough beauty sleep.
---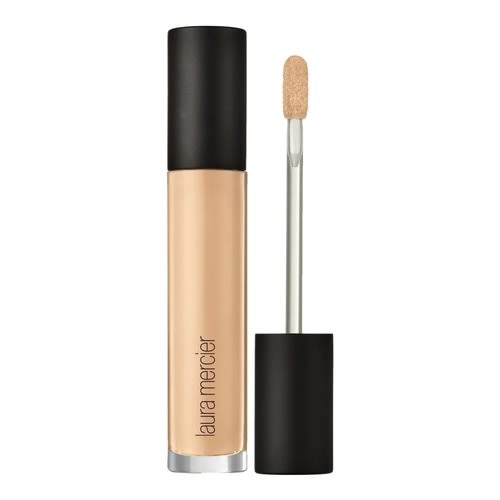 Laura Mercier Flawless Fusion Ultra Longwear Concealer
SGD 49.00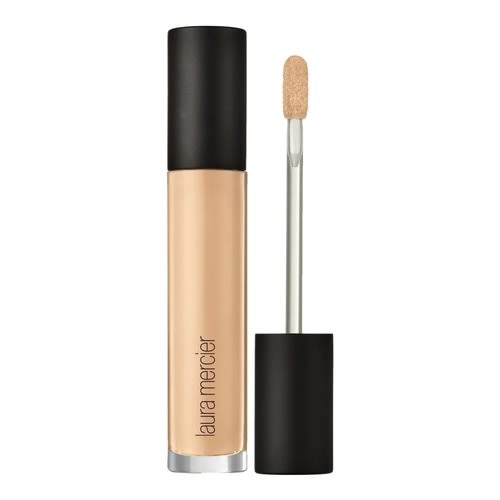 add_circle
Crease-free application
add_circle
All-day hydration
add_circle
Lightweight formula
remove_circle
Color may be dark for some
remove_circle
May feel tight on skin
Experts have said that hollow eyes, caused by fatigue, are best covered up with a moisturizing, liquid formula. Therefore, we recommend this option.
Laura Mercier's Flawless Fusion Ultra-Longwear Concealer defies physics to keep your imperfections hidden without creasing, caking or drying out your skin. This full coverage, formula is both lightweight and long-lasting formula. Plus, a big benefit of this concealer for hollow eyes is the illuminating application, which is great to perk up tired, hollow eyes.
The formula is said to be hydrating enough that many users go without having additional eye cream on. Moreover, the coverage is quite strong on this one, with a few fellow users even saying that they would like a less opaque formula. Thankfully, even if it's strong in coverage, many agree that the formula does not crease or settle into fine lines.
Another highlight is that this formula will lasts well into 12 hours. It can definitely stay put for 8 hours without budging. All in all, if you're a constant victim to hollow or even eye bags, this concealer is your next Holy Grail to add into your makeup bag, stat!
---
Tarte Shape Tape Contour Concealer
SGD 41
add_circle
Tape technology to smooth & blur appearance of fine lines and wrinkles
add_circle
Mango seed nourishes delicate undereye area
add_circle
Licorice root brightens skin
add_circle
Easy-to-blend formula
remove_circle
May crease easily
remove_circle
May be too drying
Haven't been getting enough rest for the past week? No worries, we've got you! Meet Tarte's iconic, "can't live without" Shape Tape Concealer. The formula is said to be so high in coverage, and blends smoothly onto the skin.
This concealer boasts a crease-proof formula that's infused with shea butter and Mango sees. This combination results in a hydrating formula, that also lends an illuminating effect for your undereye area.
Even though it's high in coverage, the formula won't cake up or flake throughout the day. All you're left with is brighter, smoother, and firmer skin. We also love that the ingredients are free of the likes of Parabens, mineral oils and Phthalates. So this is truly a nourishing choice for those who wants to cover up serious dark eye circles.
The concealer is best applied with a sponge, so you can achieve a more natural-look and make it last the whole day.
---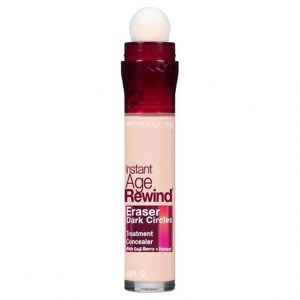 Maybelline Instant Age Rewind Eraser Dark Circles Treatment Concealer
SGD 19.9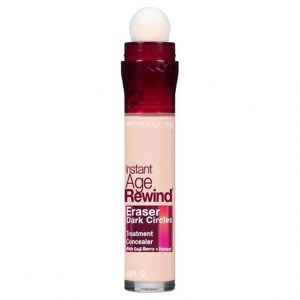 add_circle
Instantly erases dark circles and fine lines
add_circle
Infused with goji berry and Haloxyl to boost blood circulation
add_circle
Micro-corrector applicator for easy application
remove_circle
May be dry for some
remove_circle
May be cakey
It was difficult to crown a drugstore winner. Ultimately, we offer it to Maybelline's Instant Age Rewind Eraser Concealer. The main benefit that it offers is its goji berry and Haloxyl-infused formula to help diminish appearance of fine lines and wrinkles.
Feel of application is not to say, lightweight, but it's definitely not drying. In fact, it can be hydrating enough due to the liquid-y formula. This in turn, of course, helps your undereye area to look brighter and refreshed instead of heavy and caked on.
What really wowed us (and the rest of the world) was the good (medium) coverage and superb blendability that the 2-in-1 concealer has proven itself to be. Another thing to love is its easy-to-use sponge applicator that beginners and pros can appreciate; just twist, swipe, and blend using a smaller brush or your ring/pinky finger.
This beloved concealer only comes in 19 different shades. But if you can find your shade, then congratulations, you've got yourself a great bargain!
---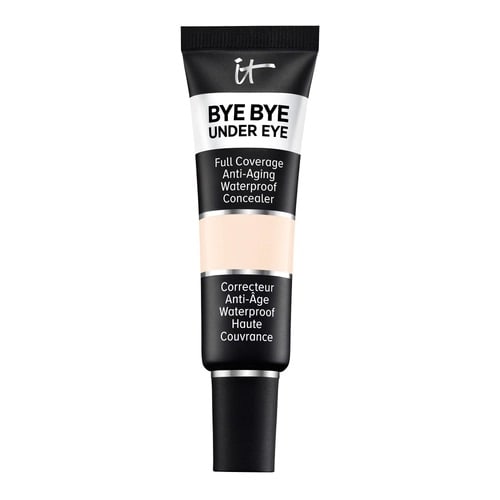 It Cosmetics Bye Bye Under Eye Waterproof Concealer
SGD 28.14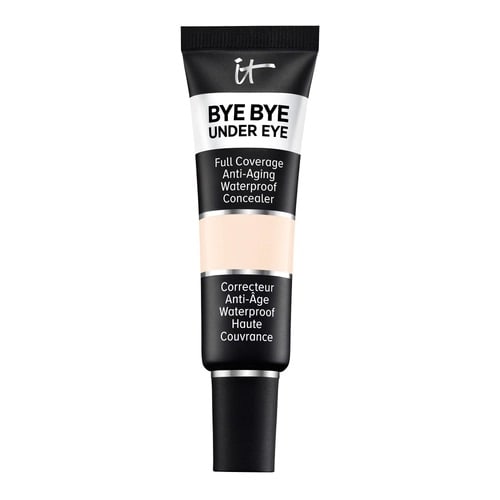 add_circle
48 different shades to choose from
add_circle
Expression Proof Technology to improve appearance
add_circle
Crease and crack-free
remove_circle
May be difficult to blend
remove_circle
Thick formulation
Liquids are best for creating a more natural look due to its easy-to-blend nature. But not many can last long or go on full-coverage unlike creams. For that reason, IT Cosmetics' Bye Bye Under Eye concealer easily earned a perfect score in our test to beat out its competitors in terms of performance, satisfaction, and smooth coverage.
In this slim little tube, you get a formula that is infused with collagen and hyaluronic acid, so props to moisturisation and some anti-aging benefits. What would surprise many is that it provides a highly pigmented concealer that offers full coverage over dark circles, redness and blemishes.
The moisturizing effect is also cool and refreshing. This indirectly helps to lessen the effects of the concealer settling into fine lines, wrinkles, and dark circles. IT Cosmetic's waterproof concealer even works to ensure your skin continues to look youthful and radiant with the waterproof formula.
Most users recommend it to be set with powder in order to easily maximise the staying power for a whole day.
---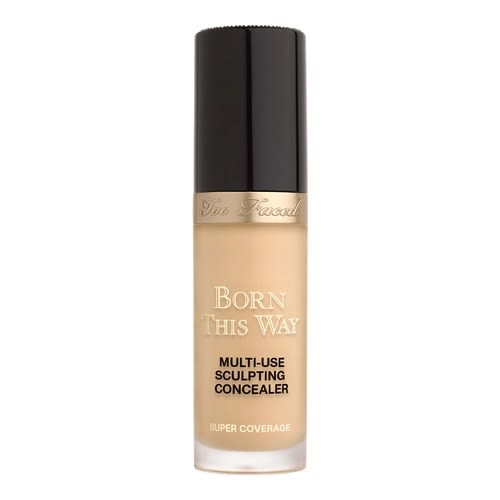 Too Faced Born This Way Super Coverage Multi-Use Concealer
SGD 30.8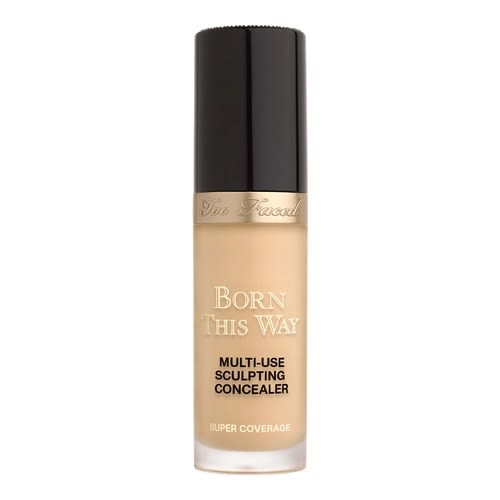 add_circle
Buildable texture
add_circle
Light and weightless
add_circle
Nourishing ingredients
remove_circle
May be too oily for some
remove_circle
May not have enough shades
If a concealer is hydrating (due to its water properties), it may not cover well. And if it's thick and full in coverage, chances are it can be quite drying.
Therefore, we recommend the Too Faced Born This Way Concealer. It's highly-recommended for its ability to offer full coverage, multi-use, hydration, and all-day wear – everything you could ever possibly want in a concealer!
This wonderfully versatile formula offers a host of complexion enhancement. You can enjoy it to the fullest for concealing, retouching, contouring, sculpt, or highlighting your face; literally a do-it-all.
Infused with coconut water and alpine rose essence for that extra moisturising boost, the formula will stay crease-free and weightless. Of course, the formula also nourishes and hydrates your skin back to health for a naturally flawless complexion.
---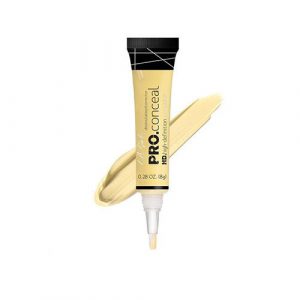 L.A. Girl HD Pro Concealer
SGD 6.5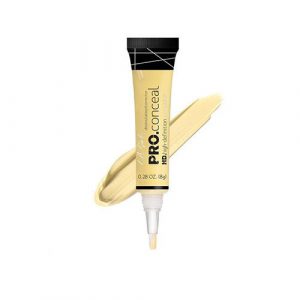 add_circle
Buildable coverage
add_circle
Lightweight and creamy
add_circle
Crease-resistant
remove_circle
May be drying for some
remove_circle
Heavy formulation
remove_circle
Poor coverage
Among the most affordable concealers out there, LA Girl's HD Pro Conceal easily triumph in terms of performance. This creamy concealer boasts an opaque coverage that serves as a good under-eye corrector. What's good about this collection is that if you can't find your concealer shade, you can opt for the colour correctors such as green, yellow and orange, then apply your foundation over.
The greatest feat that such a cheap concealer delivers is its full-coverage application which goes on creamy for easy blending. It's opaque enough to camouflage any darkness under the eyes, redness, and skin imperfections.
Thankfully, application feels light, is crease-free and fairly average in terms of moisturisation. However, this depends on your skin type as some users have mentioned that they find it dry. Therefore, we recommend this formula for normal to combination skin users.
---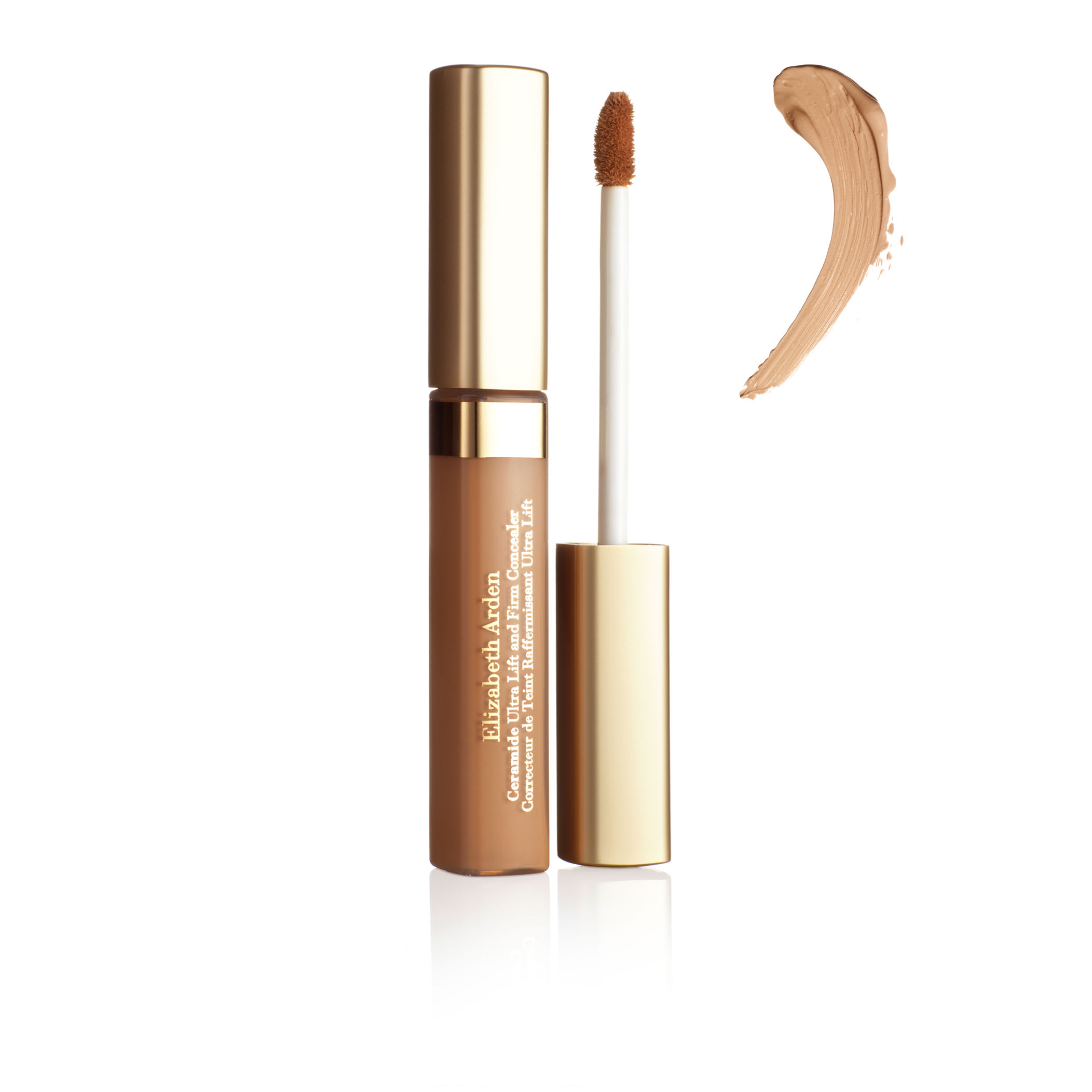 Elizabeth Arden Ceramide Ultra Lift and Firm Concealer
SGD 28.79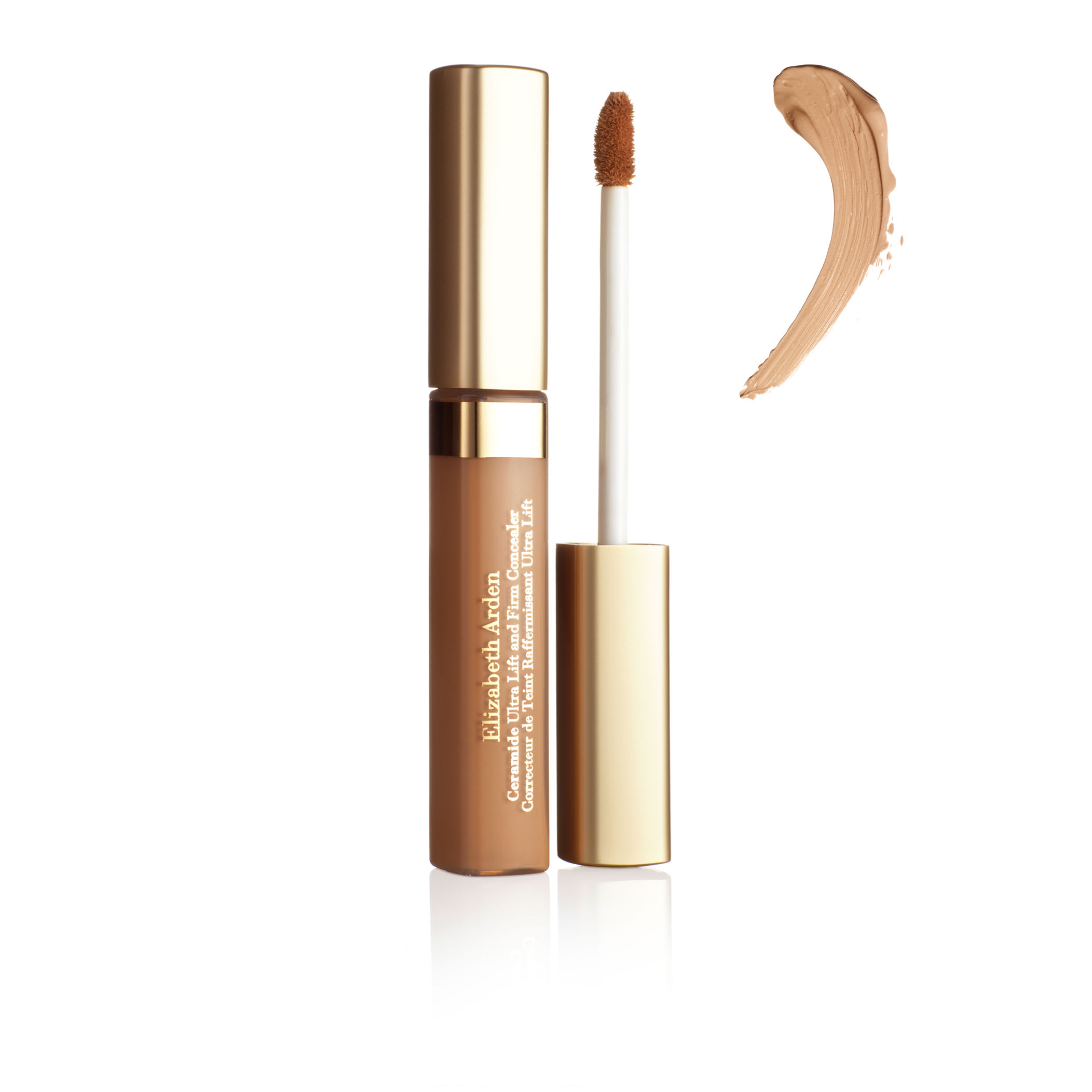 add_circle
Excellent coverage
add_circle
Creamy consistency
remove_circle
Limited number of shades
We're simply obsessed with this concealer! This high-coverage, ultra-creamy Ceramide Ultra Lift and Firm Concealer makes hiding puffy eyes and smoothening fine lines look like a piece of cake thanks to its amazing Cellular Plumping Technology (CPT).
You read that right; the formula works to plump up the surface of the skin to reduce any look of lines. CPT technology will soothe, firm and lift the skin, which is why it's perfect for anyone with wrinkles. This also works against saggy eyes.
The multi-functional concealer also works effectively to cover dark circles, and be blended easily to cover over eye bags. Its application, reviewed by users, is also said to leave skin (even mature skin over 60) looking refreshed and youthfully bright. Most importantly, the concealer's real-skin coverage will last all day.
---
Disclaimer: The pricing shown is just a good indication of how much these products are worth. The prices could change based on the e-commerce promotions that are going on. If some of the products are not available, do email us at [email protected] Thank you!