Put down that highlighter and grab a toner instead. Before working on more shine, it's important to get the basics covered first. A good skin care routine is essential to maintaining youthful and radiant skin. Besides cleansing, moisturizing and the occasional face mask, toners are often left out of the equation. But why?
One common misconception is that toners are too astringent and harsh on the skin. But when incorporated into a cleansing routine, as it should be, toners have incredible cleansing powers. To be used after cleansing and before moisturizing, toners move quickly into the skin to remove traces of impurities such as make-up, pollutants and excess oil.
Hence, they can do wonders for those with oily skin. So, here's a glimmer of hope, our top picks for oil control toners.

Innisfree Jeju Volcanic Pore Toner
SGD 30

A brand that encourages the usage of natural ingredients, Innisfree explores the island of Jeju to bring the best ingredients safe for skin care and beauty. This is among the island's many prized ingredients, volcanic clay. Rated as one of the best products by Innisfree, the toner gets its deep cleansing power from the minerals found deep inside the earth.
The Volcanic Clay is made from minerals released by volcanic explosions on Jeju island. Now a preserved alkaline resource in a mineral powder form which is visible in each bottle, it is used in the toner to absorb excess sebum and control excessive oil production on the face.
---
Clean & Clear Essential Oil Control Oil-Free Toner
SGD 5.2
The most expensive products aren't always going to give you the best results. Sometimes, going back to the basics works best. If you've ever experienced bad skin in high school, then you should be familiar with Clean & Clear.
Almost a household name among teens, the brand has spent years focusing on skin cleansers. A line of dermatology products owned by Johnson & Johnson, their slogan "Clean & Clear and Under Control" rings true to their range of products that contain no fragrances or dyes.
Working to purge pores of excess oil and dirt, it leaves skin feeling fresh and clean, without breaking the bank.
---

Physiological Soothing Toner by La Roche-Posay
SGD 23.92

An alcohol-free option that is gentler on your skin, this is pore-fect for those with sensitive skin. Containing no soap, parabeen and colourant, it ensures your skin only gets what it needs and nothing more. Enriched with thermal spring water, the overall texture of this toner is light and fresh, leaving your skin with less appearance of redness and irritation.
---

Eucerin ProACNE Solution Toner
SGD 25.9

Especially formulated for those with oily skin and adult acne, the Eucerin ProACNE Solution toner comes armed with 2% of Lactic Acid to unblock pores and inhibit bacterial growth. Effective for troublesome T-Zones, this oil-free toner combats clogged pores with a water and alcohol-based formula that will help regulate excessive oil with daily usage.
---
Neogen Pore Refine Toner
SGD 29
Oily skin combined with enlarged pores can be a nightmare for oil control. But wait till you try this. The toner is a combination of tannic acid known for its soothing properties to calm pores, black sugar and rice to remove dead skin cells, and cornbind root for oil control.
With all of that, this toner minimizes pores by cleansing and calming them for better results. Free of paraben, colorant, benzyl alcohol, triethylamine, silicon, benzophenon, and sorbic acid, this pore refine toner that aims to take our the bad, including those words that are impossible to pronounce.
---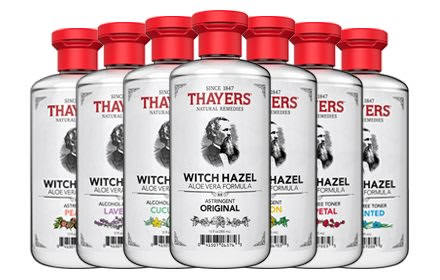 Thayers Witch Hazel Toner
SGD 15.5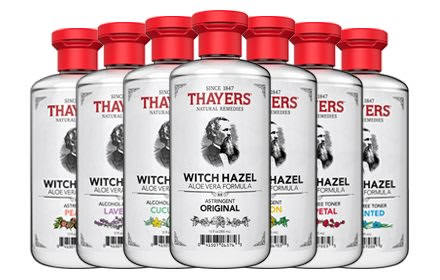 An easy find in any drugstore, the Thayers Witch Hazel Toner is a classic. A legend with over 170 years of history, Thayers primary ingredient is organic Witch Hazel, a flowering plant known for its astringent and medical properties.
Made the old-fashioned way, each bottle contains undistilled Witch Hazel, which contains more "tannis", a natural substance with antioxidant properties that help balance the skin's pH level and reduce irritation. Now available with alcohol-free options in a variety of ingredients, stick to the classic astringent original or try a bottle infused with lavender, rose petal, cucumber, peach or lemon.
---

Kiehl's Ultra Facial Oil-Free Toner
SGD 43.00

Give your oily skin a break with this oil-free and alcohol-free formula. A contractionary formula that harnesses a gentle yet strong elixir that cleanses the skin of residue, dirt and oil without stripping the skin of moisture.
It is made possible with the use of glacial glycoprotein derived from sea glaciers aimed for skin deep hydration. The toner also has desert plant extract known for lasting hydration from its high levels of potassium. Soothe, tone and hydrate for plumper looking skin with this toner from Kiehl's.
---
Disclaimer: The pricing shown is just a good indication of how much these products are worth. The prices could change based on the e-commerce promotions that are going on. If some of the products are not available, do email us at [email protected] Thank you!