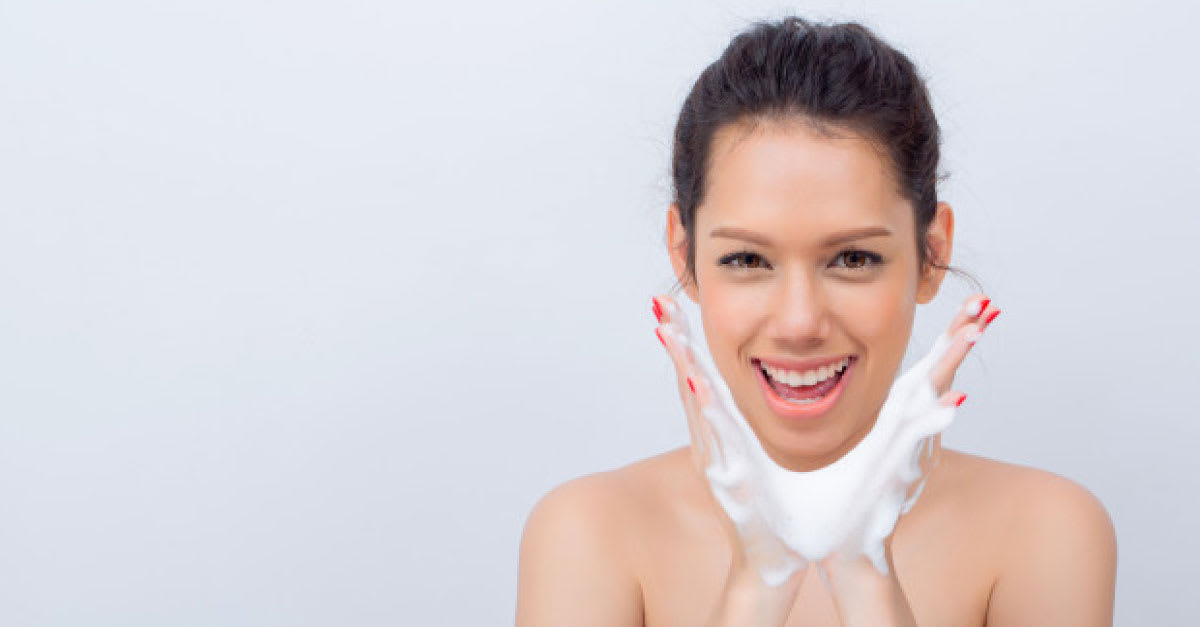 Have you ever checked the label of your facial cleansers, only to find a list of ingredients you can barely recognise? Most often, face cleansers contain some chemicals or harsh ingredients that might cause issues for your sensitive skin. Hence why you'll to consider using organic products.
Organic face cleansers allow your skin to soak up the natural goodness, nourishing and healing your face effectively without irritating your skin. That being said, it's crucial to choose the right cleanser that'll suit your skin. Hence why we've carefully curated these organic, skin-friendly products that'll suit you.
Best gentle face cleanser - suitable for sensitive skin
Price from SGD43.00
This creamy, soap-free yet gentle face cleanser will relieve redness and sensitivity. It's made with a variety of botanical extracts that'll calm, soothe and nourish your skin. Additionally, there's also aloe, green tea, noni fruit, chamomile, calendula extracts, macadamia, avocado and rosehip seed oil in the ingredients.
Best for dry skin
Price from SGD29.00
This non-foaming cleanser will refresh your skin without stripping off the natural oils and moisture. It's made with over 60% raw honey, along with a combination of nutrient-rich jojoba, safflower and bergamot oils. Use it regularly to hydrate and brighten up your skin.
Best face cleanser for acne
Price from SGD63.00
This plant-based clarifying facial wash contains a high concentration of antibacterial elements for sensitive skin types. There are tea tree, willow and other detoxifying botanical ingredients that will help with clogged pores and acne. Besides, it also provides nutrients for skin healing and restoration.
Best face cleanser with coconut oil - suitable for Rosacea
Price from SGD19.00
This soap bar is formulated without any synthetic ingredients. It uses French pink clay to draw out impurities without causing any dryness or discomfort. The bar also has other natural ingredients and vitamin E to help balance and heal your skin on your face and body. If you suffer from rosacea and have highly reactive skin, then this gentle soap is ideal for you.
Best foam cleanser - suitable for combination skin
Price from SGD63.49
Green coffee bean, geranium, blue cypress and Siberian fir needle are some of the unique, natural ingredients in this daily foaming cleanser. They work to clear off excess sebum and impurities while keeping your skin luminous and moisturised. Additionally, it has anti-inflammatory ingredients that can help repair skin damage and refine your complexion.
Best milk face cleanser - suitable for mature and aging skin
Price from SGD66.00
This creamy, milky aloe-based cleanser is packed with argan oil, willow bark, radish root ferment and papaya extract. It has a high concentration of vitamins and fatty acids to help combat moisture loss, eliminate toxins and brighten your skin. The product is great for those who want a truly mild but effective chemical exfoliation.
Best cream face cleanser
Price from SGD50.00
This cream cleanser is made with 100% natural ingredients to soothe your sensitive skin. It contains Vinanza Oxifend - an anti-inflammatory super-antioxidant that is extracted from pinot noir grapes. Besides, the formulation also includes avocado oil and marigold flower, which will help refresh your skin.
Best oil face cleanser
Price from SGD39.90
This Korean cleansing oil will gently remove makeup, dirt and impurities from your skin. It has hazel, olive and avocado oil as well as lotus flower and dandelion ferment filtrates to help soothe the skin. These ingredients go through a unique fermentation process to maximise their benefits.
Disclaimer: The pricing shown is just a good indication of how much these products are worth. The prices could change based on the e-commerce promotions that are going on. If some of the products are not available, do email us at [email protected] Thank you!