Do you often find yourself fidgeting and scratching your head for no reason? The chances are, you are suffering from scalp pruritus which is generally known as an itchy scalp. As distressing as it sounds, scalp itchiness is a common problem shared by the generation today and can be relieved simply by switching to the right shampoo.
Nonetheless, if the itchiness doesn't seem to get better, always seek professional medical help to receive effective treatment.
What causes an itchy scalp?
When it comes to dealing with an itchy scalp, the frustration can be too overwhelmed to think about anything else. We share your pain. Before you can stop yourself from scratching, you can figure out the solution by looking at its root causes.
Seborrheic dermatitis (aka dandruff) - The primary cause of an itchy scalp. Typically, this skin condition is developed when the oil-producing glands on your scalp or face experience inflammation. This then triggers itchiness, flakiness and reddened skin. For infants, it is called cradle cap or crib cap.
Contact dermatitis - As its name suggests, this dermatitis is an allergic reaction that occurs when your scalp comes into contact with something irritating. It can be the allergens found in your shampoos, conditioners, hair sprays or styling products.
Scalp psoriasis - Unlike dandruff, scalp psoriasis is an autoimmune disease that appears as scaly red patches that can possibly affect your entire scalp. This is a hereditary disease though, you can't get it unless your family members have it.
Ringworm/ Tinea capitis - This is a common fungal infection that can possibly take place at other parts of your body too.
If the infection is found at your scalp, the fungus actives not only on the surface but also deep inside your hair follicles. This causes the affected area to develop itchy, scaly patches and lead to a significant hair loss in a ring pattern. The worst thing is, ringworm is contagious.
Head lice - Have you ever wonder why schoolchildren are more likely to have head lice? The main reason is, head lice are spread through head-to-head contact instead of having long dirty hair. The wingless insects have nothing to do with your personal hygiene and no, they don't fly or jump.
Other than sticking nits (lice eggs) to your hair strands, head louse bite your scalp to get nutrients from your blood. Itchiness occurs when your scalp reacts to the saliva injected by the feeding louse.
Now that you know how to identify the issue, you can move on to the few recommendations that we have here, which we've picked based on their success rate among real-life users.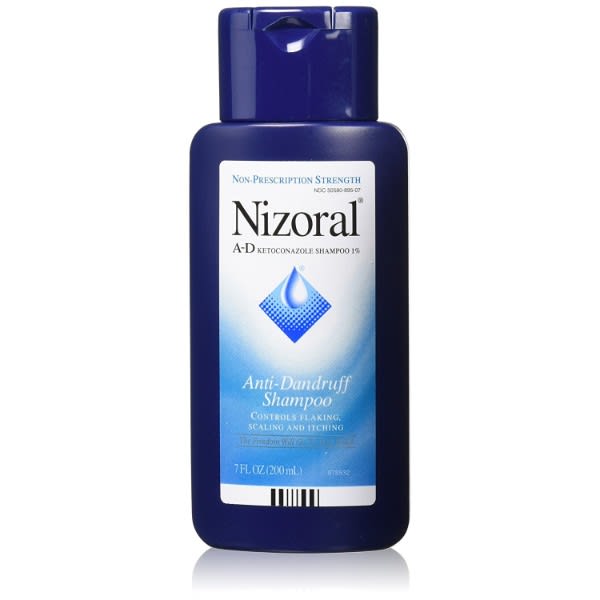 Nizoral Anti-Dandruff Shampoo
SGD 45.50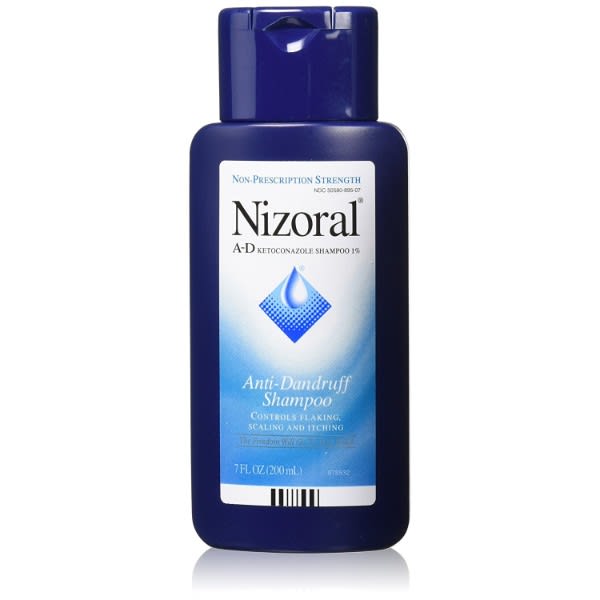 add_circle
Safe for color-treated, chemically processed and gray hair
add_circle
Clinically-proven
add_circle
Aims to treat and encourage a healthy scalp growth
remove_circle
Best to consult a doctor first if you are pregnant or breast-feeding
Dealing with dandruff doesn't solely mean the icky sight of silver, dry patches flaking off your itchy scalp. But it also includes the feeling of self-conscious which possibly leads to low self-esteem.
Clinically proven, the Nizoral Anti-Dandruff Shampoo targets the major cause of dandruff to effectively ease the subsequent discomforts such as flaking, scaling and itching. The potent formula is made with Ketoconazole 1%, which acts as an anti-fungal solution to clear the yeast build-up at your scalp.
While the exact cause of dandruff remains unknown, it is generally caused by the overgrowth of yeast-like fungus (can be stress/ hormones) or an oily scalp. Therefore, try to use this shampoo twice a week in between your regular shampoo and conditioner. This product promises you a healthy scalp in return regardless if you have colour-treated, chemically processed or gray hair.
Users have revealed to see a significant improvement in the health of their scalp. The shampoo clears dandruff and reliefs sore scalp which then helps to reduce hair loss. Some praised the pleasant, refreshing scent of the formula too.
---
Neutrogena T/Sal Therapeutic Shampoo
SGD 23.8
add_circle
free from added color, preservatives and fragrance
add_circle
capable of treating severe scalp conditions, like dandruff and psoriasis
add_circle
dermatologist recommended
remove_circle
can be over-drying
Just the thought of massaging a therapeutic shampoo into your scalp is excitingly relieving, let alone for someone who is suffering from scalp itchiness. Thankfully, the Neutrogena T/Sal Therapeutic Shampoo is designed to pamper itchy scalp with the most desired experience.
Salicylic acid is a dermatologist-recommended active ingredient, used to exfoliate dead skin cells in order to treat associated scalp conditions. Powered with 3% of the acid, this product clears dead skins accumulated at the scalp to make way for healthier skin growth. Also, the gentle formulation remains its effectiveness while being soothing on itchy scalp.
If you are not a fan of synthetic fragrance, you'll be glad as this one is formulated without it, as well as does not contain added colour or preservatives.
While users claim to love the purifying result from this shampoo, they pointed out that the formula can be over-drying for weekly use. Thus, it is recommended to use it occasionally (depends on one's situation) or dilute the shampoo with water (1:1 ratio).
---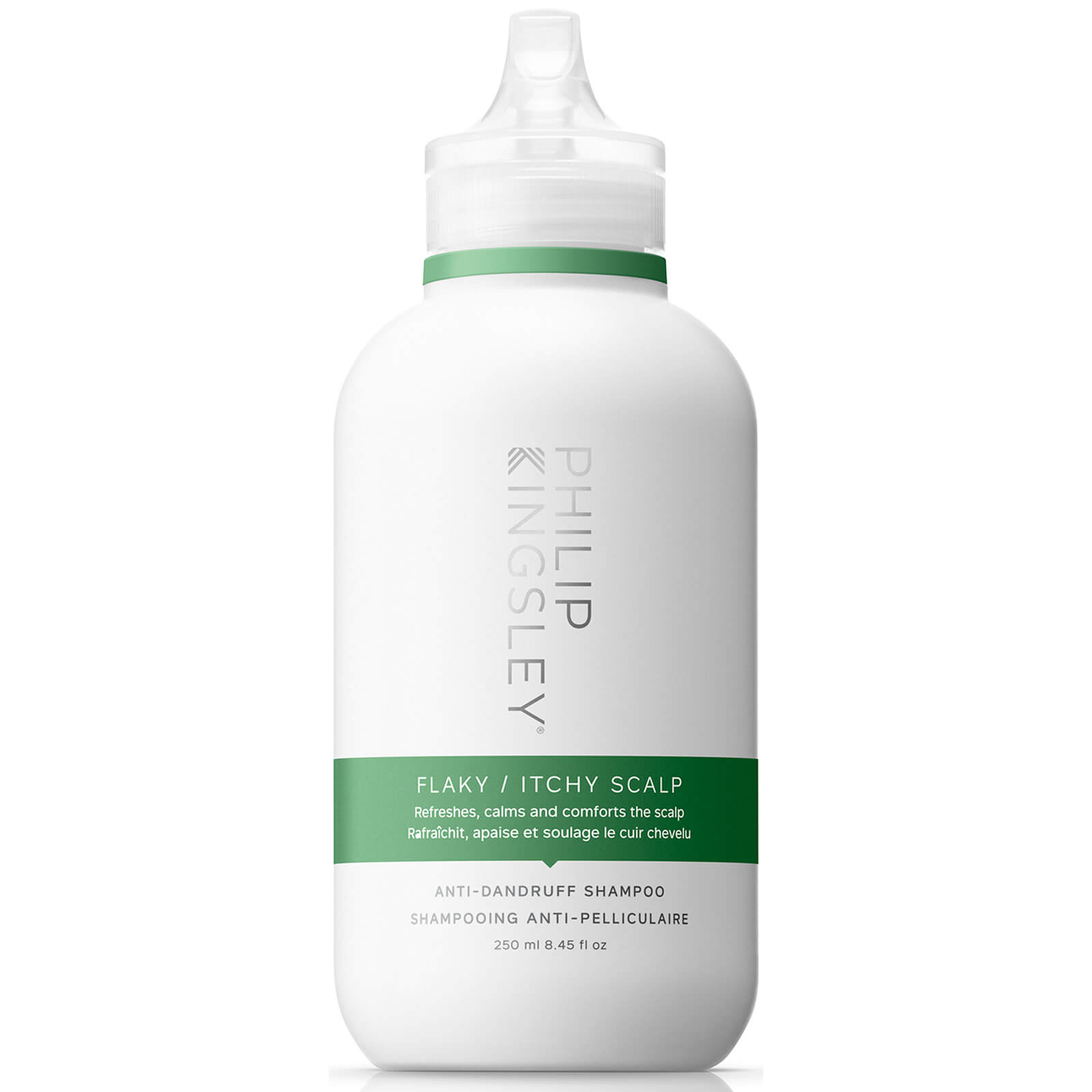 Philip Kingsley Flaky/Itchy Scalp Shampoo
SGD 44.00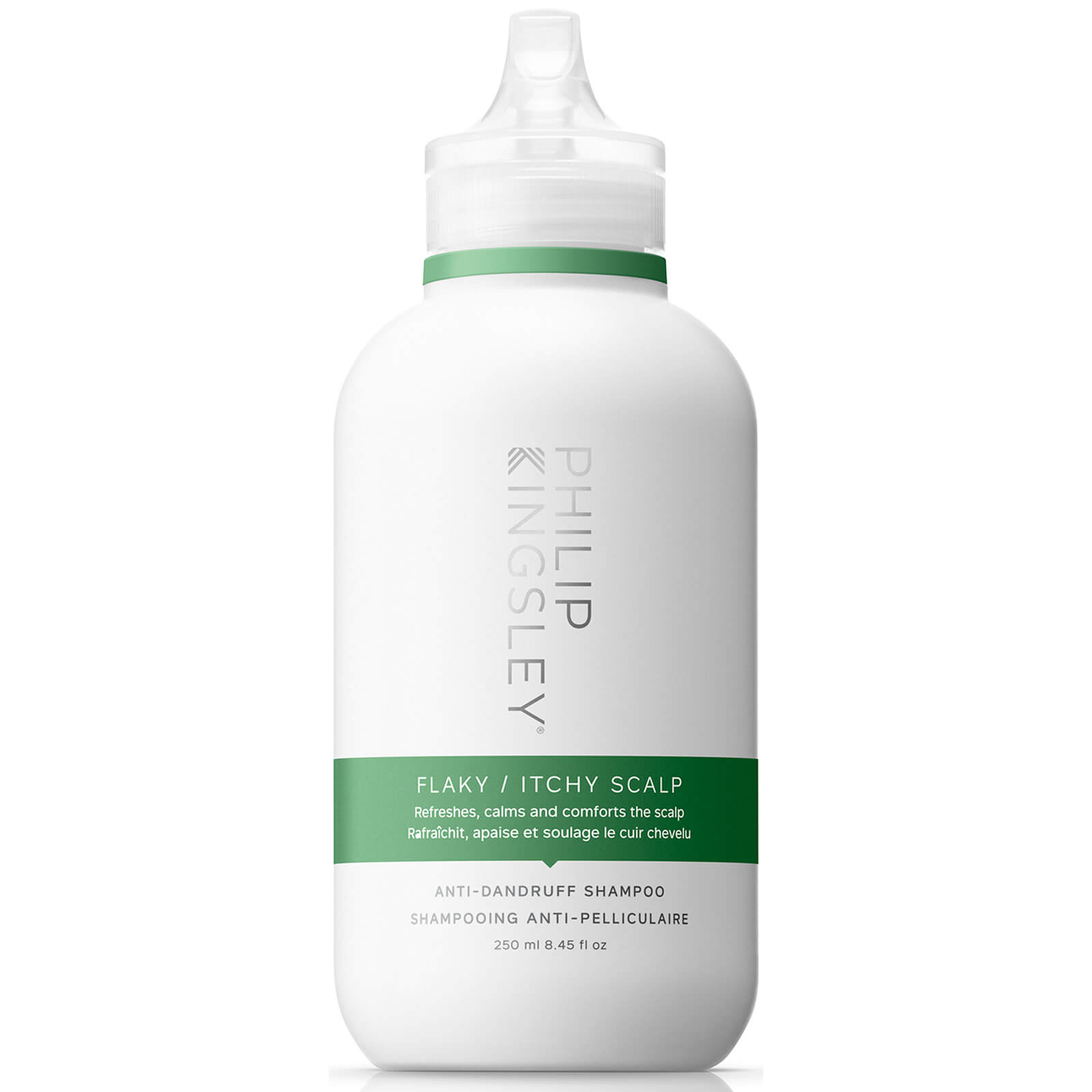 add_circle
soothes dryness and irritation
add_circle
eliminates flaking and build-up
add_circle
refeshing nice scent
If suffering from an itchy scalp is a head-scratching problem, then having an itchy sensitive scalp is certainly a double tragedy! To ensure you an all-time comfort, the Flaky/Itchy Scalp Shampoo is developed by Philip Kingsley, 'The Hair Doctor' which is gentle enough for daily use.
Crowned as having a multi-award winning formula, this pick utilises Piroctone Olamine, an anti-microbial to calm scalp itchiness or discomforts. It cleans out a flaky scalp without stripping your hair's natural moisture or colour. Instead, it'll also soothe dryness and restore the scalp's microflora balance.
Moreover, there's a calming effect to be enjoyed, coming from the refreshing apple fragrance infused in the formula. As an added bonus, the product is also rated vegan for those who are concern.
Although it is a little pricey among its competitors, this shampoo is highly recommended by users for its ability to treat even sensitive scalps effectively. It has also been said to provide instantaneous results within the first wash.
---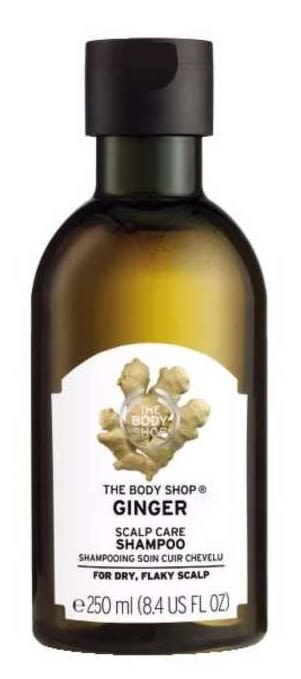 The Body Shop Ginger Anti-Dandruff Shampoo
SGD 20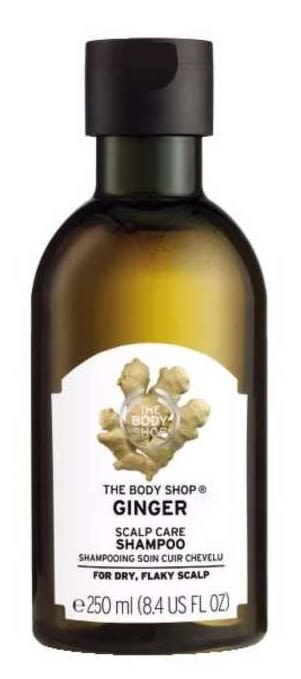 add_circle
formulated with natural ingredient ginger- soothing& refreshing
add_circle
contains Panthenol to protect hair from breakage
remove_circle
ginger smell- not for everyone
remove_circle
some users experienced hair loss
As effective as chemicals can cleanse your scalp and hair, they can also be equally over-drying too. For a nourishing natural solution, look into The Body Shop's Ginger Anti-Dandruff Shampoo.
Unsurprisingly, ginger (from Sri Lanka) is found in the formula which doesn't only conditions the scalp. The said ingredient will stimulate blood circulation and fortifies the hair strands from root to tip, encouraging thick hair growth. Also, the antiseptic properties of ginger helps with fighting off dandruff as well as protecting your scalp from infections.
For extra moisturising effect, this product is loaded with birch bark, white willow and Community Trade honey. What's more, it has Panthenol (Vitamin B5 derivative) to provide better protection to hair from breakage and flakiness.
If you're concern, the shampoo is not SLES-free. But users have took to say that the shampoo is not drying at all. As for the "dry hair label", reviewers took to confirm that it can be used by both dry hair and dry scalp users.
Meanwhile, as an anti-dandruff shampoo, users love it for the evident result delivered. While some love the tingling feeling of how the shampoo works, the fresh ginger scent is controversial.
---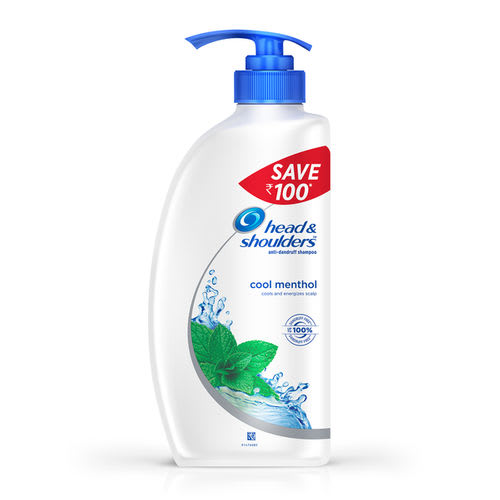 Head & Shoulders Cool Menthol Anti-Dandruff Shampoo
SGD 11.9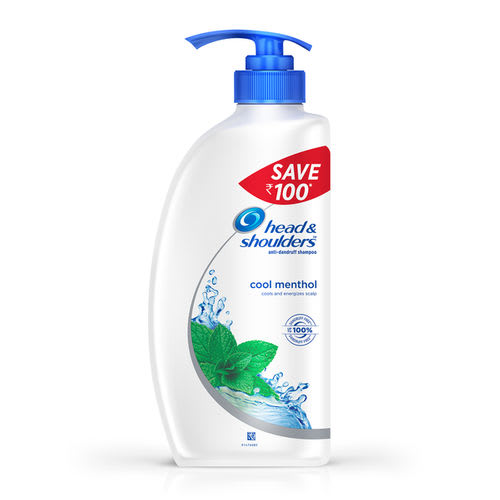 add_circle
formulated with menthol- refreshing& cooling for hot weather
add_circle
Easily available
remove_circle
some group of users claim to not see any effects
If you are unsure of splurging on a product that may not work for you, the Head & Shoulders Cool Menthol Anti-Dandruff Shampoo is a great drugstore option to begin with.
Dermatologically-tested, this anti-dandruff shampoo effectively removes flaky patches as expected. It features a cool menthol after-application feeling to combat our sweltering-hot weather with a comfortable refreshing sensation. Apart from its affordable price tag, the cooling sensation also bring a certain effectiveness in soothin and itchy scalp. This fact alone, makes it one of Singapore's top household product to have.
As it is a medicated drugstore shampoo, we find that this product works better to soothe itches and not the best option for dandruff. Because dandruff is caused by a dry scalp, and shampoos like this can be drying as the formula is meant to strip off oil and product buildup.
So, we recommend using this mainly for itchy scalps and on a weekly basis instead of daily. But some users have used the product and think that it's mild enough for daily use.
All in all, users are happy with the results it promised and of course, its superb refreshing formula. Although, a small group of users claims that the shampoo has not much effects on them if not used continuously.
---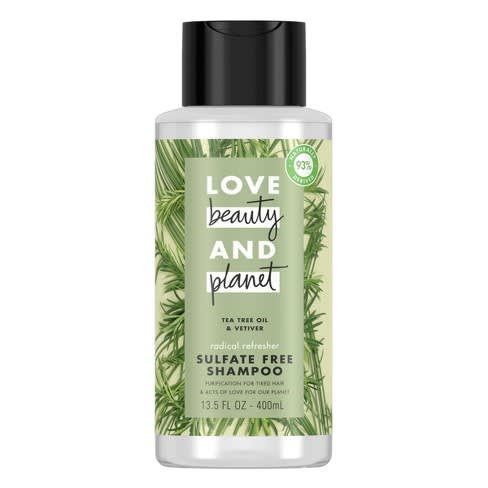 Love Beauty & Planet Tea Tree Oil & Vetiver Shampoo
SGD 13.9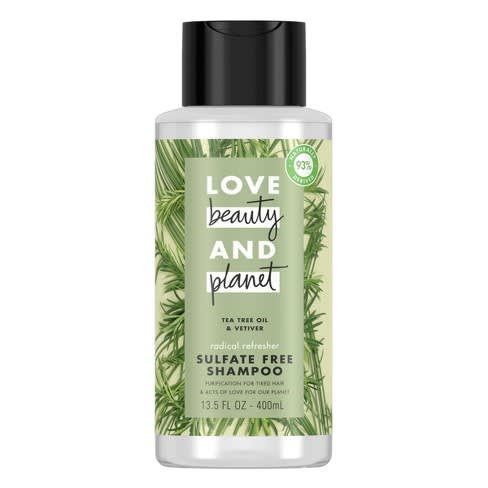 add_circle
natural fragrance
add_circle
effectively detox and clear impurities from hair
Tea tree oil, a beauty elixir widely known for its antifungal and antibacterial benefits, is commonly used for acne-treatment products. Why? Because it's effective in removing oil or dirt build-up while protecting your scalp from infections.
Celebrated with an infusion of Australian tea tree oil, this shampoo performs natural detoxification and brings your dull hair back to life. To complement most hair types, it has organic coconut oil for an additional nourishing benefit; moisturising your roots and help with promoting thicker hair growth.
As an added bonus, the shampoo is free of many things that can dry or mess with the hair and scalp, such as sulphates, paraben, phthalates and dye.
Being an eco-friendly and cruelty-free product that can be easily accessed in Singapore, this one is highly raved among users. It has a pleasant grassy smell extracted from the woody vetiver. While users are satisfied with its purifying effects, it can be drying if the product is used too often in a week.
---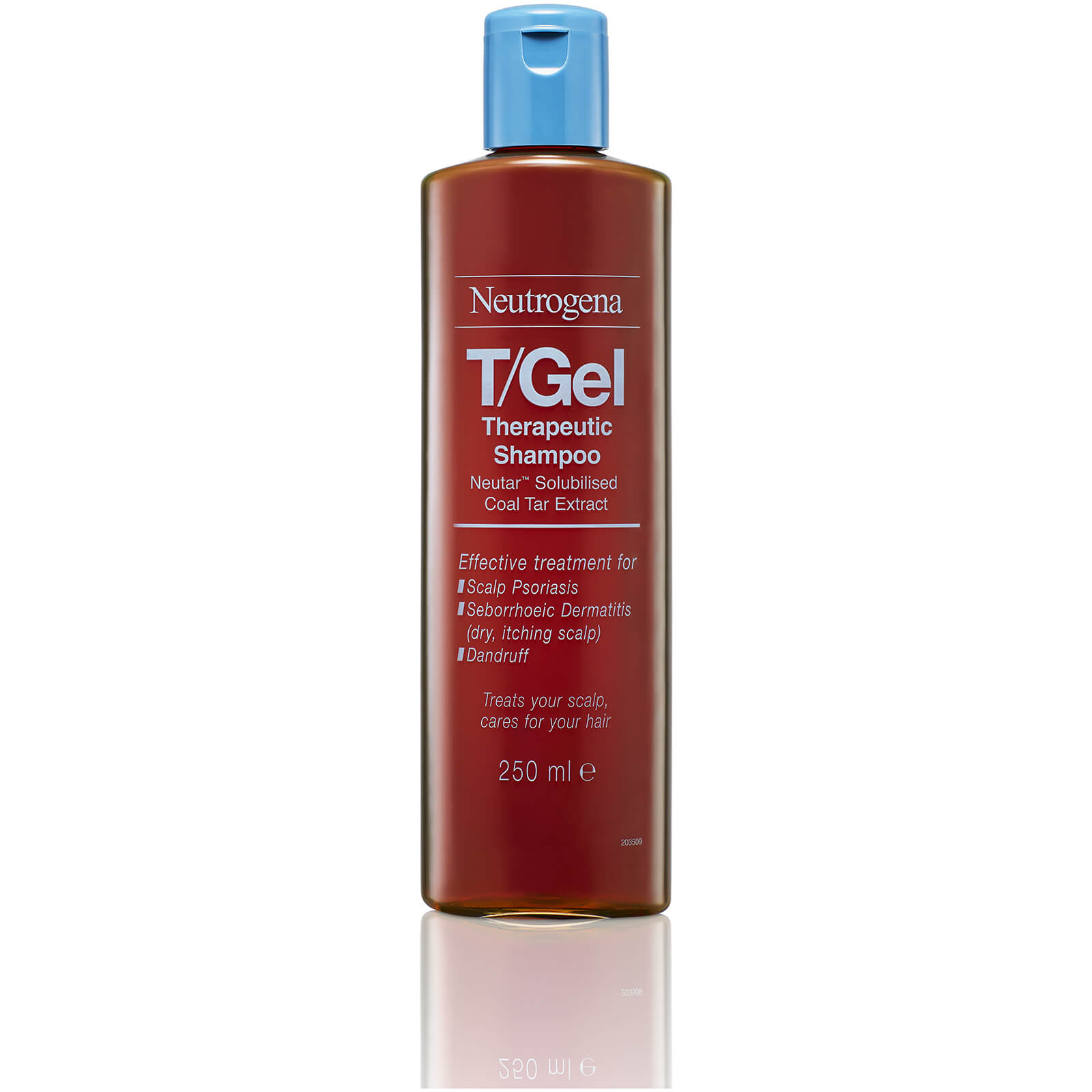 Neutrogena T/Gel Therapeutic Shampoo
SGD 17.50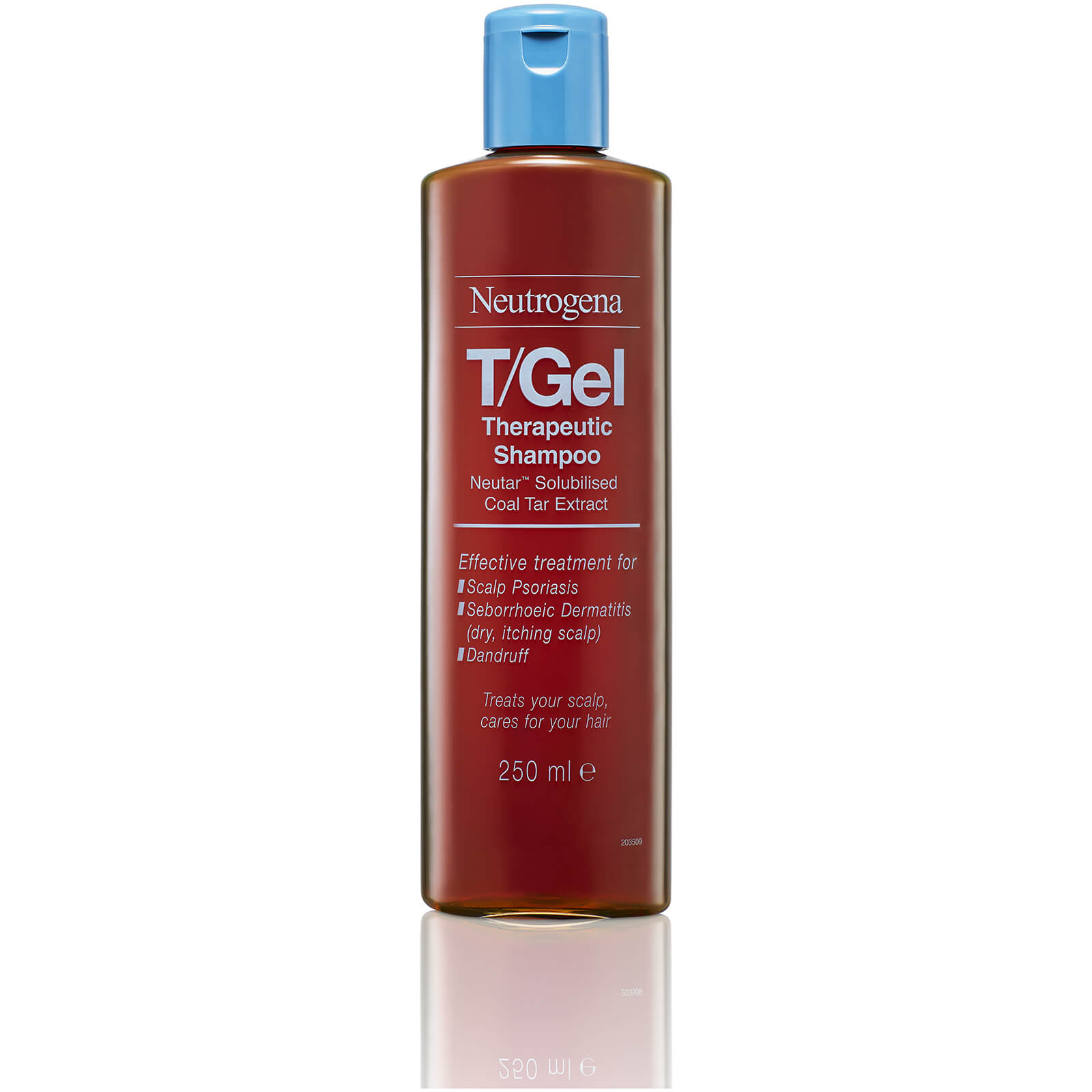 add_circle
control and relieve several symptoms of scalp conditions: dandruff, psoriasis and seborrhoeic dermatitis
add_circle
effective in eliminating dirt and impurities from hair
remove_circle
pungent smell
If you are looking for something mild that is free from harsh chemicals like sulfate, consider the Neutrogena T/Gel Therapeutic Shampoo. Unlike many other brands, this shampoo is gentle enough to not damage fragile locks such as curly hair. Yet, it's just as effective in treating both itching and dandruff issues.
In this formula, you can find 0.5% of Coal Tar, which is a potent ingredient used to treat itchy, scaly scalp conditions including Scalp Psoriasis or Seborrheic Dermatitis.
Coal Tar shouldn't be used in a large amount, but otherwise it's a perfectly safe ingredient that is even suited to treat eczema. How it works is that it'll delay the growth of new skin cells and eventually reduces the signs of scaling and itchiness.
The shampoo is said to come along with an unpleasant smell, but most users do not complain at all as the shampoo produces amazing results after. It calms itchiness and thoroughly clears a flaky scalp.
---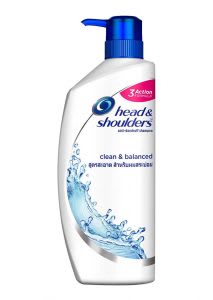 Head & Shoulders - Balanced Anti Dandruff Shampoo
SGD 8.40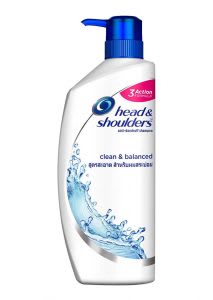 add_circle
Leaves hair feeling soft
add_circle
Solves dandruff problem
add_circle
Refreshing, clean feeling after use
add_circle
Easily available in most stores
remove_circle
It's drying if used everyday
We all already know that oiliness is the leading cause of dandruff and an itchy scalp. With that, you may want to consider the Head & Shoulders Clean and Balanced Anti-Dandruff Shampoo which targets this specific problem.
With a Micro lather formula, this shampoo will give your scalp a thorough deep cleanse and help to eliminate dry, flaky patches. Also, it regulates sebum secretion on the scalp to prevent greasy hair follicles which can lead to dandruff. With that, scalp itchiness that's associated with dandruff is relieved.
From most comments and impressions that this shampoo have left on users, many find the shampoo to be effective, cheap and easily available in most drugstores as well as supermarkets. The fact that it does not have an overpowering smell as well as leaving the hair feeling soft and the scalp clean, are nice aspects.
Nonetheless, the shampoo is not recommended for daily use (by us and by reviewers) in order to lower the risk of drying out your hair completely.
---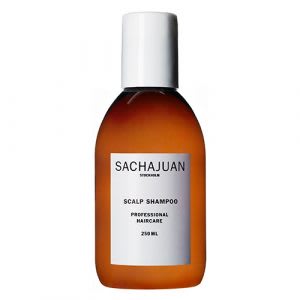 Sachajuan Scalp Shampoo
SGD 38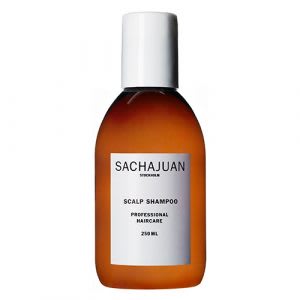 add_circle
Restore moisture to scalp naturally
add_circle
Soothes irritated scalp
add_circle
Contains Lactic Acid to help regulate oil production
Sebum secretion at the scalp acts to produce natural oil which, forms a protective barrier to hold in the vital moisture and prevent your scalp from drying out. However, when excess oil production occurs, it will result in a greasy scalp that is most likely to trigger the dandruff problem.
The Sachajuan Scalp Shampoo recognises the root causes of dandruff. Therefore, the formula is tailored to sustain the scalp's healthy moisture balance with a combination of rosemary oil, menthol, salicylic acid and ginger extract.
By being formulated this way, the shampoo encourages the scalp to naturally revert back to a healthy state. Moreover, the product possesses soothing benefit which doesn't only benefit itchiness from dandruff, but also helps to relieve irritated, reddening scalp.
Consisting of many more ingredients in this formula are the anti-fungal agents: Piroctone Olamine and Climbazole. They work to suppress the growth of yeast which is linked to the appearance of dandruff and ultimately. By eliminating the yeast, this reduce the itchiness of the scalp.
Users commended this as a great shampoo that improves oily scalp with itching problems. It's also gentle enough to be used daily. Even though the product comes in a small size, it is worth every penny!
---
Disclaimer: The pricing shown is just a good indication of how much these products are worth. The prices could change based on the e-commerce promotions that are going on. If some of the products are not available, do email us at [email protected] Thank you!