There are many types of baby chairs in the market with different features and functions, depending on what you and your baby need. While most baby chairs are similar in terms of their general features, for practicality sake, consideration needs to be given to how the chair serves in regards to space management, portability, safety measures, cleaning requirements and longevity.
Taking all these into mind, we've listed out some recommended baby chairs to suit a variety of parental and developmental needs!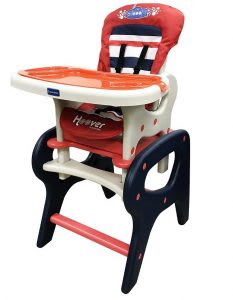 When it comes to babies, it's important to provide them with comfort and safety, especially during their developing age. The Lucky Baby 507995 Hoover Multiway High Chair includes safety features that will give parents peace of mind.
This baby chair features a five-point safety harness and a chair with a multi-reclining position. It is also suitable for your little ones to eat their meals at as it comes with an adjustable front tray and a removable double tray. Other features include a compact storage and a comfortable and easy to clean cushion.
---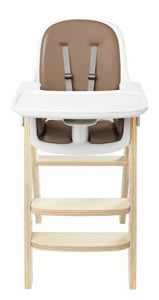 The OXO Tot - Sprout High Chair combines comfort, sleekness and safety. It claims to be able to serve you for a long time as children can use it throughout their developmental stage - from 6 months to 5 years old.
Once your little one turns into a toddler, the seat post, tray, and harness can be removed to allow your little one to sit at the family table for meals. Great value for money, this chair is the perfect addition to families who seek for long-term usage and simplicity.
---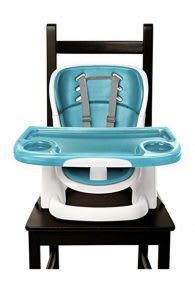 Looking for a new baby chair for your growing toddler doesn't need to be challenging! The Ingenuity SmartClean ChairMate High Chair is a blessing to many parents! This chair comes with a reclining seat function adjustable to 4 height positions.
If your family stays in a compact space like HDB, this chair has a space-spacing design that will prevent unnecessary stress. Apart from the usual features a baby chair has, the Ingenuity SmartClean ChairMate High Chair comes with a Smart and Easy Clean tray which is dishwasher-safe and remains level no matter the seat adjustment.
---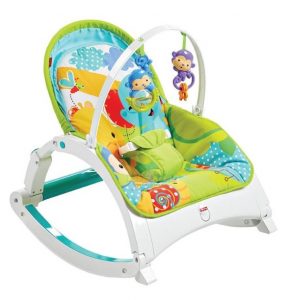 When sourcing for a baby chair for newborns, it is crucial to merge comfort and convenience. Hence, why the Fisher-Price® Rainforest Friends Newborn-to-Toddler Portable Rocker is your child's new best friend! With the assistance of a removable toy bar, this chair appeals to your child's senses as a curious individual. It is also awesome for its portability and storage features which make flexibility possible for busy mothers who need to keep the home warm and comfortable for everyone.
---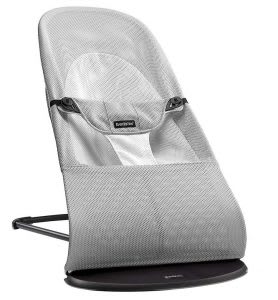 If you're looking for a baby chair with different functions, the BABYBJORN Bouncer is the perfect fit for your little one! With three different positions, babies can play, rest and sleep in the same chair. It is suitable till up to 2 years of age, is portable and helps babies to sit up. This baby chair also provides good support to your baby's back, neck, and head and has excellent breathability to keep your baby feeling comfortable even if they stay seated for a long time.
---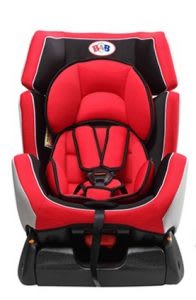 Great for car rides with your little one, the Ganen Baby Car Seat provides the necessary safety and protection required in cars with its five point safety belt harness system. It is suitable for babies from 4 months old onwards and provides comfort and breathability via its fabric material. Parents will also love how easy the 3 point vehicle belt makes it possible to install this chair. Now, traveling on the road can be less of a hassle and more of a fun memory for the family!
---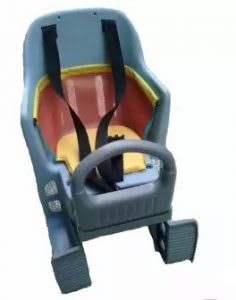 Sometimes, taking a cycle around the park can be dangerous with your child around. As a parent, keeping your young one safe is a priority, and the Aleoca ACS0002 Rear Child Seat provides just that! This bike seat has high side walls to better contain your child and support their head. It also comes with a secure belt to keep them strapped to the seat, and is suitable for children weighing 9kg - 20kg.
---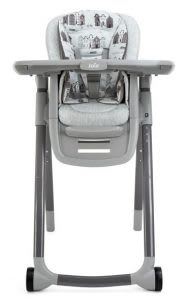 With integrated wheels, the Joie - Multiply 6-In-1 High Chair is portable from room to room. There's a clever tray storage hidden on the back of the chair's leg, serving the double purpose of functionality during meals and playtime.
Furthermore, what makes this chair attractive is that it consists of 6 modes. This includes baby mode highchair, traditional highchair, booster, portable booster, toddler chair, and play table. Even the tray can be switched into 3 different positions to suit your needs and comes included with a cup holder. Foldable and compact, it is good for restaurants and easy to take anywhere with you.
---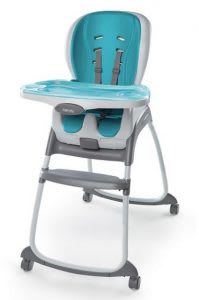 This is the baby chair that focuses on mess management especially when your child starts to consume solid food and indulge in activities like clay modelling and toys like Lego. The Bright Starts Ingenuity Trio High Chair is the key to handling mess as it can be easily converted into a high chair, booster and toddler seat within minutes. Parents, trust us when we say that for cleanliness management, this chair is your answer!
---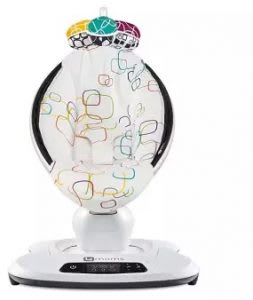 If budget is not your concern, the 4moms MamaRoo Multi Plush 4.0 Infant Seat is a good buy as it comes with music selections such as soothing nature sounds and your baby's favourite song that is playable via an MP3 plug-in. It is also Bluetooth compatible.
The seat also includes 5 different motions to rock your little one, creating a feeling similar to how it would feel if you manually rocked them.
---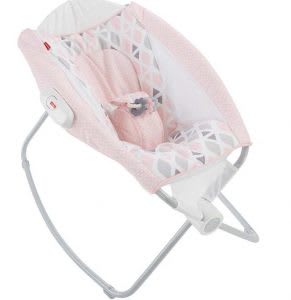 Although pink might be a girl's colour, the Fisher-Price DTG90 Rock 'n Play Sleeper is a comfortable choice for long distance travel. Due to its angle and incline flexibility, it helps to reduce colic and reflux in babies. By alleviating this discomfort that makes your baby cranky, you'll even keep other passengers from getting frustrated.
This sleeper also has two rocking speeds and modes that can be altered according to how long you want your baby to sleep, and comes with 12 soothing tunes and sounds to calm your crying baby.
---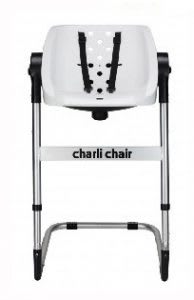 Shower time can be messy and frustrating. However, the CharliChair 2-In-1 Baby Shower Chair is the solution to happy and enjoyable bath sessions. It is lightweight and makes portability possible, and the small holes in the capsule help to dispel dirty water to keep your little one comfortable and clean.
This design is suitable for kids weighing up to 17kg. Other features include an adjustable height and a non-slip base for safety purposes.
---
Disclaimer: The pricing shown is just a good indication of how much these products are worth. The prices could change based on the e-commerce promotions that are going on. If some of the products are not available, do email us at [email protected] Thank you!