While you've been able to get almost anything online with ease for many years now, online grocery shopping has been slow to catch on. Luckily, the days of trudging along the aisles and picking out the shortest checkout line are in the past with several online grocery marts made available now. 
When it comes to grabbing your daily necessities, the benefits of online shopping are clear. Online grocery stores let you take full advantage of special offers to grab the best deals available while their convenient doorstep delivery makes for a hassle-free shopping.
Moreover, with the recent surge of COVID-19 cases, it's more reason to stay at home and do all of your grocery shopping online.
More: Here Are 30 Foods To Stockpile For Emergencies (Like the Coronavirus Outbreak!)
---
Here is a list of the top grocery & delivery services online for Singaporeans to shop at. 
Best online grocery delivery service for high-quality ingredients
Delivery fee:

From S$10 / Free for orders above S$100 

Mobile app:

N/A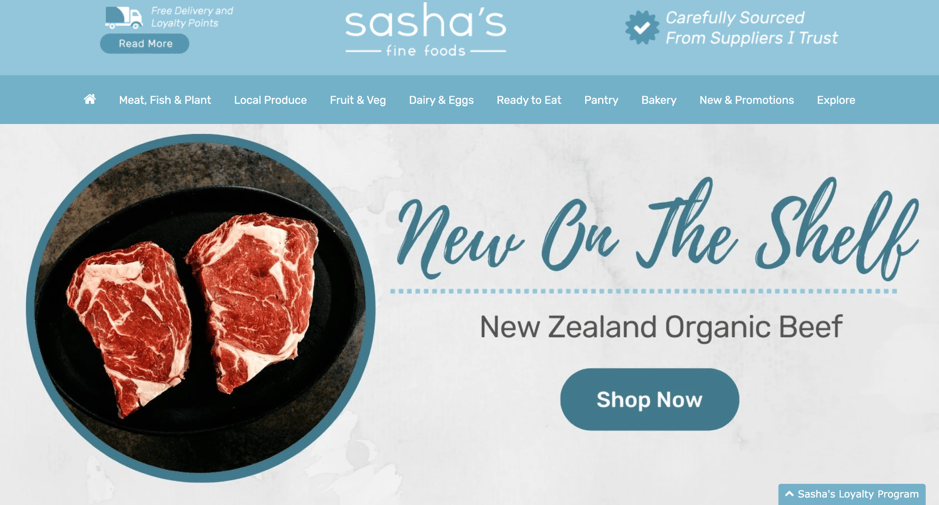 Sasha's Fine Foods source for and delivers only the highest quality ingredients:- sustainable meat, fish, veggies, healthy snacks, and ready-made meals, right to your doorstep. 
Their strong policies means customers can rest assure that everything they receive is free from growth hormones, antibiotics, and nasty additives for a healthier meal. Sasha's Fine Foods even have their own fleet of delivery to ensure customers experience a seamless shopping experience. 
More: Bet You Didn't Know - 12 Alcohol Delivery Services in Singapore To Call for Your Next Party!
Best grocery delivery with fast same-day delivery & personal shopper
Delivery fee:

From S$4.99 / Free for orders above S$50

You're bound to have seen honestbee's friendly yellow bee logo throughout Singapore. Their strong partnership with over 70 merchants means it houses everything you'll ever need from groceries to ready-to-eat food. 
Honestbee even offers same-day delivery with 1h time-slots in addition to their highly-trained concierge shoppers. The said shoppers will also personally call you to inform if any items you've ordered is out of stock and suggest substitutes. 
More: 10 Rice Brands That May Taste Better Than Your Favourite
Biggest, online grocery delivery platform
Delivery fee: From S$5.99 / Free for orders above S$60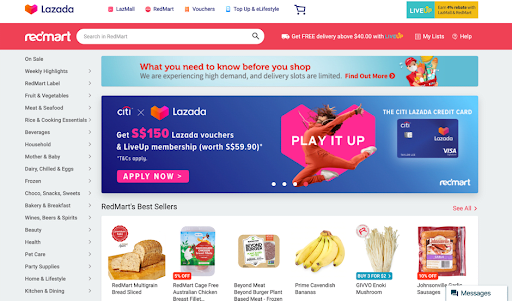 Hailed as one of the largest online grocery shopping site in Singapore, Redmart carries more than 30,000 items going at a discounted price. Redmart offers all kinds of items for sale from necessities like cooking ingredients to home décor and even children's books. 
What we love best about them is that you get to add items to your already-paid order even after it's been placed just in case you missed out on something. 
More: Bring Out the Best Flavours in Your Food with These 7 Best Tasting Soy Sauce
Online grocery platform with best deals
Delivery fee: from S$7.00 / Free for orders above S$59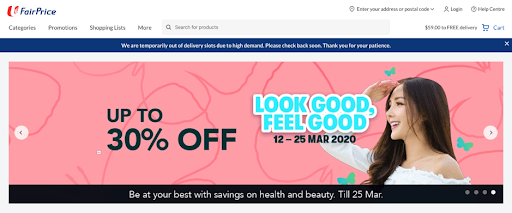 Your friendly neighbourhood supermarket NTUC FairPrice is now available online to make your shopping experience even more convenient. From steamboat essentials to daily needs like bread, laundry detergent, and toilet paper, FairPrice online seems to have it all. FairPrice Online even runs weekly promotions, 3-day specials and purchase-with-purchase offers on their site for better deals. 
More: 8 Flavourful Instant Noodles That Will Make You And Your Tummy Happy
Best online grocery delivery service with fresh local groceries
Delivery fee: From S$6.00 / Free for orders above S$69
Mobile app: N/A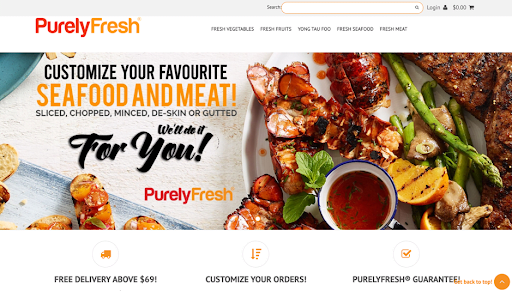 PurelyFresh's friendly concierge service strives to always keep your pantry, fridge, and kitchen well stocked with fresh food items. This convenient online shop offers local fresh produce and groceries right at your fingertips with their quick delivery that reaches straight to your doorstep for a hassle-free experience. 
Fastest & cheapest online grocery delivery service
Delivery fee: From S$2.99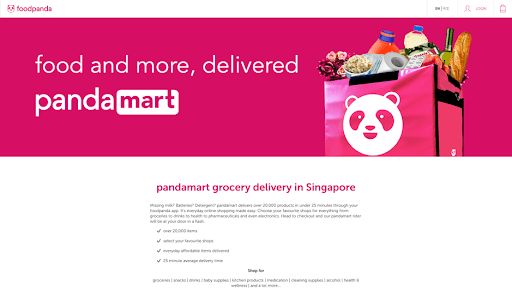 Missing milk, detergent, or other daily necessities? Fret not as pandamart houses over 40,000 products right at your fingertips for you to pick from. Head to the checkout with your everyday affordable items from your favourite shops and pandamart's riders will be right at your door in under 25 minutes.
Best online grocery delivery service with rebate system
Delivery fee: From S$5.50 / Free for order above S$40
Mobile app:

Android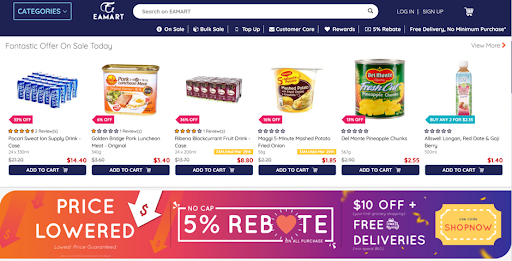 Featuring chopped down prices for over 3,000 products, EAMart is one of the largest online grocery stores in Singapore. EAMart even offers customers a 5% rebate for all purchases when you hit a minimum spend of S$150 per month. The rebate will be stored into your account and ready for redemption in your next order. 
Best grocery service for bulk/wholesale
Delivery fee: From S$7.00 / Free for orders above S$59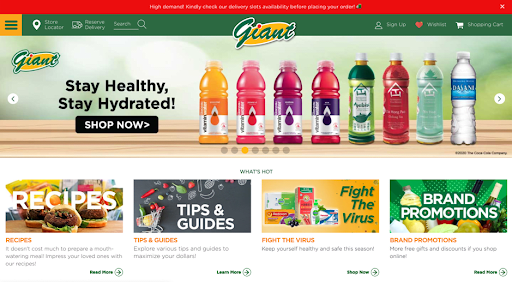 The king of bulk deals, Giant Online offers online customers its usual gigantic range of products ranging from groceries to home décor to apparels all under one roof. You can easily stock up on all your favourite munchies and beverages at a reasonable price for last minute house parties with Giant Online's same day delivery.
Best online grocery store for organic foods
Delivery fee: From S$7.00. Free for orders above S$59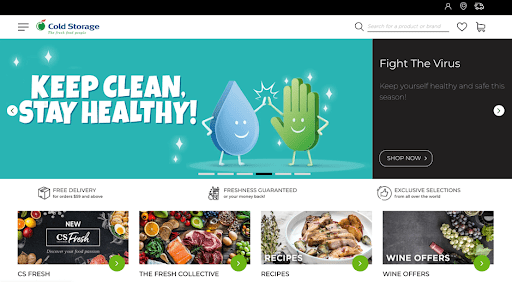 For those who loves a good deal, you should definitely keep tabs on Cold Storage's weekly sales offer. Known for their slightly more gourmet and specialty range to everyday groceries, Cold Storage sales often contain healthy organic snacks and fruits that may be difficult to find elsewhere.  
Best affordable grocery online store - has electronics & pet food
Delivery fee: From S$6.00. Free for orders above S$100.
Mobile app: N/A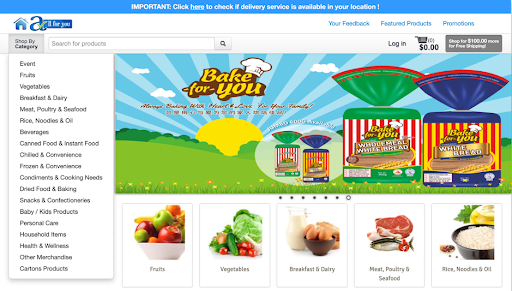 Allforyou features a wide range of uber-affordable fresh produce available for you to toss into your online cart. Alongside typical fruits, vegetable and dairy, you can even source for electrical appliances and pet food from this convenient one-stop shop. Do remember to check out their promotions page on for their latest list of items on sale!
Best for fresh food bulk
Delivery fee: From S$6.95 / S$4.95 for orders above S$75.
Mobile app: N/A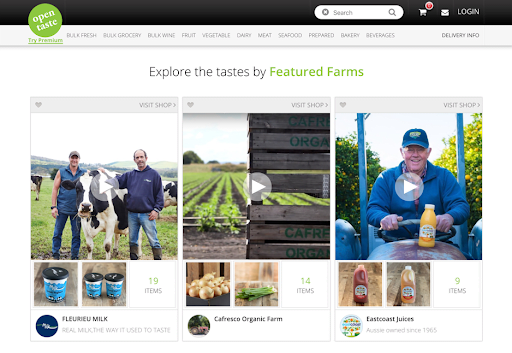 Specializing in bulk fresh foods, Open Taste offers a wide range of fruits, vegetables, yogurt, nuts, wines, and much more available for online grocery shopping. You can even save on delivery cost by opting to pick up your orders at a nearby, pre-determined location. 
Best online grocery delivery service for fresh Indian ingredients
Delivery fee: From S$10.00. Free for orders above S$39.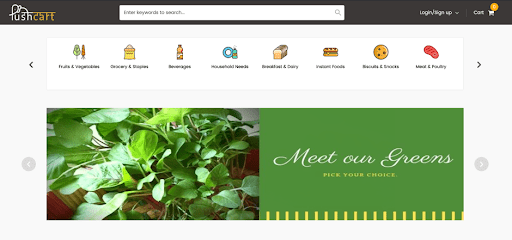 Craving for Indian food but not sure where to get the ingredients? No worries as PushCart takes care of all your Indian grocery without the need for you to step out of your home. Boasting some of the most popular brands online at extremely attractive prices, shoppers will be spoilt for choice with PushCart's amazing list of items available. 
Best grocery store for Korean food
Delivery fee: From S$3 upon minimum S$50 orders
Mobile app: N/A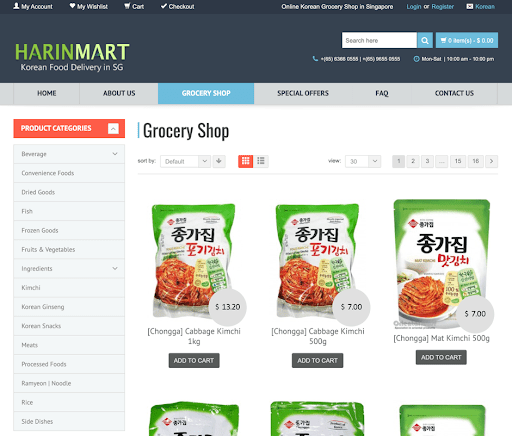 HarinMart is a 100% online Korean grocer with no brick and mortar store, which explains why they get to offer one of the lowest prices on the market. The mart offers a wide range of products, including various Korean side dishes, frozen and dried seafood, and ready-to-eat meals. Their offers are sure to satisfy all your Korean food cravings wherever you are. 
Best Indian grocery store
Delivery fee: Free from orders above S$50
Mobile app: N/A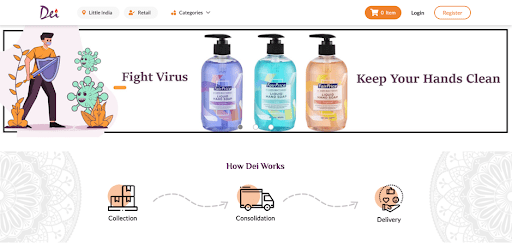 Daily Everything, also known as Dei, is a homegrown on-demand grocery delivery platform that offers doorstep deliveries of groceries from over 70 retailers in the heart of Little India. Hosting over 10,000 products, customers get to enjoy a wide range of Indian goods delivered straight to their homes with this fuss-free one-stop shopping portal. 
Best online grocery delivery service for Australian food
Delivery fee: From S$15 for orders below S$40 / Free for above S$60.
Mobile app: N/A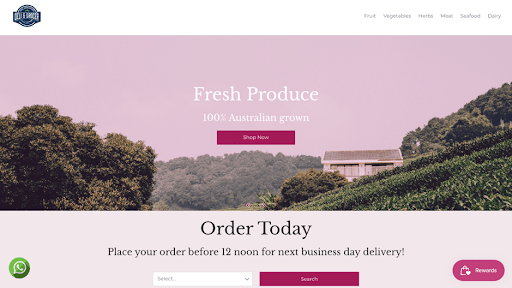 Sg Deli & Grocer is managed by a team of extraordinary individuals with one elementary goal - to deliver garden-fresh fruits and vegetables to every household in Singapore. The platform partners with well-reputed premium Australian farms to offer customers hassle-free delivery of fresh produce with uncompromising quality to promote healthier living