You're craving for a good bowl of Ramen but your low bank statement makes it difficult to dine out. Instead, you can trust a good cup of instant noodles to simply fulfil your cravings. It's there to help us survive when we have nothing to eat, and act as a budget meal for those last few days before payday.
They've come a long way from being just instant salt bombs. With more variety and flavours today than ever, it has grown from a humble classic cup to include premium gourmet ingredients. It's all depending on how your budget is.
More: No time to Do Grocery Shopping? Here's 15 Online Grocery Delivery in Singapore
---
Check out our list of the best instant noodles you can pick up online today!
add_circle
Natural ingredients
TTL stands for Taiwan Tobacco & Liquor, and it's exactly what the brand sells. But, they also sell instant noodles that are infused with liquor. The result is quite a delicious, luxurious meal!
This pack contains actual pieces of chicken, vegetables which are in the powder (flavouring) pack, sesame oil mixed with soy sauce and of course, a pack of rice wine. And because the noodles offer real, natural ingredients instead of premixes, its broth is both hearty and herbal like the real thing.
The taste is said to have hints of ginger and a nutty flavour thanks to the sesame oil. On its texture, it's thin like the usual Taiwanese noodles. Perfect for a rainy day!
Per serving - 521kcal
Fat - 23g
Carbs - 57g
Protein - 19g
Sugar - 2g
---
More: Bet You Didn't Know - 12 Alcohol Delivery Services in Singapore To Call for Your Next Party!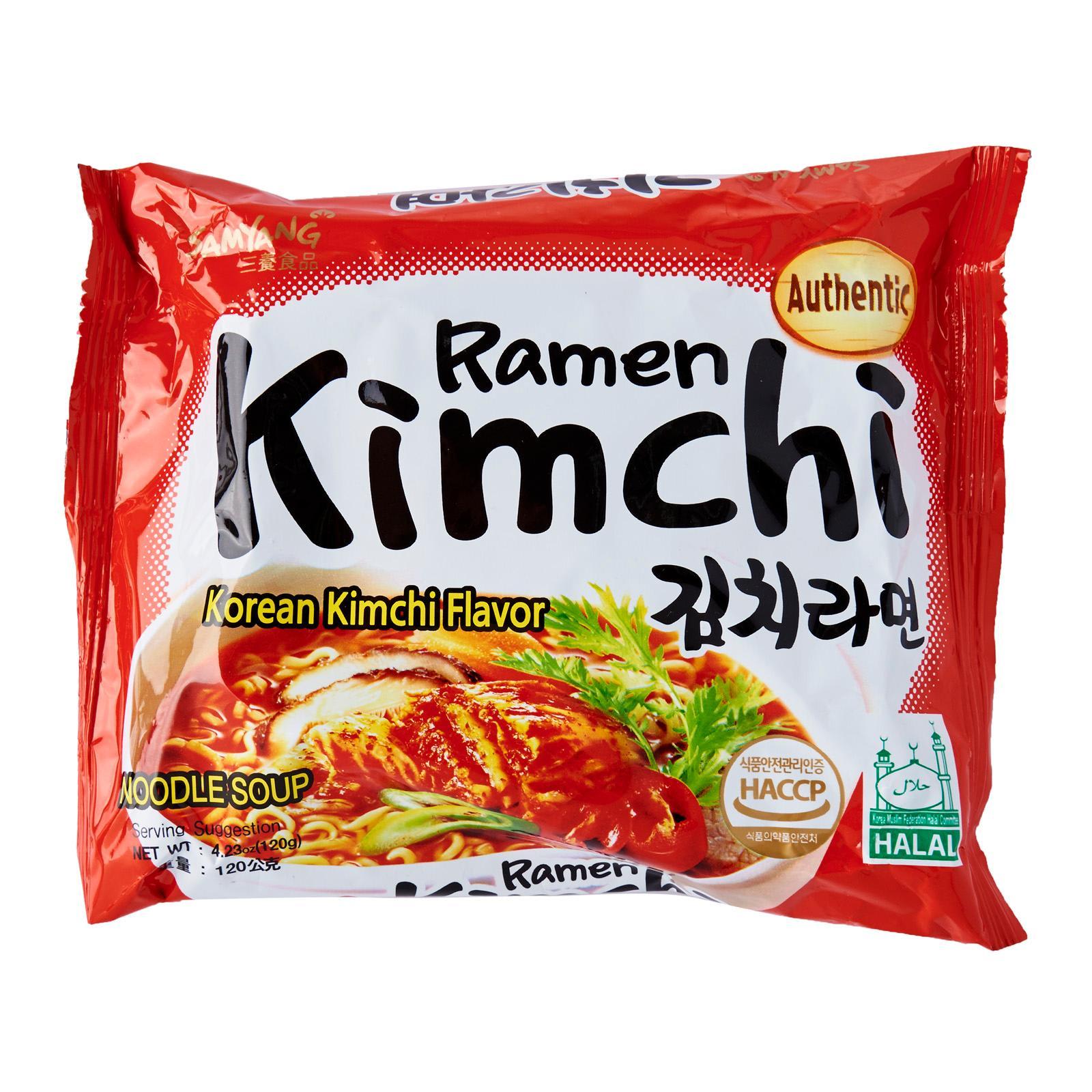 Beef is one of the best meat to go with strong-tasting noodles like Kimchi flavour. But if you'd like to savour a pack that's just as good without beef ingredients, we recommend Samyang's Kimchi Ramen.
Famed for its unbearable spicy and varied flavours, this classic contender is a must-try for those new to Korean noodles. Made with real kimchi, a probiotic that is great for the gut, and some extra red pepper, this brand offers some spicy and sour sauce with bits of dried kimchi cabbage to go with its thick, springy noodles.
For an extra kick of tastes like how the Koreans love it, top up with some sausages, an egg and perhaps a little bit of cheese. The result will be a thick and flavourful meal. Its Kimchi taste is also apparent enough to coat each strand of noodles.
Per serving - 248kcal
Fat - 8g
Carbs - 40g
Protein - 5g
Sugars - 2g
Sodium - 680g
---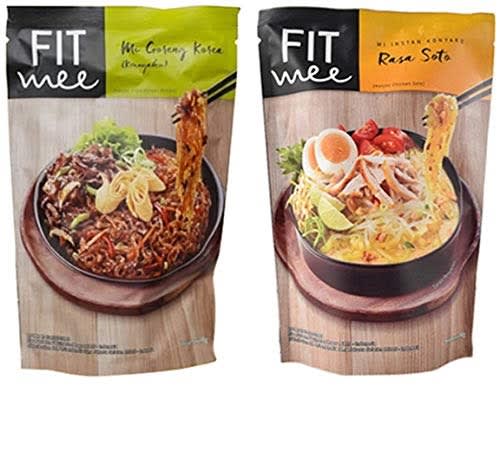 add_circle
"Almost" fat free
add_circle
Calories is halved compared to other brands
remove_circle
Pricey for the portion
Rarely will you see instant noodles that are low in calories. And if you are craving for some guilt-free noodles, you're terribly in luck.
The magic ingredient for this pack of FitMee is its noodles, which are made from Shirataki - a type of yam that is about 97% water and 3% fibre. That literally makes them virtually carb-free.
Labelled as keto-friendly, low in sugar and cholesterol-free, FitMee comes in few but unique flavours. Their 2 most popular ones are Goreng Korea Mee (Fried Korean Noodles) and Soto (yellow spicy chicken soup) flavour, both containing just 120 and 60 calories respectively. Great for all those counting their calories! Moreover, these are guaranteed Halal!
The brand recommends adding some coconut milk together with the Soto pack for a twist of Indonesian Classic cuisine. Otherwise, the flavouring already contains some coconut cream powder to enhance the broth. Meanwhile, the Goreng Korea Mee has a touch of sesame oil, soy sauce and Shirataki mushrooms to make up for a fragrant meal.
Per serving - 60 to 120 kcal
Fat - 0 to 2g
Carbs - 10 to 29g
Protein - 0 to 1g
Sugars - 2 to 5g
Sodium - n/a
---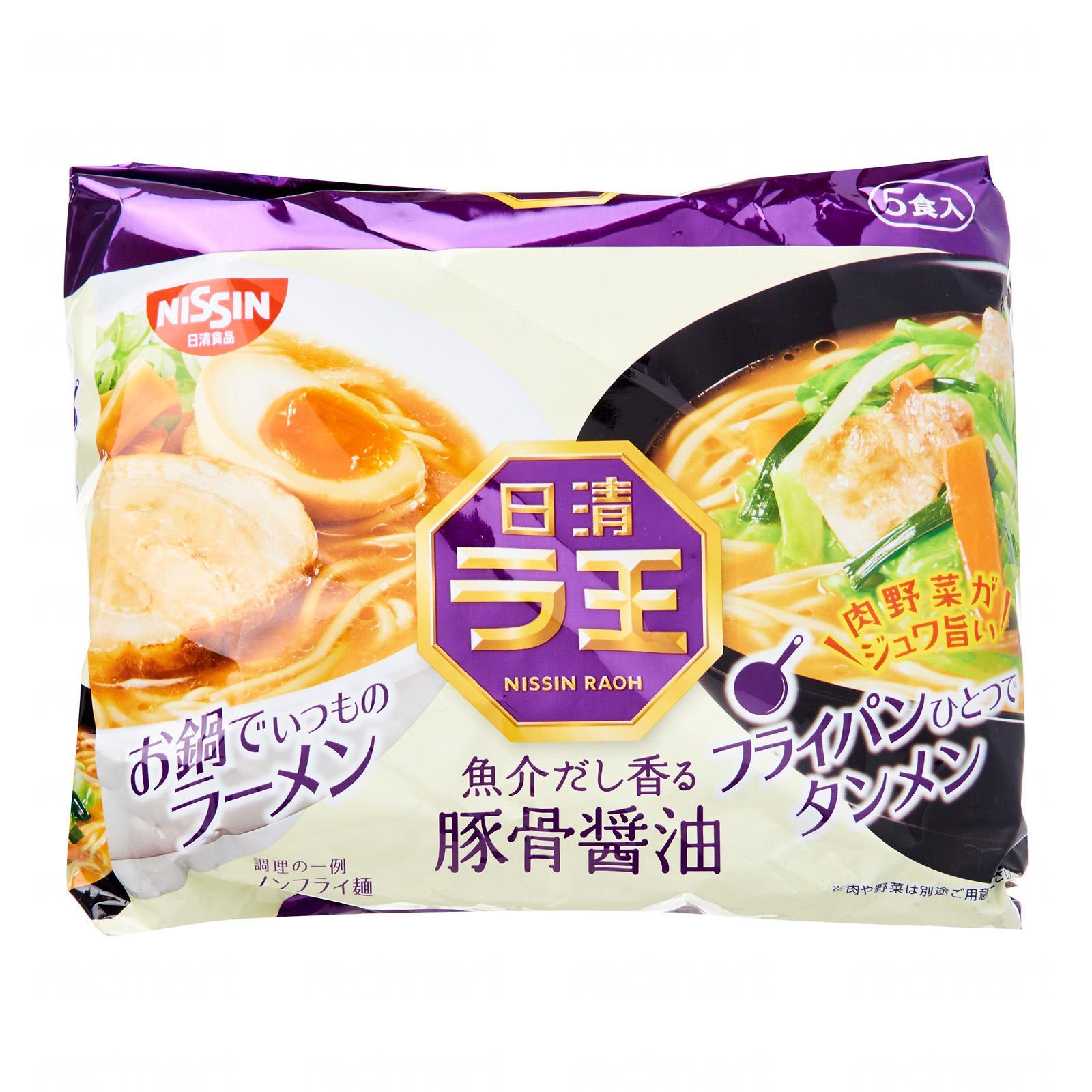 add_circle
Strong, "Umami" taste
add_circle
Good calorie count
remove_circle
Limited availability
remove_circle
High in sodium
Mama can get picky when it comes to pregnancy cravings. And if she's lucky not to have issues with pork, she can opt for one of Japan's best brands.
Nissin brings a combo of premium quality and rich flavours to a market saturated with plastic-like noodles and artificial flavours. Therefore, this pack ensures a safe alternative to a hearty bowl of instant noodles if you have health concerns. This particular variant's broth is heavy and rich, whereas its noodles are thick and generous, making it a savoury meal which can easily beat most noodle flavours.
It's best cooked in a pot and we recommend strictly following the exact measurement of water and boiling instructions on the pack. You'll be rewarded with a bowl of noodles that are just the right level of chewiness, and thick, flavourful soup that comes as close to eating at an actual restaurant (still not as close to actual Japanese Ramen restaurants, unfortunately).
Per serving - 343kcal
Fat - 6.6g
Carbs - 62.4
Protein - 8.6g
Sugars - n/a
Sodium - 2047mg
---
More: Bring Out the Best Flavours in Your Food with These 7 Best Tasting Soy Sauce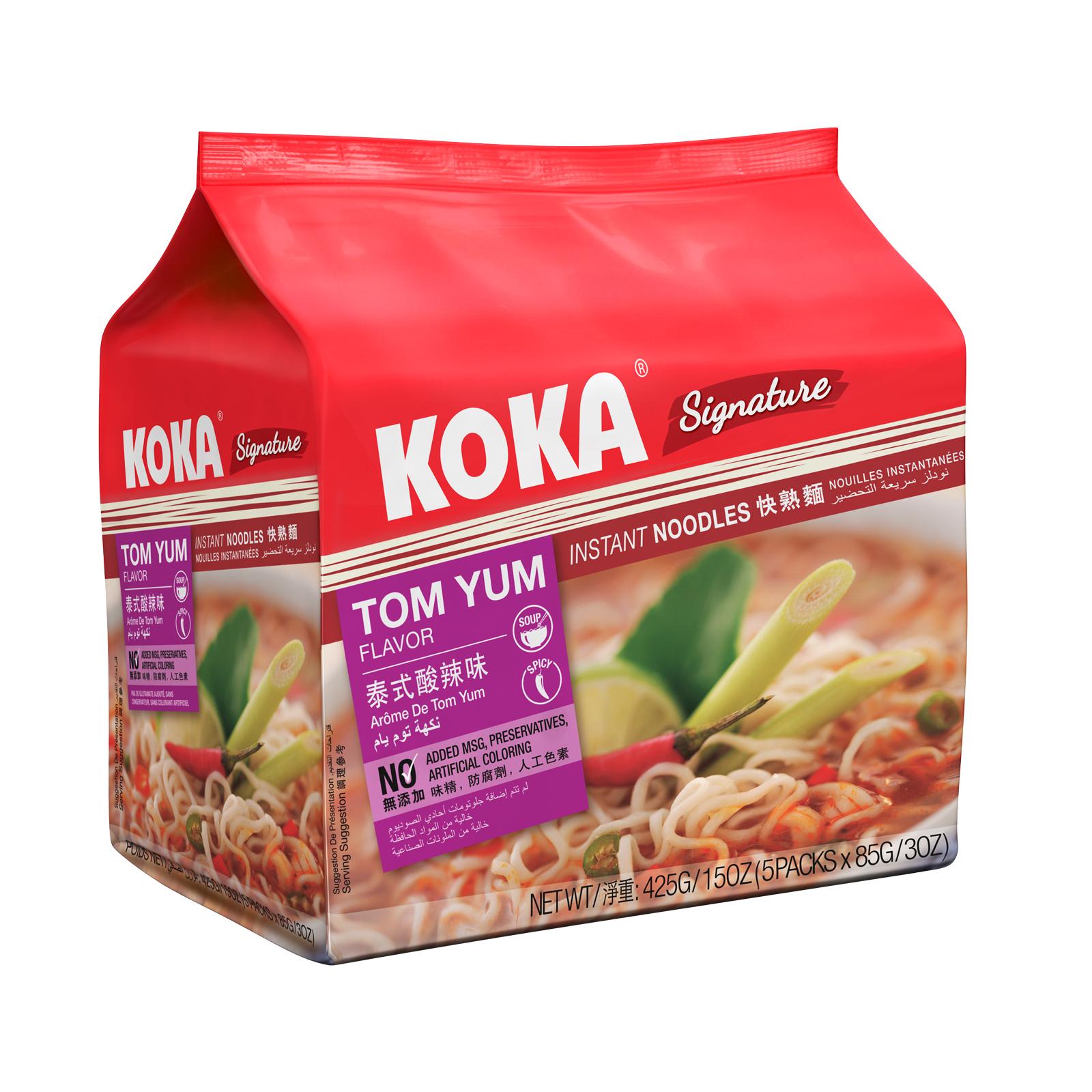 add_circle
Satisfactory portion
add_circle
Well-balanced in nutrients
Filled with enough spice to feel the kick like actual Tom Yum Goong, a good bowl of tom yum noodle soup is just what you need to fight a hungry stomach. As part of Koka's signature range, the noodles marry a blend of spice and herbs while delivering flavours that go from tangy to sweet in each bite.
Even though it holds flavourful broth and noodles, you'll be surprised to know that this pack contains no MSG, preservatives, or artificial colouring. Instead, it uses healthier-choice ingredients such as seafood extract (shrimp, fish, scallop), hydrolyzed soy protein, a little bit of citrus, lemongrass, lime flakes and others.
The noodles are Halal-certified, and it said to have an apparent taste of lemongrass, lime and galangal, with each slurp of broth that's not too thick and not too thin. Who knew healthy instant noodles could be this yummy!
Per serving - 380kcal
Fat - 17g
Carbs - 49g
Protein - 6g
Sugars - 6g
Sodium - 1570g
---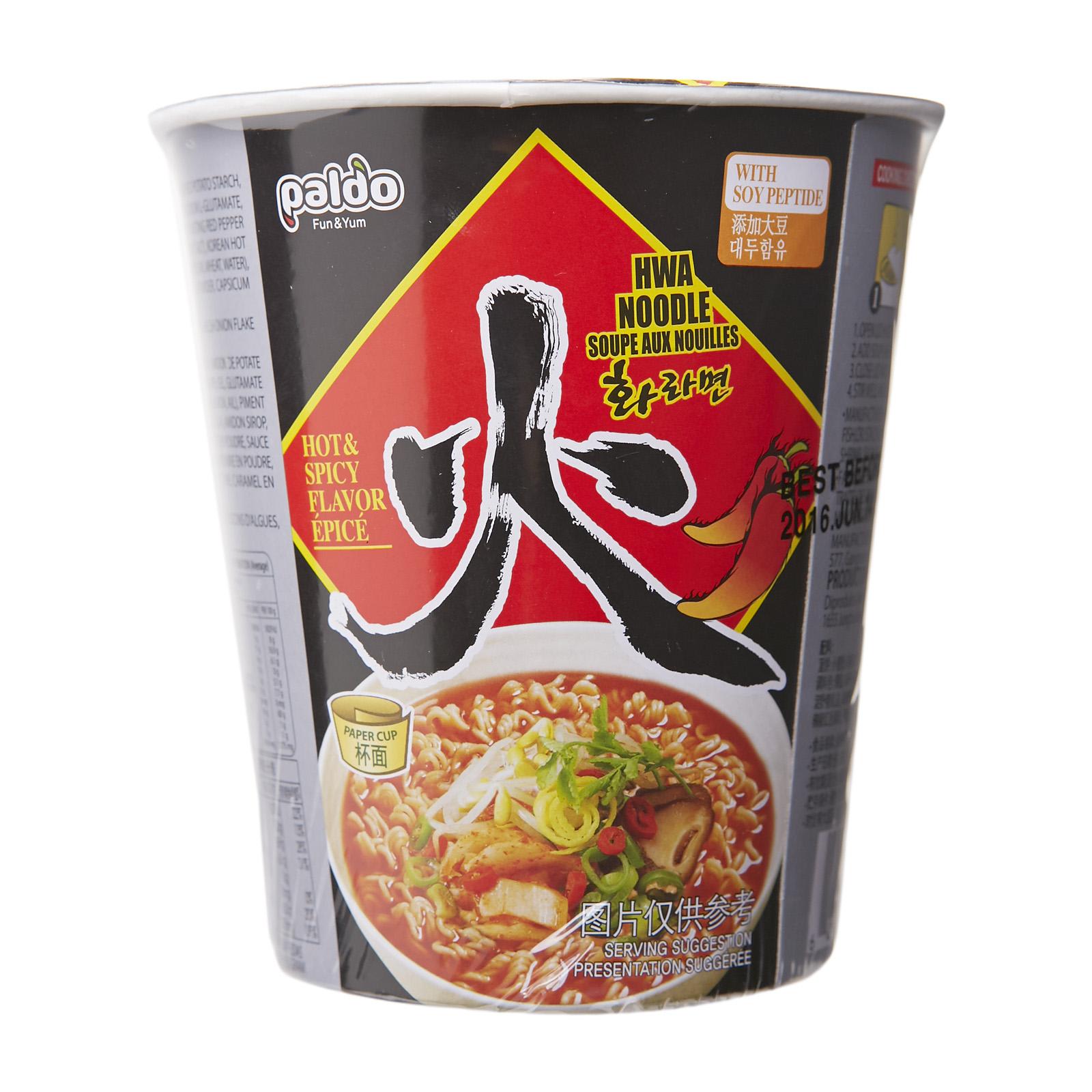 add_circle
Hot without being too spicy
add_circle
Balanced broth flavour
add_circle
Good noodles texture
remove_circle
Limited availability
When you are backpacking, you don't always have a bowl or a fork ready whenever you need it. This makes cup noodles the most convenient for those that are on-the-go.
Simple in its content (flavouring and some veggie bits), the cup of noodles is hot enough without it being overly spicy on the tongue. It also features a special ingredient - soy peptide. Although its existence in the pack isn't clear, but it's nice to know that soy peptide helps with digestion and metabolism.
Requiring nothing but hot water, this Paldo Hwa Ramen Cup offers a thick and spicy flavourful broth with springy-textured noodles to keep you going while travelling. If you can, do add an egg to keep it even more flavourful and thicker.
Per serving - 283kcal
Fat - 11g
Carbs - 39g
Protein - 5g
Sugars - 2g
Sodium - 886g
---
add_circle
Very similar in taste to freshly-served noodles
add_circle
Rich and flavourful
add_circle
Good noodle texture
add_circle
Has minced meat in it
remove_circle
High in calories and sodium
Breakfast is the most important meal of the day, but most of us simply don't have the time for it. So what's a good on-the-go solution? Instant noodles.
This Michelin-star instant noodle is a result of the collaboration between Nissin and 7 Eleven Japan, bringing us the Nakiryu Instant Ramen Noodles. Coming in a big bowl, the chicken broth makes a great heartwarming fuel for your stamina to start the day. Also in the pack are dehydrated minced meat, which are properly marinated to deliver mince-meat that have just been cooked off the stove.
True to its awarded Michelin-star, many have exclaimed that this bowl is easily one of the best noodles that they've tried. Some have mentioned that the noodles do not have a plastic taste like the regular Nissin cup. Instead, all there is are firm, wavy noodles, covered in a rich and meaty broth that's thick.
Another fun fact: this bowl is actually only available to be bought directly from Japan. Thanks to its good long-shelf-life, you can stock some into your cupboard and save it for times when you have strong cravings.
Per serving - 677
Fat - 39g
Carbs - 65g
Protein - 13g
Sugars - n/a
Sodium - 7200mg
---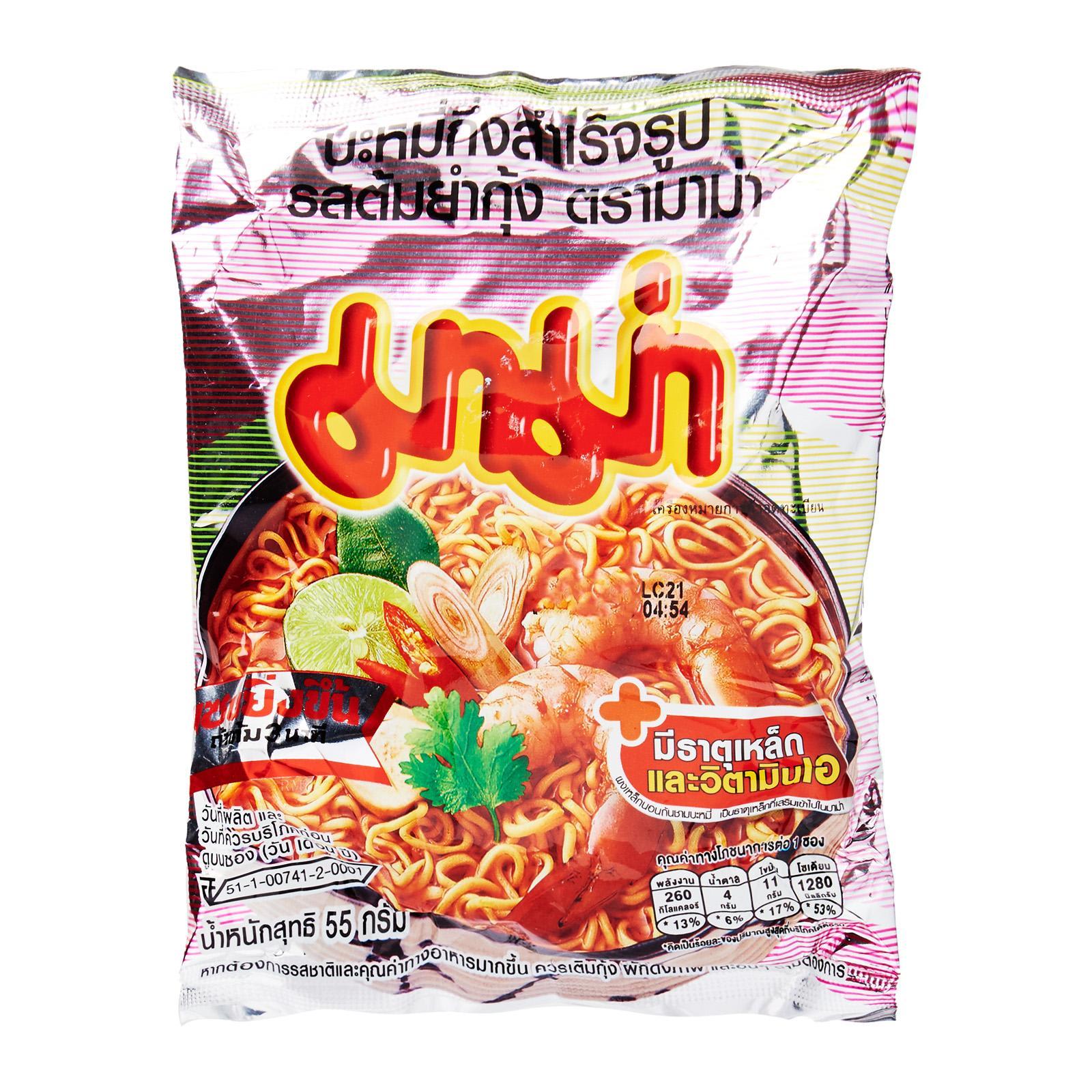 add_circle
Very flavourful
add_circle
Easily available
add_circle
No preservatives
remove_circle
Small serving
Less than a dollar, Mama will help you to get through those tight-budget days. Light yet flavourful in its broth, the noodles come in a variety of flavours so you won't get sick of eating the same one.
Focusing on the fully-bodied Tom Yum variant, which is also a popular choice among customers, what makes the broth tastes good is the touch of ingredients used - spices, some citrus acid, Chilli, fish sauce and shrimp powder. For an extra kick, there's an additional chilli pack in the noodles to suit your fancy. Moreover, it doesn't have preservative, now that's awesome!
The only sad thing about this pack is that the portion is on the smaller side, but we're not too surprised, given its really affordable price. Our recommended ingredients to fill up your bowl with is some vegetables, a good ol' egg and a meat of your choice (add in some prawns or tuna from a can, maybe?)
Per serving - 210kcal
Fat - 9g
Carbs - 26g
Protein - 5g
Sugars - 2g
Sodium - 1210mg
---
Disclaimer: The pricing shown is just a good indication of how much these products are worth. The prices could change based on the e-commerce promotions that are going on. If some of the products are not available, do email us at [email protected] Thank you!