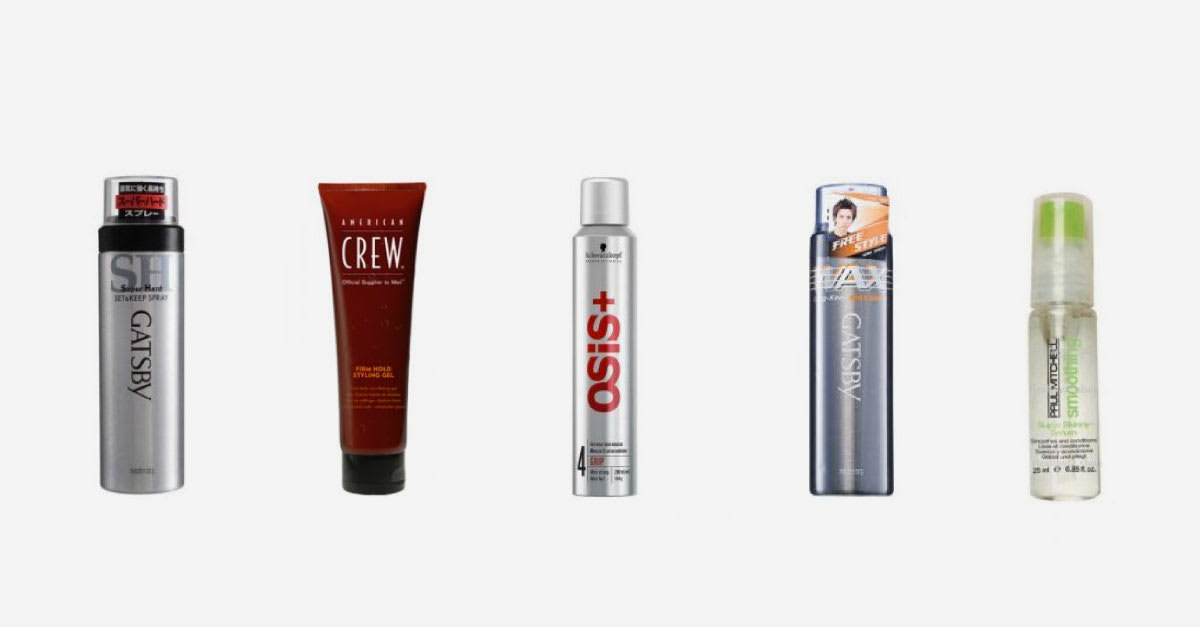 Gone are the days where you only need tap water and a comb to style your hair. Today, we have countless hairstyling products on the market that allows you to style your hair differently. So, for all you men out there, here are the 13 different hairstyling products you can buy online.
1. Gatsby Super Hard Set & Keep Spray
Best hair spray for men
Price from RM17.50
A good hairspray doesn't have to be costly and that certainly rings true for Gatsby Super Hard Set & Keep Spray. It especially keeps thick hair in place all day long, even when the weather is humid. Best of all, it adds a natural shine to your hair.
2. TIGI Bed Head B For Men Matte Separation Workable Wax
Best strong styling hair wax
Price from RM70.50
The name of this hair wax may have been long-winded, but it works like a charm. Here's why: it's specially made for different types of lengths and textures. The TIGI hair wax also contains beeswax, a key ingredient that retains a strong hold of your hair. Not to mention it gives your hair a nice natural look and also leaves you frizz-free at the same time.
2 people added this to their wishlist
3. American Crew Firm Hold Styling Gel Tube
Best hair styling gel for men
Price from RM85.00
For over 20 years, the US-based American Crew has been reputed for producing quality men's grooming products. This also includes their top-of-the-line hair gel, which is specially designed to hold your hair in place and doesn't create flakes whatsoever.
The gel is even free from harmful alcohol contents. Instead, it contains natural extracts such as sage, ginseng and vitamin B5, giving you all the essential nutrients to maintain healthy hair.
4. American Crew Forming Cream
Best water-based hair cream
Price from RM60.00
Another American Crew, another quality hair product worth investing for. Suitable for every hair type, this American Crew Forming Cream offers you an excellent hold all day long without making your hair feel stiff.
It is also recommended for those who want their hair to look natural, as this product is medium-hold and provides shine. Finally, the combination of water-based and lanolin wax ensures easy application and even easier to wash it off with shampoo.
5. Gatsby Moving Rubber Spiky Edge
Best moving rubber for men
Price from RM24.43
This popular Moving Rubber product by Gatsby offers the strongest hold, making it a great option for creating individual spikes. Their secret? A key ingredient known as microcrystalline, which is responsible for keeping your hair in place. It also contains candelilla, which helps to nourish your hair and scalp upon application.
6. Schwarzkopf Osis GRIP Ultra Strong Mousse
Best hair mousse
Price from RM29.00
Hair mousse isn't just for the ladies, but it also helps to add volume to men's hair, making it look fuller. Take Schwarzkopf Osis GRIP, for instance, it's a unisex mousse that is strong enough to keep your hair in place, without it feeling stiff and crunchy. Plus, it holds curls and waves very efficiently, too.
7. Gatsby Long Keep Wax Spray
Best spray wax for men
Price from RM16.89
A spray wax works on both dry and damp hair, allowing you to build volume and add texture. Also great as a restyling tool for that quick look, a spray wax is no doubt a versatile hair product worth investing in.
One such product is Gatsby Long Keep Wax Spray, which boasts a secure hold to last you all day long. It doesn't even leave you with a stiff hair while its moisture-resistant content helps to retain your hair against humidity; it's suitable for hot the climate.
8. Paul Mitchell Smoothing Super Skinny Serum
Best hair serum for men
Price from RM58.50
Factors like humidity and chemical reaction can cause frizziness to your hair, but you can tame your mane with this hair serum by Paul Mitchell. It smooths out your hair, allowing you to manage and style it better. Those with curly or wavy hair would benefit more from using this serum.
9. Gatsby Style Wax Mega Hold
Best cheap Japanese hair wax
Price from RM15.19
Of all the commercially-available hair wax products made in Japan, it's safe to say that Gatsby is easily the most recognisable brand among many consumers here in Malaysia.
Their products are also particularly affordable, where the same can be said for the Gatsby Style Wax Mega Hold. Specially formulated for men's hair, it works great for those who want to retain a strong hold throughout the day. It's easy to use and suitable for both short and medium-length hair.
10. American Crew Fibre
Best fibre hair wax
Price from RM60.00
If you are looking to add texture and volume to your hair, consider getting this fibre by American Crew. You can use it to sculpt any hairstyle you want while giving you that long-lasting hold with a nice matte finish. It also works particularly well on short hair, be it straight or curly.
11. Hanz de Fuko Hybridized Wax
Best organic hair wax
Price from RM85.00
It's no secret that too many chemicals on your hair can do more harm than good, which is why you can always opt for a greener alternative such as this organic hair wax by the California-based Hanz de Fuko.
It contains no paraben, a preservative known for causing dry and brittle hair, but contains organic extracts like camellia, sage and clove to ensure your hair gets all the nourishment upon application. The hair wax is non-greasy and smells pleasant.
12. Gatsby Moving Rubber Cool Wet
Best wet look hair product
Price from RM22.00
Feeling the dread to see your hairstyle look dry and lifeless? The Gatsby Moving Rubber Cool Wet might be your answer. It gives you a nice, wet-look lustre and also smells refreshing, thanks to its mild green apple scent. The non-sticky formula ensures it leaves you no residue, making it easier to apply and restyle whenever you want.
13. Morgan's Styling Putty
Best hair putty for men
Price from RM50.00
Putty is an ideal choice for those with wavy or thicker hair to create that messy, textured hairstyle. One such product is Morgan's Styling Putty, the UK-based hair-styling brand which has an illustrious history for over 140 years since 1873. Not only it provides you with a natural matte finish but also moisturises your hair at the same time, thanks to the combination of beeswax and jojoba oil.
Disclaimer: The pricing shown is just a good indication of how much these products are worth. The prices could change based on the e-commerce promotions that are going on. If some of the products are not available, do email us at [email protected] Thank you!