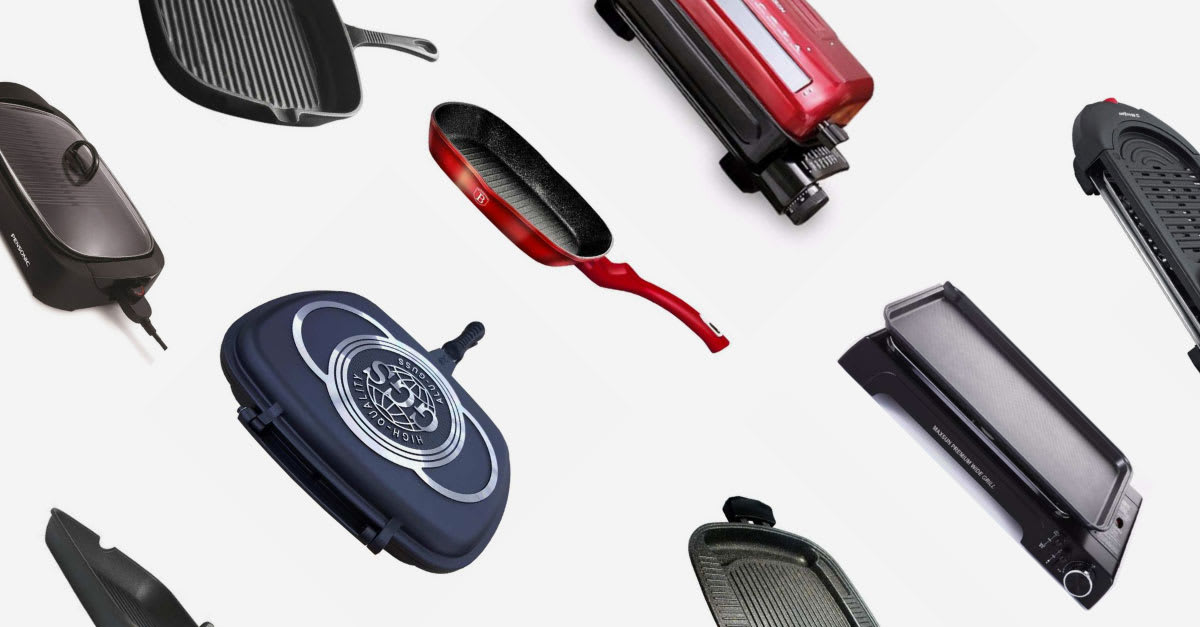 Everyone loves the taste of grilled and barbequed food, but you can't always afford to cook outdoors. If you want to be able to grill in all weather conditions, using an indoor grill may just be the perfect solution.
Having the right grill pan can produce similar taste and aesthetics of grilled food. It is also a healthier choice as any excess fat is drained from your meats as it grills.
Coming in an array of shapes, sizes and material, let us help you choose one that best suits your needs with these 10 best available ones.
1. 23cm Castas Cast Iron Steak Grill Frying Pan
Best cast iron grill pan for oven - great for steaks
Price from RM69.00
This 23cm Castas Cast Iron Steak Grill Frying pan is just right for whipping up a grilled steak from the comfort of your kitchen. This versatile pan can be used on most stovetops including electric, ceramic and gas-powered stoves.
With a durable, thick cast iron construction and a non-stick surface, it ensures smooth and easy cleaning after cooking. With a heat-resistant silicone handle grip, you can rest easy when using the pan even when it's hot.
2. Pensonic Electric Grill PEN-PTG101G
Best electric grill pan
Price from RM187.00
If you are grilling your meals often, it makes sense to have an all-in-one electric grill. This Pensonic Electric Grill is a compact and space-saving pan, making it perfect for smaller apartments and one-serving size meals.
The housing remains cool to touch even when cooking, with a detachable non-stick glass lid to block out smoke and act as an oil shield. You can grill all sorts of delicious foods with this one.
3. BERLINGER HAUS Grill Pan 28cm
Best 28cm induction frying and grill pan
Price from RM89.00
Berlinger Haus is a high end, eco-friendly brand carrying lead and cadmium-free products. Its latest addition is this 28cm grill pan that features a 3-layer marble coating, resulting in a non-stick yet utensil friendly surface.
The design is turbo induction based, guaranteeing energy savings of up to 35% and can be used on a variety of stovetops. The pan is also easy to clean and is certified dishwasher-safe. You can grill and fry food easily with this grill pan.
4. KISSEN MULTI GRILL
Best grill with cover
Price from RM249.00
TheKissen Multi Grill is an electrical grill made in Korea, featuring a built-in tempered glass lid that helps block out smells and smoke from invading your home, as well as allowing you to check on your food easily. It features a double coil system in a compact design which can quickly grill any food that fits on its rack.
5. Maxsun Portable Wide Gas Grill Pan MWG-300
Best Korean grill pan
Price from RM499.00
The Maxsun portable gas grill pan MWG-300 understands perfectly how Korean BBQ should be, being made in Korea. It uses a Butane Gas Cartridge and comes with a drain hole. It has an adjustable tilt surface, so you can easily scrape away any oil remaining on the pan. Its 60cm grill area means you can easily grill loads of meat for your friends and family.
6. TaiiNon Stick Coating Aluminum 5 in 1 Grill Frying Magic Pan
Best aluminium grill pan and saucepan
Price from RM59.90
Aluminium is lighter than iron but requires higher precision in engineering to ensure its durability for cookware. Taii's non-stick aluminium, 5-in-1 grill frying magic pan has been manufactured just as same to the highest standard.
It features a unique five-way system of cooking which allows you to cook 5 different food in the same pan simultaneously. This way, you can grill your chicken and make sauce in the same pan at once. It is also oven and dishwasher safe, with a non-stick coating for even easier cleaning and cooking.
7. Morgan MPG-DA898 Pan Grill
Best for fish and salmon
Price from RM190.00
Morgan is a well-known, household brand in Malaysia. Malaysians can look forward to simplified, oil-free cooking thanks to their MPG DA898 Electric Grill Pan.
You can grill almost any food imaginable on the non-stick pan grill cooking area, with a removable tray for easy cleaning. This grill is especially suitable for seafood such as salmon and prawns.
8. IKEA GRILLA Grill Pan, black
Best square stove top grill pan
Price from RM122.70
Ikea's Grilla Grill Pan is a stylish square grill pan. The pan can be used to grill food on top of your home gas or electric hob. Be careful though, as the Grilla is not dishwasher safe and must be hand washed if you want to make sure it lasts.
9. GGS Double-Sided Multifunctional Grill Pan 32cm
Best double sided, non stick grill pan
Price from RM69.00
GGS's new double-sided 32 cm grill pan makes grilling foods faster and healthier by sealing in moisture and flavour without the use of oil. You can cook a wide variety of fish and meat with this pan while saving money on the cooking oil you would otherwise need.
The Ceramic Ceratinum non-stick coating makes sure your food slides out of the pan easily. The pan is dishwasher safe and PFOA-free so you can use it without any worries.
10. BBQ Grill Plate Non-Stick Marble-Coated Aluminium RAM-35DB
Best round grill plate
Price from RM128.00
You can make all your favourite grill and BBQ dishes with this versatile, high-quality Grill plate. Made in Korea, it is crafted from the finest quality materials to ensure durability. This grill plate is specially designed to be fit for gas stoves perfectly.
The non-stick surface allows for easy cooking and cleaning while the aluminium construction means that the grill plate is light. Another bonus is its Nano silver coating which inhibits the growth of bacteria.
11. Tefal TG3918 Plancha Malaga Successor - Table Top Grill
Best for BBQ
Price from RM329.00
Tefal has created a work of art for those lovers of indoor grilling and BBQ with their TG3918 Plancha Malaga Successor electric grill. The grill is slim and streamlined with a wide grilling area, powered by a 1800W heater with a controller which allows precise temperature adjustments.
The grill pan is dishwasher safe with a removable oil tray included. The tabletop design makes it easy for you to gather around and BBQ your favourite food with friends and family.
Disclaimer: The pricing shown is just a good indication of how much these products are worth. The prices could change based on the e-commerce promotions that are going on. If some of the products are not available, do email us at [email protected] Thank you!