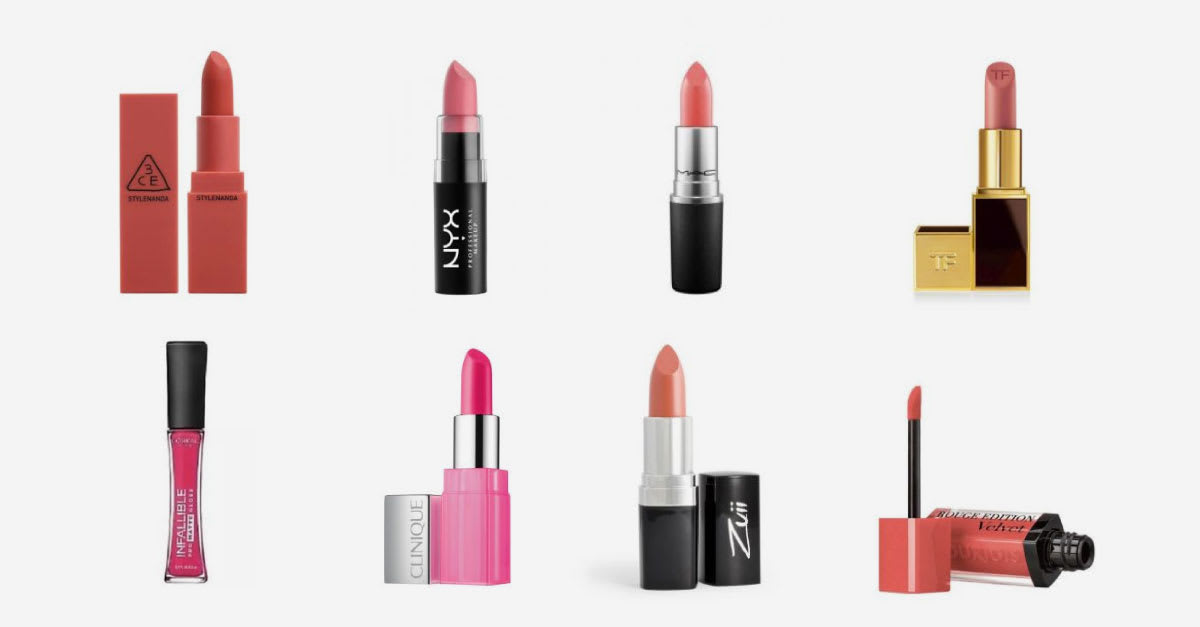 Pink will always be in style. No matter how dark or fair your skin is, there will always be a shade for you. For that added chic look, check out these lipstick ranges available in pink that will have you be the envy among the crowd.
1. 3CE Mood Recipe Matte Lip Colour #222 (Step and Go)
Best pink matte lipstick for warm and cool undertones
Price from RM68.00
A must-have in every girl's makeup bag! 3CE's Mood Recipe Matte Lip Colour has a variety of irresistible pink, autumn colours that give off a dreamy, sophisticated mood.
Its rosy shades can be used on cheeks as well to create a natural blush for an effortless romantic touch. Suitable for any makeup look, this versatile lipstick is bound to turn heads.
2. NYX Professional Makeup Cosmic Metals Lip Cream (#Speed of Light)
Best glossy metallic lipstick
Price from RM25.10
Ever wonder how those Instagram 'baby girls' get those shimmery, glittery lips? (No, they don't use craft glitter.) You can get them too when you spice up your lips with NYX's metallic lip cream!
Combining the glistening effects of gloss, glitter and metallic shimmer, your lips will dazzle like stars at night. Be daring and look out-of-the world tonight.
3. NYX Professional Makeup Matte Lipstick (#Whipped Caviar)
Best for Indian and dark skin
Price from RM21.13
As there are so many lipsticks on the market that cater to fair skin tones, it can be difficult to find lipstick shades that will compliment darker skin tones. However, NYX's Professional Makeup Matte Lipstick will blend right in with your skin, effortlessly creating a chic look.
Its highly pigmented colour stays put for the longest time and does not dry your lips. For its price, it's a steal for such an amazing lipstick.
4. MAC Lustre Lipstick (#See Sheer)
Best moisturizing lipstick for Asian and fair skin
Price from RM77.00
A subtle but eye-catching colour, MAC's Lustre Lipstick in See Sheer effortlessly creates an innocent feminine look. With its semi-gloss finish, this lightweight lipstick glides on smoothly, giving you natural-looking lips suitable for everyday use. Fair skin has never looked so much better!
5. Tom Ford Lipstick #07 (Pink Dusk)
Best long lasting pink nude lipstick for olive skin
Price from RM198.00
Believe it or not, light and nude lip colours do complement olive skin perfectly. This satin-like Tom Ford lipstick in Pink Dust creates cushiony lips that can last for hours. Rest assured, you can snack and drink as you please, for the colour will not fade! The creamy texture is comfortable to wear without drying out your lips.
6. Lime Crime Matte Velvetines (#Cupid)
Best kiss proof matte liquid lipstick
Price from RM110.00
Finally, a kiss-proof lipstick! Make every day Valentine's day with Lime Crime's Matte Velvetines in Cupid; a unique petal-coloured pink that'll strike your lover's heart. This liquid lipstick leaves your lips matte with a velvety finish and looking irresistible. Say hello to kissable lipstick.
7. L'Oreal Paris Infallible Pro-Matte Lip Gloss #306 (Aphrodite Kiss)
Best lip gloss for yellow undertones
Price from RM47.08
You must be wondering, matte lip gloss? Yes, you read correctly. A lip gloss that has a matte finish! Unlike many matte lipsticks which dry out lips, this lip gloss provides all the moisture a gloss does while maintaining a matte appearance. Stay classy with its vibrant and bold colours that will make a statement.
8. Lakme 9-5 Matte Lip Colour #MP16 (Pink Perfect)
Best waterproof lipstick
Price from RM34.50
If you love low-maintenance makeup, this waterproof lipstick is for you. Able to last for 8 hours, this lipstick adheres to lips well, making it immune to water contact.
Dry lips preventing that smooth finish? Perk those lips with its infusion of vitamin E and wheat germ oil that conditions and softens your lips with one usage. There's nothing that this lipstick can't do.
9. Rimmel Exaggerate Full Colour Lip Liner (#101)
Best lip liner in pink
Price from RM18.59
Lip makeup is a whole lot easier when you line your lips. Create a more defined look with Rimmel's Exaggerate Full Colour Lip Liner. Its long-lasting formula and fine tip easily line lips for those voluminous, luscious lips you've been wanting. Match this with any lipstick, and you'll be good to go. Our friendly tip: Overline your lips to create the illusion of fuller lips.
10. Urban Decay Nagel Vice Lipstick Palette
Best lip palette with pink shade
Price from RM141.00
Inspired by 80's women in bold lipstick, this palette has colours ranging from bright to dark. Create any look with the Urban Decay Nagel Vice Lipstick Palette. Each shade has a super-creamy texture which helps to keep your precious lips moisturised and flake-free. Transform your look from chic pink to sexy vamp and leave people wondering if you're the same person!
11. Clinique Pop Glaze Sheer Lip Colour + Prime (Bubblegum Pop)
Best lipstick with primer
Price from RM80.00
People tend to underestimate the power of lip primers. Just like a painting, your lip makeup needs the right canvas to apply them on. With Clinique's Pop Glaze Sheer Lip Colour and Primer, lipstick glides on effortlessly and stays put for a longer time. It keeps lips moisturised so you can slap on any lipstick without any lip balm.

You can skip the lipstick for a more natural look with this Clinique Pop Glaze Sheer Lip as the bold yet see-through colour makes your lips pop like bubblegum.
12. Zuii Organic Certified Organic Flora Lipstick (Pink Flesh)
Best organic lipstick in pink
Price from RM92.00
Sensitive lips react to certain lipsticks. With this, it's hard to know exactly which ingredients are irritating our lips. Fear not, organic lipsticks are here to save the day!
Infused with jojoba, sunflower, aloe vera and vitamins, this vegan-friendly and cruelty-free lipstick hydrates and protects sensitive lips while colouring them with a natural pink shade.
13. BOURJOIS Rouge Edition Velvet #22 (Abricoquette)
Best pink lip stain and plumper
Price from RM38.63
Bring your lips back to life with the BOURJOIS' Rouge Edition Velvet. Its mousse-like texture makes your lips look plump while staining your lips for a long period. Your lips are guaranteed to look dreamy as it blends into your lips, looking like cotton candy.
Disclaimer: The pricing shown is just a good indication of how much these products are worth. The prices could change based on the e-commerce promotions that are going on. If some of the products are not available, do email us at [email protected] Thank you!