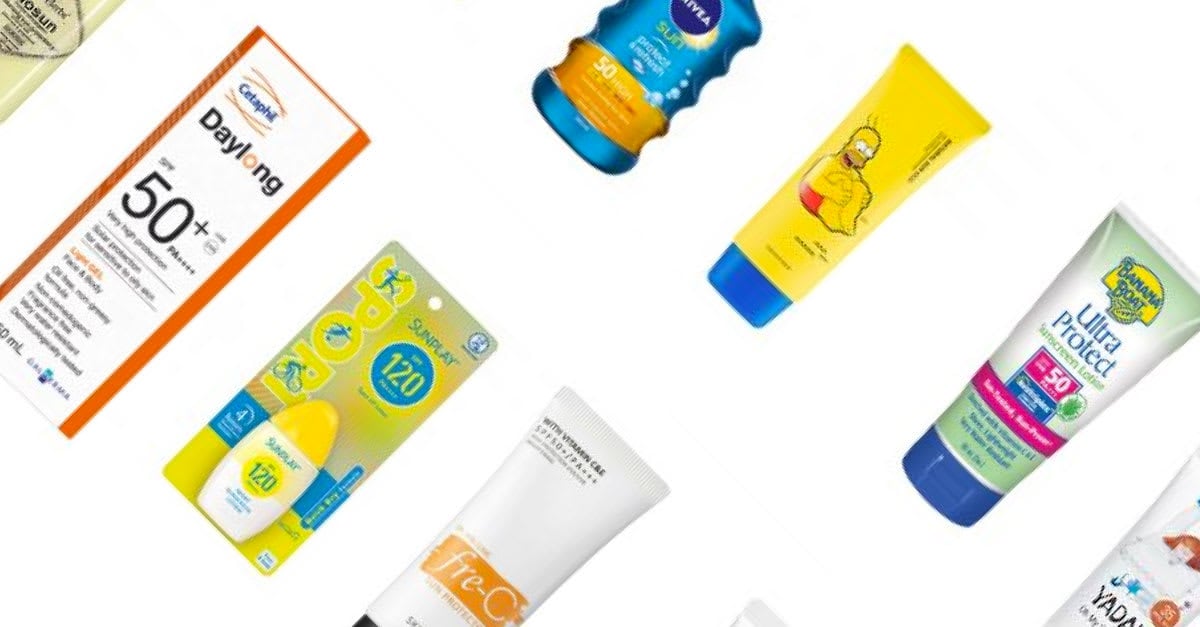 The sun is great; it gives us energy, light, warmth, and a beautiful bronze tan as we're sipping on pink pineapple juice on the beach. As amazing as it is, this ball of fire emits UV rays that can be harmful to our skin, and even worse, our overall health if we're exposed to them for too long.
There are two main types of UV rays: UVA, which is responsible for skin aging and wrinkles, and UVB, which is responsible for sunburns. Both play a role in the development of skin cancer.
But don't get me wrong, this doesn't mean that you should be playing hide-and-seek with the sun (even if you do, spoiler alert: you'd lose). Just remember to stay protected with a good quality sunscreen. In fact, here are 10 options you can choose from to keep your skin safe while you're soaking up the sun.
10 Best Sunblocks in Malaysia 2019
JUST HERBS No Sun Jojoba-Wheatgerm Moisturising Sun Protection Gel 100ml

Nivea Children Sun Spray SPF 50 200ml

The Face Shop x The Simpsons Natural Sun Eco Sebum Control Moisture Sun SPF40 PA+++ 50ml

BANANA BOAT Sun Ultra Protect Lotion SPF50 90ml

TARTE BB Tinted Treatment 12-Hour Primer Broad Spectrum Sunscreen SPF30

SUNPLAY Skin Aqua UV Mist

CETAPHIL Daylong SPF 50 Gel 50ml

Sunplay Sport UV Lotion SPF120 PA++++ 35g

SKIN & LAB Dr Vita Clinic fre-C Sun Protector 50ml

Yadah Oh My Sun Screen 20ml
Best oil-free non-comedogenic sunscreen for sensitive skin
Price from RM65.50
Cetaphil's Daylong SPF 50 Gel sunscreen is paraben, fragrance, and oil-free, so if you're looking for something that's easy on the skin, this is your winner. This broad-spectrum sunscreen works on both the face and the body, so you're basically killing two birds with one stone. Just enjoy your day in the sun without having to worry about irritated skin.
5 people added this to their wishlist
Best travel size water-based sunblock
Price from RM29.75
Always on the go? This cute travel-sized sunblock will do the trick. This product contains chamomile and lavender extract which help moisturize the skin. It has also omitted all harmful chemicals such as paraben, benzophenone, talc, mineral oil and sulfate, to keep even sensitive skin feeling and looking its best.
Its lightweight formula goes easy on the skin, preventing the clogging of pores, and at the same time, offering a fresh mattifying finish.
4 people added this to their wishlist
Best physical sunscreen with titanium dioxide and zinc oxide
Price from RM38.00
Zinc oxide and titanium dioxide are minerals that offer a physical barrier between your skin and the sun's harmful rays. This sunscreen from Sunplay combines both of them into one affordable product for maximum physical protection.
4 people added this to their wishlist
Best with Vitamin C
Price from RM55.00
Skin & Lab's broad-spectrum sunscreen offers UV protection and keeps you looking fresh the whole day with its 24-hour sweat and sebum-proof formula.
It contains Vitamin C, which fights against free radicals and melanogenic enzymes, keeping your skin from getting darker, and vitamin E, which protects against sun damage. Besides that, the Muru-Muru Sees Butter locks in moisture and balances the oil levels on your skin.
Best natural and organic sunscreen
Price from RM150.00
The best way to care for your skin is to offer it products with wholesome ingredients, such as this one from JUST HERBS. This gel is the product of ingredients such as Jojoba, wheat germ oil, grape seed oil, shea butter and organic Aloe Vera, all working together to hydrate and protect your skin from sun damage.
The natural oils contained in this tube provides your skin with vitamins that will heal cracked and dry skin while preventing clogged pores.
More: Keep the UV Rays Away with These Top 10 Facial Sunscreens
Best for dry skin
Price from RM25.70
If you have dry skin, going out in the sun probably sounds like a nightmare to you. But don't let it plague your thoughts because Banana Boat has got you covered. It has ingredients that protect you against UV rays for up to 80 minutes, even with wet skin!
Not convinced? It also contains aloe vera, along with vitamins A and E to keep your skin hydrated while giving off a cooling effect.
Best waterproof sunblock lotion over SPF 100 for the body
Price from RM32.50
This product caters towards outdoors sports activities in the sun. Its quick dry formula allows it to remain on the skin even when exposed to water. This 'Unique Wet Skin Technology' also enables the product to be applied on wet skin, so you don't even have to dry your skin before putting it on. The icing on the cake is its 4-hour sun protection of an impressive SPF120.
Best SPF 50 sunblock spray for kids from the drugstore
Price from RM34.43
Kids are always running around doing their own thing. Let's face it, when they see a sunny open area, the last thing on their mind is sun protection. This product from Nivea can be sprayed on, allowing a much more convenient application.
Remember those UVA and UVB rays I talked about earlier? This spray protects against both of those rays, making it a broad-spectrum sunscreen. With a high SPF of 50 and skin compatibility that has been dermatologically approved, know that this product is safe for your child's skin and effective in protecting it.
Best Korean sunscreen for oily, acne-prone skin
Price from RM84.00
Don't let the cute cartoon image of Homer Simpson cannonballing into a sea of yellow fool you; this is a product that packs a punch. Containing ECO-CERT certified Sunflower Sprout Extract, this product prides itself on its ability to control the levels of sebum on your skin, at the same time smoothing the skin thanks to its hydrating properties.
Worried about shine? Don't fret, even with its moisturizing features, it manages to absorb excess shine at the same time.
Best tinted sunscreen for face
Price from RM130.00
Primer, moisturizer, foundation, sunscreen. It seems like this product by Tarte does it all. Not only does this product fight against UV rays, it can also be used as a base for makeup, or even alone, helping to eliminate the appearance of wrinkles, fine lines and pores.
The secret? A mixture of plants, lipoamino acids and diamond dust (yes, you can literally say you have diamonds on your face) that diffuse light, giving you a smooth, luminous glow.
Disclaimer: The pricing shown is just a good indication of how much these products are worth. The prices could change based on the e-commerce promotions that are going on. If some of the products are not available, do email us at [email protected] Thank you!